Nocino Is the Most Versatile Bottle You Don't Have on Your Bar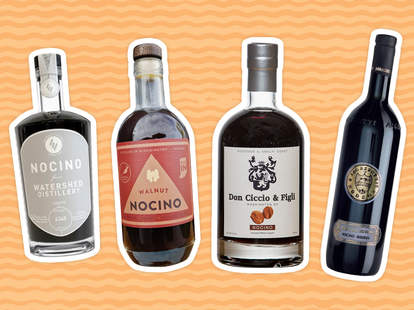 If you're familiar with nocino, you probably have an Italian grandmother. Or, possibly, you've traveled extensively throughout Italy. Or, most likely, you're are a total spirits geek. If you're not familiar with nocino, you should be, because it's one of the most useful bottles of booze a home bartender can own.
Pronounced no-CHEE-no, this unappreciated gem is a liqueur made by soaking unripened, green walnuts in neutral spirits. Traditionally produced in Northern Italy where it's made in homes (similar to the tradition of limoncello in Southern Italy), nocino is made in the summer when walnut trees first bear their fruit, and left to infuse from early June until the fall or winter. The spirit is sweetened with sugar or a homemade syrup, and then steeped with aromatic spices to give it more heft and a spicy backbone.
Inky black in color, nocino has an undeniable presence of walnuts—but it's far from a onenote spirit. It smells like fresh baked gingerbread cookies, figs, leather and oak. After one sip you'll understand why this liqueur is unlike anything that you have tasted before.
Unlike a lot of other liqueurs, which are generally made to be incorporated into cocktails, nocinos can be sipped straight and are best served neat at room temperature. That said, when used in cocktails, nocino is a revelation.
In an both an Old Fashioned and a Manhattan, nocino can be used as an accent—in lieu of aromatic bitters—or as a replacement for sweet vermouth in the latter. The liqueur is the perfect foil to peppery rye whiskey, and lends an unparalleled weight and complexity to the libation. In sour tiki cocktails like the Mai Tai or the Poison Dart, nocino can be used as a robust, subtly bitter alternative to nut syrups like orgeat (it can also sub in for allspice dram, another pungently aromatic, piquant liqueur). Due to the sticky richness of the dram, nocino also works wonders in a variety of dessert cocktails. One of the most luxurious cocktails ever put to paper is the Nocino Flip, which mixes whole eggs with nutmeg and nocino. The dessert-tail is so thick and rich that it is almost like a boozy milkshake.
While you can attempt to make your own nocino, there are many great bottles you can easily find in your local liquor store. Beyond classic Italian labels like Notte di Giovanni and Rapa Giovanni, there are now a number of craft American nocinos. Hailing from Columbus, Ohio, Watershed Spirits makes a nocino made with vodka as a base and a touch of orange peel to brighten the liqueur. There are also nocinos being produced in Washington D.C. by Don Ciccio and Figli, and in Indiana by Cardinal Spirits, who add cinnamon and Indiana maple syrup to the mix. Whichever one you choose, one thing's for sure: Once you try nocino, you'll never be without a bottle.