The 6 Best Bottles of Rhum Agricole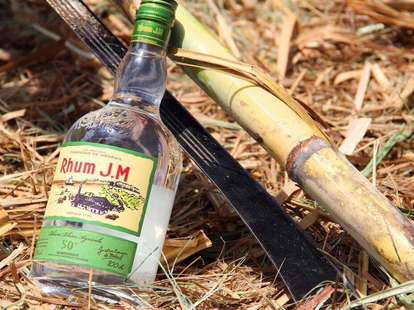 You should give yourself a pat on the back if you've already discovered rhum agricole because the rum with an "h" is often overlooked and misunderstood. Made from fresh pressed sugar cane juice rather than sugar byproducts like molasses, rhum agricole can technically only be made on the French island of Martinique and must be produced according to the French government's Appellation d'Origine Controlee. Despite that technicality, there are a number of rhums produced in the agricole style from other parts of the world that deserve attention. If you've ever been curious about rhum agricole, these six bottlings are the best way to educate yourself on the unique spirit.
This bottling from Rhum J.M is the quintessential rhum agricole—this is how an unaged agricole should taste. Produced on the island of Martinique, J.M Blanc is made with estate-grown sugar cane planted on volcanic slopes, much like vineyards are in France. After the fresh pressed sugar cane is fermented, it's distilled on a copper pot still and rested in stainless steel tanks for three months before being brought to proof with local, volcanic mineral water. Vegetal and vivacious in the glass, the rhum has notes of green bell peppers, Hatch green chilies and lime zest. With a creamy grassiness, it leaves a lingering minerality and salinity in your mouth after sipping. Extremely versatile in cocktails, it's just as good in a Daiquiri as it is in a Mai Tai or Highball.
Duquesne Rhum Blanc ($25)
Produced at the La Mauny distillery on the island of Martinique, this agricole rhum is single-distilled on a copper pot still. Rested for up to six months in stainless steel tanks before bottling, the rhum retains flavors of raw sugar cane juice and a vibrant vegetalness. Drinking it straight reveals flavors of fresh cut grass, wildflower honey, mango vinegar, overripe banana and wet earth. While we're perfectly OK drinking this rhum straight, it also makes an astounding Daiquiri.
La Favorite Rhum Agricole Ambre ($33)
Also hailing from the island of Martinique, this spirit gets its unique flavor and amber hue from its time in oak. After the sugar cane juice is fermented and distilled (in a copper pot still), the resulting rhum is rested for up to two years in ex-bourbon casks. Woody and complex, with notes of vanilla, white pepper and molasses, this rhum also manages to retain the earthy freshness of the sugar cane. There are undercurrents of jasmine, honeysuckle and tangerine that give the spirit a lightness and keep it from being too bourbon-esque. We like to use this rhum as the base of our 'Ti Punch, which is Martinique's answer to the Old Fashioned.
Only just released in the United States, this rhum is part of a portfolio of spirits imported from the island of Haiti by Velier, an Italian independent bottler. Each rhum in the portfolio represents a different micro-distillery that represents a different distiller, ancestral sugar cane varietal and village on the island. This bottling is produced in the village of Saint Michel de L'Attalaye and is distilled by Michel Sajous. Out of Velier's lineup of Haitian Clairins, this one is the most traditional and Martinique-esque (the others are actually more like mezcals than rhums). On the palate, the spirit has a boozy heat (at 107 proof), an umami savoriness, and notes of green olive, lawn clippings, honeycomb, thyme and mango. This rum is meant to be sipped slow and savored because it's utterly delicious.
This rum is an absolute stunner and one of our favorite bottles released last year. Produced in Oaxaca, Mexico, by third-generation aguardiente producer Jose Luís, it's made from four different varietals of sugar cane unique to the region and fermented with wild yeast. Distilled in a copper still over an open fire fueled by spent sugar cane fibers, the rum is bottled without additional aging or water added to lower the proof. There are notes of tacos al pastor, fermented pineapple (tepache), tamarind, banana leaf, wet dirt and ethanol. If you love the raw, unbridled funk of agricoles and the earthy, primal flavors of mezcals, this rum is going to be your new favorite spirit.
Neisson Reserve Speciale ($75)
If you're a Cognac or whiskey drinker, this rhum agricole is for you. Produced in the northwest of Martinique, Neisson Reserve Speciale gets its unique richness from aging. Distilled from fresh sugar cane grown on the island, the spirit is a blend of rhums aged up to 10 years in ex-bourbon and whisky casks. Incredibly complex and layered, the spirit evolves as you drink it. First, there's a menthol quality and notes of black licorice, orange marmalade, brown butter and fennel. Then, the spirit reveals a malty sweetness and notes of tobacco leaves, pipe tobacco, leather, sandalwood and vanilla. Sip this agricole like you would the finest scotches.