The Best Rum For You To Buy, According To Your Favorite Rum Drink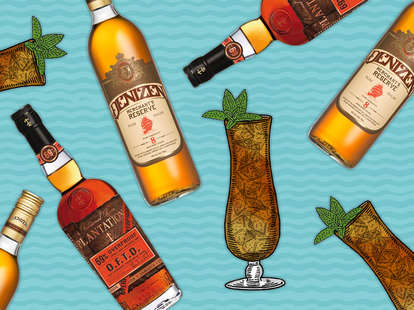 Mark Yocca / Supercall
Mark Yocca / Supercall
Although rum is becoming more and more popular in the United States, it's still one of the most underappreciated categories of spirits. So to make buying rum easier for newbies, and to show how every rum is different, we chose seven of our favorite rums to mix in seven of our favorite rum cocktails. Not only do they serve as a great base for mixed drinks, they highlight the spirit's uniqueness and showcase brands that rum fans should have on their radar.
The Mojito is a Cuban cocktail, so it should only be made with Cuban rum and the freshest, liveliest mint. Unfortunately for us Americans, Cuban rum is not available for purchase domestically. Regardless, you should get your hands on a bottle (or two or three) of Havana Club 3 Años if you can—whether you score it online, have an overseas friend ship it to you, or smuggle it in your suitcase on your next voyage. In a Mojito, Havana Club 3 Años is like an orchestra's crescendo, starting subtle and soft, ever building towards perfection on your palate.
*Although a Havana Club Mojito should be experienced at least once in your life, if you can't get your hands on Havana Club, Flor de Caña 4-Year Extra Seco (see below) or Bacardi White Rum ($15 for 750mL) will work just fine.
Even though a Daiquiri consists of only three ingredients—rum, lime and sugar—it's extremely easy to screw up (if you want to test your bartenders' merits, have them make you one). When made correctly, the drink has a refreshing punch of acidity, a round, mouth-coating sweetness, and a dry finish that reveals the rum's depth and alcoholic heat. Flor de Caña Extra Seco, a four-year-old, extra dry rum, is the perfect spirit for the perfect Daiquiri. It's soft and silky with a dry, crisp finish and flavors of coconut water, vanilla and grassy, raw sugarcane. This is the Daiquiri that will make you want to drink nothing else.
This dangerously chuggable cocktail combo is for those who want a Rum & Coke that isn't just rum and Coke. Part of Bacardi's high-end line, Neo Rum is a blend of eight-year-old rums that are charcoal filtered to remove color. With a dense, velvety-rich mouthfeel, this is one of the most complex white rums we've ever tasted. On the palate, the spirit has notes of caramelized banana, buttery biscuits, flan, a horchata-esque creaminess, and flourishes of freshly grated cinnamon and white pepper. When mixed with cola—preferably one with sugar cane rather than corn syrup—it becomes an exemplary Cuba Libre.
While Dark 'N' Stormy fanatics might disagree on our spirit choice for this stalwart rum cocktail, we would argue that you should try it before you knock it. Plantation O.F.T.D. is the delightfully complex, ridiculously strong 138-proof (yes, you read that right) new rum created for tiki cocktails by a cadre of bartenders, spirit aficionados and tikiphiles. Hefty on the palate, with an explosion of dunder-heavy alcohol, this rum opens up to reveal a molasses sweetness and flavors of candied pineapple, allspice and clove. Mixed with a sharp, spicy ginger beer, it makes a Dark 'N' Stormy that's next-level boozy and intoxicatingly funky.
It's difficult to make a Mai Tai with only one bottle of rum. Like the Zombie, another classic tiki cocktail, the Mai Tai was designed to have a split-base with multiple different rums harmonizing together. But with Denizen Merchant's Reserve, it's possible to mix the cocktail with a single bottling. Composed of barrel aged, pot-distilled rums from Jamaica and unapologetically funky Rhum Agricole from Martinique, Denizen has the depth of multiple different rums combined. It lends the Mai Tai the heft and kaleidoscopic rum richness it deserves.
This is not the syrupy-sweet, grenadine-heavy monstrosity that people associate with a Hurricane. This is the Hurricane the way it was intended to be made: face puckeringly sour, made simply with dark rum, fresh lemon juice and passion fruit syrup. The rum you choose should be rich and molasses-heavy with a vanilla sweetness that balances and undercuts the sourness of the lemon and passionfruit. Aged for eight years in ex-bourbon casks, the El Dorado 8 Year Rum is just that spirit. And at only $25 a bottle, it won't break the bank when you end up drinking the cocktail all summer long.
There are many ways to make a Jungle Bird, but the only right way to make a Jungle Bird is with Cruzan Black Strap Rum. Sweet like maple syrup with an umami-rich savoriness (like bacon onion jam, in a good way), Cruzan's Black Strap is the perfect foil to bittersweet Campari. When mixed with uber-tart, fresh lime and pineapple juice, this cocktail becomes the heady masterpiece it was meant to be.