5 Best Rums For A Rum And Coke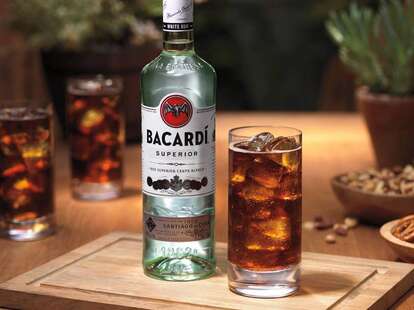 Courtesy of Bacardi
Courtesy of Bacardi
The basic principle of a Rum and Coke is that it should be easy and unfussy. That means that if you want to elevate the drink, you can't deviate from the two ingredient structure. Instead you have to opt for higher quality ingredients. That could be Mexican Coke or craft colas like Boylan's or better quality rums. To find the best rums to pair with cola, we tasted our way through a slew of rum and Coke combinations. Here are the five best that we found. Your tropical Highball will never be the same.
This is the classic iteration of this two ingredient cocktail. If you're at a bar in the Caribbean (especially in Puerto Rico) chances are you will be served this combo if you order a Cuba Libre. Light, crisp and subtly sweet, Bacardi Superior is the perfect companion to the rich, molasses-y flavor of cola. With a squeeze of fresh lime juice it is refreshing and downright chuggable.
Distilled on St. Croix in the Virgin Islands, Captain Morgan's white rum is another staple used for this two-ingredient classic. It is slightly sweeter than Bacardi Superior (or any other rum on this list), so if you have a sweet tooth, this should be your go-to. If you'd prefer a drier drink, swap out the usual Coke for a less sweet craft cola. The rum lends notes of fresh coconut, vanilla and a peppery spice. And, like the Bacardi-based Highball, this take on the Rum and Coke is even more refreshing with a squeeze of fresh lime.
Another excellent rum from Bacardi, this bottling is one of the company's newest offerings. Barrel aged for a minimum of 10 years, this rum is bursting with flavors of banana, vanilla, clove and oak. In a Rum and Coke the spirit lends its complexity, richness and layers of flavor. While you think the cola would overpower the rum's broad range of flavor, it actually builds upon them and elevates them. Adding a squeeze of fresh lime (make sure to discard it instead of dropping into the drink) and an orange wedge to this libation will only make it even more delectable.
Even drier, more crisp and minimal than Bacardi Superior, this Nicaraguan rum also packs twice the flavor of its Puerto Rican counterpart. On the palate the rum has notes of molasses (which pairs incredibly well with cola), apricots, vanilla, and pineapple. This combination creates a Rum and Coke that is ultra-refreshing and ideal for humid, tropical climates when you need drinkable, liquid A/C.
If you're in the Dominican Republic, chances are high that you will encounter this Dominican rum in your cola. Aged two to five years in barrels and unfiltered before being bottled, this rum is incredibly complex and layered. On the palate flavors of coconut intermingle with notes of vanilla custard, dry peppery spice, brown butter and orange peel. Dry and tannic, the rum makes Coke taste spicier and less sweet. Make sure to garnish this cocktail with an orange twist to bring out even more of those lovely citrus notes in the rum.
Gosling's newer and less well-known rum is lighter and more banana-y than its darker, molasses heavy Black Seal rum bottling. Ideal for a Rum and Coke, the Gold Seal is a sunshine hued spirit, rich with vanilla notes. While you could use it to make an excellent variation on the two-ingredient Highball, we like to up the ante and add a scoop of vanilla ice cream to the cocktail for a summer-ready twist on the float. When the ice cream melts into the effervescence of the soda, it boosts the vanilla flavors in the rum even more.