5 Best Rums for Your Mojito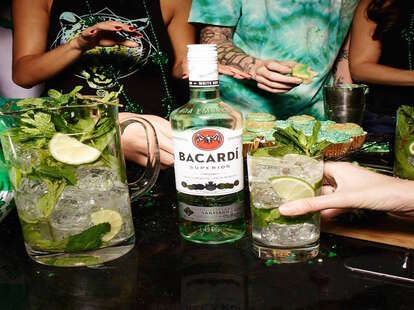 Making a good Mojito isn't as simple as you might think. It's easy to over muddle the mint and make the drink muddy or bitter. And if you don't use freshly squeezed lime juice, the drink will be dull and lifeless. But the quickest way to mess up a Mojito is by choosing the wrong rum. Your spirit should be light and refreshing, with flavors that complement and enhance the mint and citrus. For the perfect, Mojito-fied summer (or spring, or winter, or fall), here are our five favorite rums for the Caribbean classic.
Use this Puerto Rican staple to make the quintessential Mojito. Clean, clear and subtly sweet, it has notes of candied ginger and bright citrus. While it's the perfect companion to mint in a Mojito, it is also great sipped straight and ice cold on a balmy summer day.
Smooth as coconut suntan lotion on a Caribbean beach, this St. Croix rum is light in color but big in flavor. A blend of spirits aged four years in American oak barrels, it has strong flavors of vanilla and treacle and a lasting complexity. To complement the rum's inherent molasses sweetness, use an unrefined sugar syrup (like demerara) for your Mojito.
Produced in the Dominican Republic, this rum is triple distilled, aged in the solera method (like sherry) and charcoal filtered to remove any color. Heavy on spice, with flavors of vanilla taffy, molasses cookies and lime peel on the back of the palate, it's a dream in refreshing cocktails like the Mojito. It adds depth and rummy-sweetness without being too heavy or cloying.
New to the market, this is a Puerto Rican interpretation of the original Arechabala family recipe developed at their distillery in pre-revolutionary Cuba. Mouthwateringly delicious, this spirit was designed to accompany mint, lime, crushed ice and tropical heat—or Coca-Cola. On the palate the spirit has flavors of your Cuban tia's flan, orange rind and sea salt, with a round creamy finish. A welcome addition to any liquor cabinet, this rum is a summer staple.
10 Cane Rum ($28)
A Trinidadian rum made from freshly pressed sugarcane juice, this spirit is triple distilled and aged in French oak for six months. Light and smooth with subtle touches of funk akin to a rhum agricole, this bright and fresh bottling is beautiful alongside cooling mint. For a truly luxurious Mojito, use Rhum JM Sirop de Canne (or similar) instead of sugar and two dashes of Bittercube Bolivar bitters, which adds a floral touch and molasses depth to your island sipper.