8 Best Rums to Sip Straight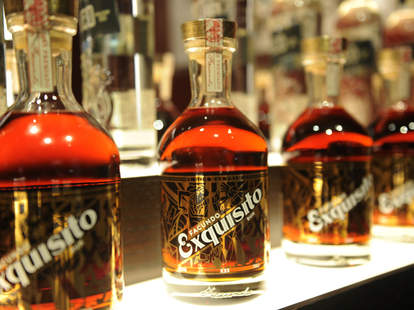 Although most people associate rum with cocktails—especially brightly hued beach bar drinks—you'd be wrong to pigeonhole the spirit. The rum category is one of the most complex and diverse spirit categories in the world. Rums can be light and cocktail-ready; they can be dark and sweet; they can be as rich as scotch or Cognac. And they can certainly be sipped solo. Here, some of the most drinkable rums on the planet—all of which can (and should) be enjoyed neat.
Produced in Bayamón, Puerto Rico, by the Fernández family since 1804, this is the oldest rum brand on the island. A blend of rums aged 6-10 years, the 3 Star is the company's most refined rum with a rich creaminess and a salty, nutty, fino sherry-esque quality. There are also notes of fruit cake, nutmeg, clove, apricot and vanilla.
While it's rare to drink a white rum straight—most are intended for mixing in cocktails—this Venezuelan rum is the exception. A blend of rums aged 2-6 years (by law all rums from Venezuela must be aged a minimum of two years to be called "rum"), the Diplomatico Blanco Reserve has the depth and character of an older aged rum, while managing to retain the bright, lively freshness of a younger spirit. It has flavors of buttered toast, salted almonds, honeycomb, jasmine blossoms, Japanese green tea, vanilla and white pepper. It is exceptional with spicy foods on hot summer nights.
In 2007, a fire ravaged St. Lucia Distillers, destroying most of their storage facilities. In the aftermath, a few casks were displaced in the chaos of moving the barrels to new locations. After those casks were recently discovered, the brand decided to put out this limited edition rum to commemorate the event. In the glass, the rum is rich and intensely aromatic with tons of freshly ground coffee, maple and chocolate. It has notes of toffee, peanut brittle, molasses, vanilla and chocolate malted milkshakes. Intense and delicious, this rum is meant to be savored. Just make sure to get a bottle before it disappears once again.
A blend of Guyanese rums distilled on three different types of stills (Enmore and Diamond Coffey stills and a Port Mourant double wooden pot still), this rum is aged for a minimum of 12 years in ex-bourbon casks. With an abundance of baking spice, it's rich, sweet and complex with flavors of vanilla bean, salted caramel, treacle, cedar, leather and pipe tobacco. This is a great gateway bottle for straight rum novices.
This exceptional spirit is one of the only rums in the world made using the solera method, a blending technique traditionally used to make sherry in Spain. Made in Venezuela, the rum is a blend of spirits aged up to 35 years in oak. It's robust and tannic, with a long, dry finish and notes of bananas foster, coffee cake, vanilla bean, black pepper, baked apples and toffee. This is really delicious stuff that makes for easy drinking.
This rhum agricole from the French island of Martinique is distilled from fresh pressed sugarcane juice and aged for a minimum of six years in re-charred ex-bourbon casks. Extremely complex and layered, it has an abundance of both spice and bright tropical fruit flavors. There are notes of mango, guava, grilled pineapple, fresh mint, treacle, earth and pipe tobacco. It would be a crime not to drink this spirit any other way but neat, preferably in a snifter so you can catch all the lovely aromas wafting out of the glass.
This rum is old. And it's all the more delicious because of its age. As nuanced as any scotch or Cognac, it is essentially the brand's Black Seal rum, albeit aged a decade longer than their flagship product in ex-bourbon casks. Dark and delicious, it has flavors of oak, toffee, molasses, clove, ginger snap cookies and dark muscovado sugar. The finish is long, lasting, tannic and velvety. This is delectable juice that should be shared with only the best of friends on special occasions.
It is hard not to jump up and exclaim, "Oh f*ck that's delicious!" after drinking this rum. Part of the Facundo portfolio—Bacardi's upper echelon of rum bottlings composed of the company's private stock of reserve rums—the Exquisito is a blend of rums aged 7-23 years in oak. Incredibly complex, it has layers upon layers of flavor that reveal themselves with each sip. Notes of lavender and jasmine mingle with dark tannic tea and tinges of raw cacao, buckwheat honey, apricots, cedar and fresh tobacco leaves. This is a singular rum that is truly "exquisito."