Get to Know Clairin, the Mezcal of the Rum World
Justin Alford
Justin Alford
Haiti is not a large nation. Taking up only a third of the island of Hispaniola, the country is about the size of New Jersey. But packed into that small area are 500 distilleries, dotting the valleys, tucked into the jungles, perched in the mountains, and hugging the coast. A single Haitian brand, Rhum Barbancourt, has become internationally recognized, but its popular double-distilled, aged rums don't give an accurate representation of how Haitians in hundreds of villages regularly consume the spirit of the island. Generations of rural distillers, producing spirits on homemade stills, have developed distinct rhums totally unlike sugar cane spirits from elsewhere in the Caribbean. And for the first time this rhum, called clairin, is available outside of Haiti.
Three varieties of clairin—Sajous, Vaval and Casimir—have made their way to the U.S. Each type is named for that spirit's particular distiller: Michel Sajous, Fritz Vaval and Faubert Casimir. For years these three men have distilled clairin for their neighbors, who fill gallon jugs at the local market. But now, their spirits are filling glasses around the globe thanks to Daniele Biondi and Luca Gargano of Italian spirits importer Velier (which partnered with the French Maison du Whiskey in 2017 to form La Maison & Velier).
Biondi and Gargano developed a passion for clairin while visiting Haiti in 2012 and, after tasting clairin from around the country, they began bottling the three rhums undiluted by water and unadulterated by additives. Every bottle is labeled with the village of origin, the harvest year, the sugar cane variety, the type of fermentation and the distiller's name.
Similar to mezcaleros throughout Mexico creating discrete styles based on different types of agave, Sajous, Vaval and Casimir create their individual styles based on regional ingredients, primarily different types of sugar cane. The European sugar crop flourished in Haiti under French rule, allowing the colony to produce 40 percent of the sugar consumed in Europe, but that ended in 1804 when Haiti overthrew colonial rule. The revolution destroyed many plantations and the sugar trade quickly fizzled as the island fell into massive debt (caused by arduous reparations to the French and embargoes from other European nations). While Haiti still struggles economically, the nation's sugar cane has thrived. Untouched by industrial agribusiness and homogenization, Haitian sugar cane maintains remarkable variety.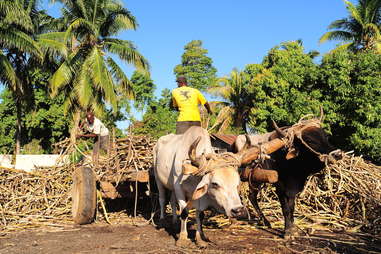 Biodiversity differentiates the sugar cane that clairin distillers use, but growing and brewing practices also impact the incredible flavor. The stalks are grown in polycultures, and distillers harvest them by hand. Wooden mills are not uncommon (some producers use iron rolls), crushing the sugar cane with animal power much like a tahona traditionally used to crush agave piñas for tequila. Natural yeast strains from the cane itself ferment during the extensive wash, which can last up to a week. Some producers like Casimir add other ingredients during fermentation like citronella, cinnamon and ginger. While methods vary among distillers, Biondi and Gargano have codified these artisan practices to help limit the impact of their own commercialization. They vow to help preserve traditional methods, even as they help distillers find ways to produce more clairin.
For now, clairin is only available stateside in New York, where it has appears in cocktails at Leyenda, Grand Army and Gladys, but you can buy it online from New York-based retailer Astor Wines & Spirits. The artisanal distillation processes yield different results each year, but here's what you can expect from the 2016 vintage currently on the market:
Clairin Sajous ($45)
Michel Sajous creates a bright and grassy rhum at his distillery, called Chelo, in Saint-Michel de l'Attalaye just north of Port-au-Prince.
Aroma: Green banana, cherry, fresh cut grass
Taste: Wet earth, castelvetrano olives, white pepper, touch of mango
Finish: Clean, with a mouth-tingling heat that dies slowly
Suggested Cocktails: Split with dark rum in a Daiquiri, Sajous lends a vegetal tinge to the classic Rum Sour. Meanwhile, mixed into a Dark 'N' Stormy, with a quarter-ounce of demerara syrup for a little depth, the Sajous makes a bright and energetic variation on the gingery Highball.
Vaval ($45)
On the southern coast in Cavaillon, Fritz Vaval of distillery Arawaks produces a vibrantly funky rhum that smells of pungent bananas and a touch of saline, and tastes of baking spices, lime juice and kelp.
Aroma: Overripe mango and banana, dates
Taste: Seawater, lime juice, ginger, lemon, vanilla
Finish: Dry and long, with notes of almond and fresh wood
Suggested Cocktails: In a cocktail competition hosted by LM&V, Sean Johnson of Subject in New York found the pungent Vaval mixes perfectly with crème de cacao and banana liqueur, balanced with a touch of grapefruit juice. The result surprisingly tastes like apple juice, with notes of overripe fruits and spiced chocolate.
Casimir ($45)
The most remote of the trio, veiled by thick layers of mountains and foliage in Barradères, Faubert Casimir creates his distinctly savory rhum, which smells of barbecue sauce and maple syrup, and dries the mouth with tastes of apricots and almonds.
Aroma: Grilled meats in barbecue sauce, rubber, sherry, maple syrup
Taste: Apricot, mango, country ham, truffles
Finish: Short, with sweet molasses
Suggested Cocktails: Shaking the Casimir into a Rum Flip is something extraordinary. The demerara syrup brings out the sweet side of the rum with notes of lychee and ginger, but it's the texture that really blew us away, perfectly balanced between crisp and luscious, with less heft than a Flip made with dark rum. The drink is equally sweetly spiced, nutty, vegetal and meaty.