7 Bottles of Pink Booze That Aren't Rosé
We're fully on board with drinking pink, but not every occassion calls for sipping rosé wine. And even if you love the blush vino, there's no denying the occasional craving for something stronger. Whether you're a diehard rosé drinker or just want to sip on something pretty, these seven pink spirits are worth a try at your next cocktail hour.
This rosa tequila (not rosé, thanks very much) is what inspired our passion for blush booze. To make the prettiest agave spirit around, Código finishes their blanco tequila in California Cabernet barrels, which gives the spirit just enough of a pink tint and fruity flavor to set it apart without ruining its natural beauty. Rosa Tequila's delicate fruitiness melds with the bright, grassy agave notes, which makes it crazy easy to sip solo.
While rosé fans may be most familiar with pink gin from Hampton's vineyard Wölffer Estate, Eden Mill comes from a very different place: Scotland. The craft distiller turns out a number of interesting infusions, from their original sea buckthorn berry-infused gin to a hop-infused gin to a gin inspired by Scotland's historic golf courses. Their pink gin doesn't rely on overly sweet, fruity infusions like grapefruit or raspberries but rather rose petal, goji berry and raspberry leaf, as well as more traditional botanicals.
One whiff of Giffard's Pamplemousse is like a refreshingly fruity grapefruit explosion. The liqueur balances the bitterness of grapefruit peel with a good deal of added honeyed sweetness, so you'll probably find it too saccharine to drink straight. But it works great in fruit-forward cocktails where it provides both sweetness and vibrancy.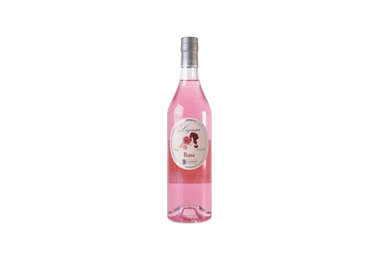 Combier's liqueur is distilled from sugar beets and flavored with rose petals, much like rose water. Another sweet pink liqueur that features intensely sugared Scylla and fruity-floral Charybdis, Combier Rose will add a massive punch to a mixed drink. But you shouldn't count on sipping it straight, just as you wouldn't chug rose water straight, compelling as the flavor may be.
The Bitter Truth's take on the blush gin category is actually more of a bottled cocktail, though you likely wouldn't know it if you're not from the U.K. Popular on the British Isles, the cocktail also known as Pink Gin is a simple combination of classic London dry gin and aromatic bitters, which dye the clear spirit a pleasing pink. Blending the bitters straight into a juniper-forward gin creates a strong herbal bouquet and warm, spicy taste, which sets this savory spirit apart from the sweeter infusions on the list.
It may say "red rum" on the bottle, but this spiced rum from the U.K. is neither red nor a reference to The Shining. Morant Bay pulls back on the typical spices found in the category, replacing the cinnamon and nutmeg with botanicals like sorrel, cherry, starfruit and Szechuan pepper. The funky sweetness of the molasses-based spirit is joined by fruity and spicy notes for a unique mixing rum that's kind on the eyes.
You may have heard of crème de violette, the flowery, deep purple liqueur used in the classic Aviation. If you want to get nitpicky about it, technically crèmes should have more sugar than liqueurs. But because there are no legal guidelines, the terms are basically interchangeable, so you can ignore the name swap here. Just know that Tempus Fugit's Liqueur (and/or Crème) de Violettes is way pinker than its better known, darker cousin. It's intensely floral without tasting like a violet petal dipped in sugar.