The Top 10 Best White Rums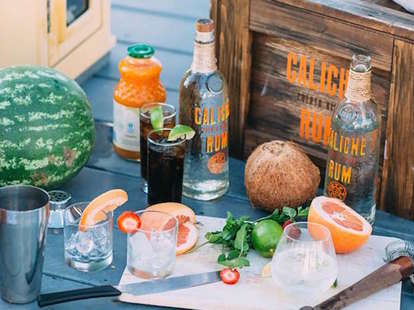 Caliche Rum
Caliche Rum
With rum appreciation on the rise, it's time to shine a spotlight on the white rums of the world, which are all too often brushed aside for their dark and funky, aged brethren. White rum is the ultimate base spirit for tropical punches, sweet spritzes and pretty much any beach-appropriate beverage. It's light, clean, slightly sweet and perfect for layering—plus it's crazy affordable. From complex sipping white rums from Nicaragua, to the light, carefree spirits of the Caribbean, here our are our top 10 favorite white rums.
Havana Club Añejo Blanco ($20)
This Puerto Rican homage to the original Cuban-made Arechabala family recipe is distilled from molasses and rested in oak before being charcoal filtered to remove any color. The spirit is rich and velvety on the palate, with notes of vanilla, chai spice, overripe banana and heavy wafts of brown sugar on the finish. It is excellent neat or in tropical libations with crushed ice, fresh fruit or herbs.
Blended and bottled by Denizen in Amsterdam, this white rum is composed of Trinidadian rum aged for five years in American oak bourbon barrels (before being striped of its color with charcoal filtration) and 15 different pot still-distilled Jamaican rums. Bright, clean and grassy, this rum also has depth and complexity, with notes of vanilla, black pepper spice and funk on the finish from the raw Jamaican spirits. Easy to sip neat (or with a fat ice cube for a touch of dilution), this highly versatile spirit is also the perfect rum for mixing into tropical libations and minty summer sippers.
Hailing from the Philippines, this white rum is distilled from molasses made locally with raw sugar cane grown in volcanic soil. Column distilled and charcoal filtered, Tanduay Silver is smooth, refreshing and silky. Only recently available in the United States, Tanduay has dubbed itself "Asia's best kept secret," but with a growing list of accolades from around the world, it won't stay secret for long. On the forefront, there are subtle notes of coconut custard, raw sugar cane funk, overripe bananas and fresh straw, with rich tea tannins and creaminess on the finish. While this spirit may be too funky for some to sip solo, it lends an exquisite depth to cocktails.
A collaboration between Roberto Serrallés, the sixth generation master distiller of Don Q rum, and nightlife impresario Rande Gerber, Caliche rum is deceptively complex. Made in Puerto Rico from sugarcane grown on Serrallés' limestone-rich estate, this rum is distilled five times, aged in oak using the Solera method much like sherry [https://www.supercall.com/spirits/fortified-wine/sherry-101], and clarified via carbon filtration. Exceptionally clean and refined, the rum is soft with a velvety mouthfeel. Bright citrus, orange pith and vanilla linger in the finish. Though it is excellent shaken in citrus cocktails like the Hemingway Daiquiri, it also can hold its own in heavier, stirred cocktails like a Rum Negroni.
Produced on the French island of Martinique, this rhum is distilled from 100-percent sugarcane juice, freshly pressed from cane grown on the volcanic slopes of Mount Pelée. One of the most unique rums available right now, it retains a strong sugarcane flavor and reflects its jungly terroir. Flavors include fresh cut grass, green chilies, green plantain, bread yeast, honeysuckle and sea salt. This spirit works wonders in a Mai Tai and makes the best Daiquiri you'll ever put to your lips.
Made in Guyana, this blended demerara rum is aged for a minimum of three years in bourbon casks and charcoal filtered for clarity. There's no other rum on the market that gets you as much bang for your buck. Clean and delicate on the palate, the rum opens up with flavors of cacao, vanilla bean and coconut cream. Whether at home or at a bar, this white rum will be your cocktail workhorse.
Distilled in the province of Herrera, Panama, this molasses based rum is made in the Carta Blanca style, a lost Cuban tradition taught to the master distiller and former minister of Cuban rum, Francisco "Don Pancho" J. Fernandez. Although the rum is stripped of its color, the spirit retains the flavors of vanilla, cinnamon and toasted coconut brought on by years spent aging in charred American oak ex-bourbon casks. It's light and delicately sweet, with notes of honey, dandelion and cut grass. This rum is an absolute must if you're making any traditional Cuban cocktails like an El Presidente, Cuba Libre or Mojito.
As you might guess from the name, this is a Louisiana-made rum. Distilled with a copper pot still and triple filtered, it's bright, lean and ultra-refined, with notes of cotton candy sweetness, deep fried corn dog breading and butterscotch candies, and a lasting, buttery mouthfeel. On the nose, the spirit displays whiffs of salty-sweet caramel corn. Use it in rich, creamy tiki cocktails like the Pearl Diver.
Distilled on the French Caribbean island of Guadeloupe, this agricole-style rhum is the lighter little sister of the company's tiki-tastic, 110-proof pure cane rhum. Diesel funk and fatty esters linger on the first sip, which blossoms into an onslaught of sea salt, olive brine and cream soda. Perfect for mixing into a tiki-style libation.
This Nicaraguan spirit is the ultimate sipping rum. Aged for a minimum of seven years before carbon filtration, it's packed with flavors of toasted almond, coconut creme and vanilla. The spirit lingers on the finish with a sweet, mouth-coating finish. If you do choose to mix this rum, keep it simple. Pour it into a Highball with cubed ice, and top with bubbly soda water and a fat wheel of fresh lime or orange.
This American white rum—from Indiana of all places—is distilled from fresh cane juice and molasses with a combination of hefeweizen yeast and wild yeast from sugar cane. Although Cardinal Spirits uses this delicious rum as the base of their spiced rum (another favorite of ours), it's equally delicious left unadulterated. Clean and vibrant with an abundance of floral funk and a creamy finish, it would be the perfect base in a fruity party punch or a lighter companion to spicy ginger beer in a Dark and Stormy.