7 Amazing Bottles of Booze You Need to Smuggle Back from Your Next Trip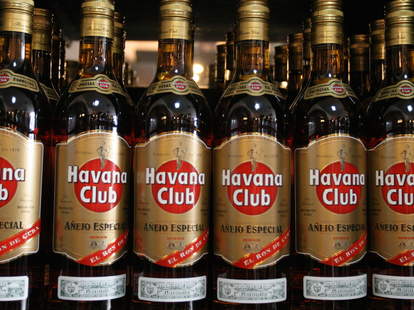 As lovers of all things boozy, it's hard not to covet bottles we can't afford and wax poetic about those rare spirits we wish we could stock in our bar. But many of the bottles on our wish list aren't crazy expensive or scarce—they're just not available for sale in America. From Cuban rum to Japanese whisky, here are seven of the most coveted bottles of booze that you need to smuggle back from your next trip abroad.
If you happen to be in Cuba or Europe, do yourself a favor and snag yourself a bottle of the Havana Club 3 Años, quite possibly the greatest white rum on the planet—especially for mixing. The perfect base for Caribbean classics like Daiquiris or Mojitos, Havana Club's white rum works wonders in every tropical libation under the sun. The distillery's Selección de Maestros isn't too shabby either. Bottled at cask strength, this reserve bottling from Havana Club is an undiluted blend of the company's finest—and oldest—casks, which are hand picked by maestros roneros (master rum blenders).
Ever since Japanese whisky made its debut stateside, it's been almost impossible to keep the spirit in stock. Suntory, the house that produces Yamazaki whisky, is one of the most coveted brands to make it to our shores. With discontinued releases selling for thousands of dollars at whiskey auctions and limited stock available, Japanese whisky-philes make it difficult to procure any of the Suntory stock. Two of the best—and most affordable—selections from the brand are unfortunately only available in Japan (with very limited stock in the UK): Yamazaki Distiller's Reserve and Hakushu Distiller's Reserve. Both age statement-free spirits showcase vibrant, younger malts not often used by the brand. The next time you're in Japan, make sure to bring us back a bottle or two.
Everyone loves Hennessy. The fact that it is the highest selling Cognac brand in the world proves it. Unfortunately for its devoted fans, one of the brand's most beloved and coveted bottles is rarely seen outside of the Caribbean. Hennessy Pure White, a lighter, younger Cognac distilled entirely from white wine has a bold, fruit-forward flavor, and is perfect for cocktails and warm weather drinking. While you can find the spirit for sale online, the cost of shipping from abroad is so ridiculously overpriced that you could just book a Caribbean vacation and get it there instead.
It's ironic that the bottle many bourbon aficionados consider to be the crown jewel in Jack Daniels's upper-echelon product line is unavailable on American soil (technically). Bottled at cask strength from a single barrel, the Silver Select is not only extremely limited in production but also offered exclusively at duty-free liquor stores at international airports in the U.S. and around the world. Now your next insatiable craving for the perfect Jack and Coke will have you flying to Amsterdam.
Marketed specifically for travelers and duty-free explorers, The Balvenie Golden Cask is a 14-year-old scotch aged in ex-Caribbean rum casks. On the palate, the spirit has all the qualities you love about Balvenie, but is fruitier, bolder and more honeyed with a thick, molasses flavor and a touch of funk on the finish. It's every scotch-loving, rum nerd's fantasy. Next time you find yourself stuck in an airport abroad with time to kill, see if you can find yourself a bottle.
Amer Picon
The quintessential French amaro, Amer Picon was readily available in the United States until Prohibition halted its importation. Made with fresh oranges, gentian and quinquina, it is a staple in France, where it is served before and after dinner or in beer. Before Prohibition, Amer Picon was used in the Brooklyn cocktail, a variation on a Manhattan made with dry vermouth and the vivacious, bitter spirit. While plenty of high-quality, craft liqueurs that try and replicate the original recipe are available stateside, none of them quite match the bitter orange depth of true Amer Picon. Guess you'll just have to plan a trip to Europe.