10 Father's Day Scotches That Are Better Than A Hug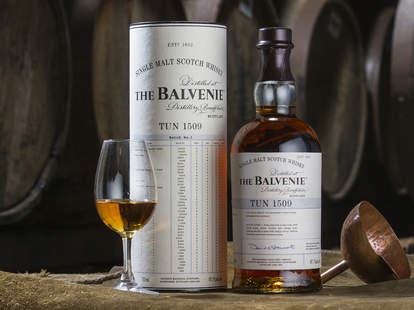 Nigab Pressbilder / Flickr
Father's Day can be tough for those whose dads live across the country—or just emotionally act as if they do. Hallmark-worthy hugs are not always in the cards. But we know something that's even better: scotch. Smoky, regal and warm as a paternal embrace, this Scottish spirit is one of the best ways to show that you care. Here, ten of our favorite bottles to give to dad—or yourself—this Father's Day.
The first scotch ever to be aged in
IPA
casks, this bottling is the initial installment in the Glenfiddich Experimental Series, a lineup of innovative scotches from Glenfiddich's malt master, Brian Kinsman. It's fruity and floral on the palate with a touch of malt, oak and citrus, with a bitter, herbal hoppiness on the finish. It's the perfect bottle to buy any beer gulping, scotch-sipping dad in your life.
This expression from Spencerfield Spirit Co. is a blend of peated single malts from the
Islay region
of Scotland. On the palate, there are whispers of smoke (the peat lies more in the nose than the flavor), seaweed and salt water, with wet stone and malty sweetness on the finish.
This Highland single malt is a delectably juicy, full-flavored scotch meant to be sipped and savored. Aged in both ex-bourbon and sherry casks, it is bursting with flavor. On the palate, the spirit is smooth and viscous, with a bright acidity, honeyed sweetness and notes of stone fruit, buttered toast, yellow fruit cake, raisins and cacao. There's a reason people call it the Golden Dram.
Aged eight to 10 years in a combination of barrels, including ex-sherry casks, this
blended scotch
is a mix of whiskies from the Tamdhu, Glengoyne and Glendronach distilleries. When we first tasted the spirit, we thought that we'd been slipped a glass of
Yamazaki Japanese whisky
on the sly. Deceptively complex, with strong sherry notes and flavors of butterscotch, honeycomb, black pepper and dried apricot, it has a long, lasting finish with bold, tannic oak and spiced oranges. If your pops is a Japanese whisky lover, surprise him with this scotch instead.
If your father is of Scandinavian descent—or loves all things viking—he'll love this Norse-inspired release from Highland Park. Part of the company's new Viking Legend Series (which will include one limited release per year until 2019), the Valkyrie bottling focuses on spice, aromatics and smoke. On the palate the spirit has a gingery kick, with notes of baking spices, mango and custard. This is a mouth coating whisky with a long lasting finish of smoke, earthiness and tannins.
This is quite possibly the most luxurious gift you could get your dad this Father's Day. Aged up to 12 years in oak and finished in ex-sherry casks, this Speyside scotch is rich and layered. The spirit unfolds in waves of flavor on your tongue, first with honey and vanilla, then a burst of fruit, almond cookies and hints of oloroso sherry. It has a long, warming finish that's both nutty and sweet.
While it doesn't qualify as genuine scotch, this Indian whisky is inspired by the best Scottish
single malts
, and is one of the most unique spirits we've have the privilege to taste. Made from barley grown at the foot of the Himalayas, distillers allow the whisky to mature in ex-bourbon casks and bottle it at a cask strength of 55.2 percent ABV. Bold and vivacious, it retains the flavors of the bourbon casks and the tropical, coastal climate where it is aged. It's juicy, fragrant and honeyed, with notes of cinnamon, clove, pineapple, crème brûlée and campfire. Make sure to buy yourself a bottle as well.
This distillery was only recently reopened in 2004, but the original distillers founded the facility in 1872 (the great-great nephew of the original distiller relaunched the brand). Located in Campbelltown, which was once lauded as the whisky capital of the world, this bottling has its own unique taste. Although there is peat present on the palate like Islay scotches, the whisky also has notes of marshmallow, custard, hazelnuts and honeycomb. Only on the finish are there flourishes of smoke and a sea salt brininess. It's the perfect gift for dads that are always on the hunt for the next "it" spirit.
There's simply no other scotch more classic or fatherly than this Islay single malt. Like all their single malts, Laphroaig's 10 year is produced with malted barley that is dried over a peat fire—resulting in the iconic Islay flavor. With a pervasive smokiness, notes of briny sea salt air, iodine, kelp and seaweed chips, this is a whisky best reserved for dads with refined palates and classy liquor cabinets.
For dads who don't like their single malts on the smoky or savory side of the spectrum, this iconic bottling is the ideal choice. Produced in the Speyside region of Scotland—an area known for its lighter, fruit-forward scotches—this single malt is aged for up to twelve years in ex-sherry casks. These barrels give the spirit its distinct flavor, lending notes of honey, ginger, brown butter, almond and marzipan. It is extremely quaffable.