Get to Know the Major Scotch Regions
Scotland may be a relatively small country compared to the United States (it's roughly the size of South Carolina), but it produces an immense variety of whiskies. The country is divided into six different regions, each of which is known for its own distinct style of whisky.
Depending on the region in which it's made, scotch can range in flavor from light and fruity, to rich and briny, to dark and smoky. There's a scotch for just about every whisky lover—you just have to know where to look. Here's a handy guide to help you get to know each of these regions and the special whiskies they produce.
The Highlands
Generally, Highlands whiskies rely more heavily on malt flavor than peat, but from there it gets more complicated. There is a wide range of whisky styles within the region itself. In the north, you're more likely to find rich, sweet and cereal-driven scotches, including brands like Glenmorangie and Dalmore. Move into the western Highlands and you'll see fruit- and smoke-flecked whiskies like those from Dalwhinnie and Oban. To the east you can find dry and fruity single malts like Glen Garioch, and to the south you'll come across a variety of lighter, fruitier whiskies like Edradour and Aberfeldy.
Try these Highland scotches: Oban, Glenmorangie, The Dalmore, Dalwhinnie, Glen Garioch, Edradour, Aberfeldy
Speyside
Speyside technically falls within the Highlands, but the region gets its own designation thanks to its dense population and because it is home to nearly half of all of Scotland's distilleries. The region is divided into eight different areas—Rothes, Strathisla, Lossie, Liver, Fridhorn, Dufftown, Deveron and Speyside Central—and is known for nutty, sweet and fruity scotches that are low in smoke. It's also your best best for finding whiskies finished in sherry barrels, particularly from big brands like The Macallan and Glenfarclas. The region also produces some lighter-bodied scotches like Glen Elgin.
Try these Speyside scotches: The Glenlivet, Aberlour, The Balvenie, The Macallan, Glenrothes
Islands
The islands surrounding the western coast of Scotland are technically part of the Highlands—Scotland does not officially recognize the Islands as their own region—but because they produce a rather specific flavor of scotch, the region is often regarded as being separate. Whiskies from islands like the Isle of Skye and Orkney lie somewhere between malty whiskies and smoky, briny whiskies, making them the perfect training wheel whiskies for those looking to make the jump from the Highlands to Islay.
Try these Island scotches:Talisker (Isle of Skye), Highland Park (Orkney), Scapa (Orkney), Jura (Isle of Jura)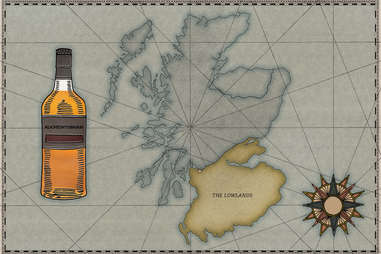 The Lowlands
The Lowlands encompass the southernmost part of the country, beginning directly underneath the Highlands and stretching from Greenock in the west, to Dundee in the east. Only a few Lowland distilleries remain, but they are known for whiskies that are typically lighter in color as well as in flavor. Distillers rely on malt to create soft, delicate, citrus-forward flavors, and are also known for using a triple distillation method.
Try these Lowland scotches: Auchentoshan, Bladnoch, Glenkinchie
Islay
More often than not, people associate Scottish whisky with the flavor of smoke. But for the most part, heavy, peaty scotches come from just one region: Islay. Islay is surrounded on all sides by salt water, and its distilleries use fierce amounts of peat to make their whiskies. The resulting spirits are intense, smoky and often briny. Not only do distilleries use peated barley, but the water used to make the whisky often filters through peat, encouraging even more earthy flavors.
Campbeltown
Located on the tip of the Kintyre peninsula, Campbeltown used to be booming with whisky distilleries—it once had 30. Now, though, the region is down to just three operational distilleries. Like Islay, it's surrounded by water, so its whiskies are often briny, but also contain sweet flavors like toffee and fruit, in addition to smoke from peat.
Try these Campbeltown scotches: Glen Scotia, Glengyle, Springbank