Spike Your Tonic Water with Coffee and Rum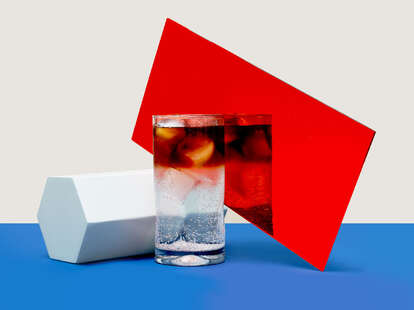 I had my first taste of coffee-laced tonic water about a year ago. I'd never heard or thought of doing such a thing, but I was intrigued by the idea of mixing something that I associated with gin—and only gin—with my morning staple. It turned out to be more than just intriguing—it was a darn good drink.
The combination isn't anything new; it's been popular for years in Europe and Japan. But the U.S. is only just getting hip to the drink, thanks to San Francisco's Saint Frank Coffee, which was the first stateside café to offer coffee-tonic. The shop started serving its own version of the drink in 2014: Fever-Tree Tonic topped with a shot of espresso. Soon after, the trend caught on in fancy coffee shops along the West Coast and then jumped cross-country to New York. While coffee-tonic has yet to appear on mainstream menus, I'm willing to bet it won't be long before you'll be able to get it at your local Starbucks.
Since that first encounter with the coffee-tonic, I've been working on my own take—one worthy of cocktail hour. I've played with reposado tequila, vodka and even a couple of different fruit liqueurs—but dark rum was the hands-down best-of-the-bunch, lending a rich creaminess to the drink.
Here, the winning recipe for a spiked coffee-tonic. You probably shouldn't down one for your morning caffeine buzz, but definitely give it a try the next time you need a buzzy, bubbly afternoon jolt.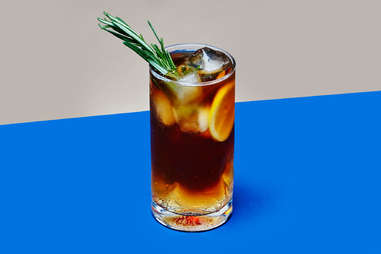 Coffee, Tonic and Rum

1 6.8 oz bottle Fever-Tree Mediterranean Tonic
1.5 oz Cold Brew Coffee
1 oz Blackwell Rum
Lemon wheel, for garnish
Sprig of rosemary, for garnish
Add the coffee and rum to a highball glass and fill with ice. Top with tonic water, stir to combine and garnish with the rosemary sprig and lemon wheel.