The Craft Blanco Tequilas Insiders Love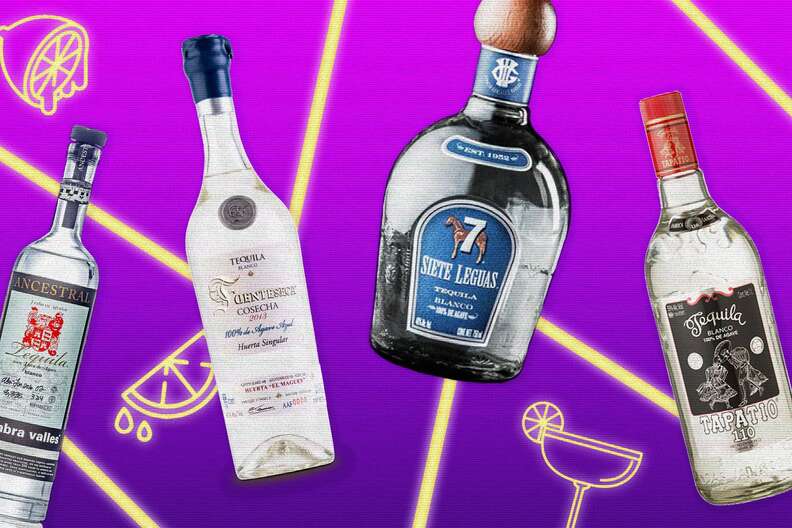 Emily Carpenter/Thrillist
Blanco tequila is the luminous mirror of the blue agave. Unlike the reposado or the añejo, it's not aged; just pure distillation of the plant. Well, that's the ideal, anyway. Not all blanco tequila is crafted with care, which is why it helps to know what to look for when you're picking out a bottle.
"Everyone's taste is different, but I judge a great blanco tequila by aroma, clarity, taste, and aftertaste," says Casa Dragones Tequila co-founder and CEO Bertha González Nieves -- who just happens to be the first-ever female maestra tequilera. And while an aged tequila shines through layers and smoky flavors, blanco is all about showcasing the flavors of the blue agave plant itself.
But not all blanco tequilas deliver on this potential. As you're staring down a row of silver bottles at the store, or when a bartender asks you which tequila you want to try, how do you pick? We talked with four tequila experts to uncover their favorite labels and -- perhaps more importantly -- to find out from them what makes a great blanco, and how to find one.
According to the governing body of the tequila industry, the Consejo Regulardor de Tequila, a spirit needs only to be composed of 51 percent agave to be labeled as tequila. "The rest can be mystery booze," says Ivy Mix, James Beard award-winning bartender, owner of Brooklyn's Leyenda, and author of the forthcoming book, Spirits of Latin America. "But I believe a good tequila should be made entirely from the plant."
Another key to quality blanco tequila, Mix says, is that it comes from agave plants that were allowed to mature fully (8 to 12 years), just like a peak season peach. This will lend the tequila a sense of terroir, every bit as important for tequila as it is for wine. "The really cool thing about tequila is that it's made from something grown for 10 years. Nothing else is like that, and you really want to be able to taste that when you drink a tequila."
And the processing matters. Some distillers inject agave with chemicals and speed up the process with pressure cooking. The alchemy of the slower, traditional roasting allows the flavors to develop into a truly great tequila.
There are two broad categories for tequila blanco. Tequila from agave grown in the valley regions in the state of Jalisco tends to have a very bright flavor and a stronger agave flavor. Mix describes them as "super robust, peppery, with lemon, bold and bright off the bat." They make for a more tequila-forward margarita, which in her books is a plus. "I like a little more spice in there to break through the other flavors."
On the other hand, Mix prefers highland tequilas for sipping because of their light, floral, "almost effervescent" taste. If you're new to tequilas, she says, start with highland tequilas.
This family-owned highland tequila label harvests agave from one select field at a time, highlighting the terroir, and then distills at the renowned La Alteña distillery. While it's excellent for sipping, Mix says it's also delicious in a margarita.
$50
Mix describes this spirit as the epitome of a lowland tequila, robust and peppery. This is another family-owned tequila company, where agave is roasted in brick ovens and distilled in the family's copper stills.
$30
Yana Volfson, beverage director of Cosme and Atla in New York, and Elio in Las Vegas, says this blanco is a special bottling that celebrates the potential of a vintage tequila. Like the Ocho, this tequila was made from a single, mid-elevation, mountainside field of agave that had too much personality to mix with the rest of the year's production. It's been double distilled in copper stills and then rested for three years in stainless steel, resulting in a spirit with hints of tropical fruit and baking spice.
$85
"This is a special bottling that explores flavors from the ancestral method of cooking agave in a buried stove underground," says Volfson. And by ancestral, she means the ancient, pre-machine-age method of tequila production including hand maceration of bat-pollinated agave and fermentation with bagasse, the pulp of sugar cane that's left after the juices are extracted. Walsh is also a fan of this tequila's production methods, and the "super unique flavor profile" that lends it. Earthy and herbaceous with undertones of pine and lingering citrus.
$125
"This has notes of orange blossom and green chili," says Volfson. "I love the way it blends into the 'House Margarita' recipe that will appear on our opening menu at Elio in Las Vegas." Owner González Nieves describes it as slightly floral with citrus notes. "It has a brilliant sheen, the taste is very herbaceous and agave-forward with hints of green apple, and the finish is very, very smooth. We always look for purity of agave in our taste. The agave notes can be very floral, sweet, nutty and peppery."
$65
When it comes to sipping, Jorge Herrera, beverage director at Georgie by Curtis Stone prefers… the complexity of an aged reposado, actually. Blanco is his go-to for cocktails. But he named three sip-worthy, exceptional blancos, including the Casa Dragones (listed above).
Herrera says he tends to stay away from brighter, green pepper-smelling tequilas in favor of more grassy, mineral flavors. "This probably comes from that early experience of when you're younger and doing tequila shots in the park with that really sweet, highly green-pepper-smelling tequila," he jokes. "So I prefer the opposite."
The following two tequilas are smaller market, family-run spirits Herrera has gotten to know personally, which for him adds to their appeal. He's been to the Fortaleza distillery to see their process.
This tequila house was founded back in 1973, but closed down and became a tequila museum in 1968. But in 1999, a descendant of the founder Guillermo Cenobio, revived the distillery using the same traditional methods, including brick oven roasting, pine fermentation tanks, and copper stills. Even the glass bottles are hand-blown. It's a favorite of both Herrera and Bart Walsh, general manager of Las Perlas in Los Angeles, who describes it as an "amazing lowland tequila made the right way" and "super flavorful and agave forward." This valley tequila has notes of citrus, of course -- but also butter, olive, and earth.
$40
This handmade (roll call: brick oven, tahona and roller mill, copper stills) tequila starts off sharp before mellowing into an earthy, grassy, lightly vanilla finish. The house is named after Mexican revolutionary Pancho Villa's long-persevering horse, a declaration of the house's dedication to tradition and the long game. In addition to Herrera, Walsh also listed it as one of his favorite highlands tequilas. "Similar to Fortaleza in its authentic methods, but with a different flavor profile due to the region," he says. "No diffusers brings you an unadulterated, agave-forward juice that is wonderful to sip."
$50
Not to be confused with the famous taco sauce, this is Herrera's pick for a very spirit-forward cocktail since it's 110 proof, which makes it 55% percent alcohol as opposed to the more typical 40% for most tequilas. "This one is really great in cocktails because if you do a full margarita you can definitely taste the tequila in there."
$40
Sign up here for our daily Thrillist email, get Eatmail for more food coverage, and subscribe here for our YouTube channel to get your fix of the best in food/drink/fun.