15 Best Tequilas for $25 or Less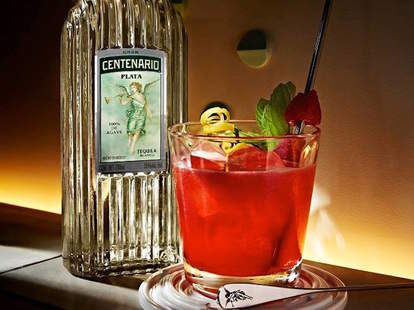 It's hard to find a decent, budget-friendly tequila that isn't down-the-drain-worthy swill. But there are a few hidden gems available on liquor store shelves, just waiting to be discovered. After a few visits to some of our favorite shops and a lot of tasting, we found 15 of the best, underrated tequilas that will cost you less than $25.
Made from 100% blue agave, this silver tequila from Jalisco is bright and clean with vegetal, earthy undertones. Sipped straight, it's soft and velvety, with flavors of toasted agave, green herbs, vanilla sweetness and black pepper spice on the finish.
Hands down one of the best values on the market, this tequila's vibrant acidity is perfect for refreshing summer cocktails. With subtle notes of agave and wet stone, it's clean, minimal and focused.  
This sophisticated spirit tastes twice as expensive as it costs. Big and round on the palate, with notes of cinnamon, black pepper, clove and vanilla, its time in the barrel doesn't diminish its fresh agave flavors. Try it with bittersweet grapefruit in a Paloma or Siesta, and in stirred cocktails.
Silky smooth, this unaged tequila from the Lowlands of Jalisco is produced by Hacienda Herradura. Subtly herbal, with an ultra-refined, vodka-eque cleanliness, it's great for shooting or in classic tequila cocktails.
Produced by Enrique Fonseca, fourth generation jimador and tequilero, this deliciously underpriced spirit has an agave funk with underlying flavors of cinnamon and white pepper, and a creamy, rounded finish. It's a must-have for anyone who even occasionally indulges in agave-based pleasures.
 
This entry level bottling in the Sauza line is a delicious addition to any tequila cocktail—especially Sours. Even though it is one of the lowest priced tequilas on this list, it is not a mixto tequila—which are typically low quality (don't confuse it with their Blue Silver which is not 100 percent agave). It is light but flavorful, with an abundance of bright grapefruit notes. There are also hints of orange blossom, white pepper and limestone on the palate.
Polished and elegant, this tequila is made at the famed El Llano distillery by the Orendain brothers, third generation tequilero royalty (their great grandfather founded the distillery in 1926). Featuring an exotic complexity typically find only in top shelf tequilas, there's flavors of banana, clove, key lime and pulque funk with a lasting zing of acidity and pepper in the finish. Sip this spirit straight or on the rocks with a zest of lime.
The brainchild of French-born expat Sophie Decobecq, this tequila uses different varieties of yeast and a combination of archaic and cutting-edge fermentation methods to create an entirely unique agave expression. Herbaceous and bright with flavors of fresh pear, it also has an unusual malic acid sourness and dried chili pepper heat on the finish.
From maestro tequilero Jesús Hernández and bartending duo Henry Besant and Dre Masso, this tequila hails from the Highlands of Jalisco. Pineapple's sweet-tart tropical flavors start first, then blossom into flavors of fresh agave and cool, aloe water. It is a phenomenal spirit for the price.
Perfect for mixing in cocktails, this agave spirit spends a brief 28 days in oak barrels before bottling. Quick aging adds just a touch of caramel corn and vanilla sweetness, while retaining blanco tequila's signature raw agave vegetal notes. Save the bottle once you're finished with the spirit, its beautiful art deco design makes it a great vase for flowers.
Distilled in copper pot stills, this unaged tequila tastes like Mexican moonshine (in a good way). On the palate the tequila has flavors of anise, with a funky, permeating sweetness. A cool, menthol finish tames the spirit's raw heat.  
Made from 100 percent blue agave, this tequila is state grown, distilled and bottled. On the palate, Lunazul blanco is light and citrusy, with notes of tropical fruit and a creamy mouthfeel. On the finish, it's dry and peppery, with a touch of vegetal herbaceousness from the agave. This tequila is perfect for cocktails and pairs well with tropical fruit juices like pineapple and passion fruit.
This tequila is finished in ex-bourbon barrels, which imparts a rich creaminess that makes it extremely drinkable. Rich and layered on the palate, this tequila has notes of caramel popcorn, sea salt, grilled pineapple and white pepper. While it is drinkable straight or with a cube of ice, it also makes an incredible tequila-based Old Fashioned.
There's a reason this Highlands tequila is ubiquitous behind bars: It makes delicious cocktails. Bright and floral with a touch of minerality and white pepper heat, this blanco tequila is a steal at the price. Whether you drink it neat, with a cube of ice or in a traditional Margarita, you will find plenty of different uses for this tequila in your home bar.
This delicious unaged tequila is produced on the estate of Juan de la Torre in Jalisco, Mexico. Made almost like a mezcal, the producer roasts the agave piñas in a brick oven (most modern tequila makers steam their piñas) before crushing them. In the glass, the tequila beams with vibrant aromas and flavors of tropical fruit. There is also a distinct minerality to the spirit, with notes of limestone, clay and celery that follow the fruitiness.