This Is the Best Tequila for Your Margarita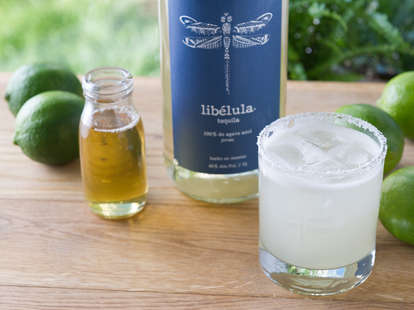 When Gretchen Thomas, the wine and spirits director of restaurant group Barteca, sat down to craft the perfect Margarita for the upscale, taco-slinging restaurant bartaco, she started by crafting the perfect tequila. Thomas now touts her Libélula joven as the perfect tequila for Margaritas, and we believe her.
Joven is not blanco. You may see the term "joven" marked on a bottle of faintly tinted tequila and, calling upon your best high school Spanish, assume that "young" tequila must be synonymous with white, or blanco, tequila. But you'd be wrong—well, kind of. Joven tequila is a blend of blanco and older, aged tequilas such as reposado and añejo, that ideally combines the best of youth and maturity.
You may not have heard much about joven because it's relatively rare in the U.S. When Thomas began her quest for the perfect Margarita tequila, she looked around the American market for a joven brand that fit the bill, but the limited offerings didn't meet her needs. Brands like Casa Dragones ($250) and DeLeón Tequila ($135) proved too expensive to be used in cocktails. Meanwhile, quick-aged tequila—barreled for three to four months to achieve a joven-esque quality—ultimately proved unsatisfying. So Thomas set out for Mexico to make her own joven.
To make Libélula, Thomas tasted through countless combinations of raw and aged agave juice at the Finos de Agave facility (which also makes the juice for George Clooney's Casamigos brand and Avion tequila). She explains that the producer didn't simply offer blanco and reposado in finished bottles, but also access to both traditional oven-baked agave and new school pressure-cooked agave, as well as agave distilled in both continuous column stills and copper pot stills, so she could mix and match until she found the perfect blend. After sampling everything from the raw ingredients to the finished products, she set herself up in the distillery and began testing Margaritas. With a constant supply of ice, limes, Combier and agave, she emerged two days later with arms sore from shaking, a mouth raw from citrus, and her perfect Margarita tequila.
Libélula is 75 percent blanco tequila, made with autoclave-cooked agave that's distilled in a continuous column still for a bright, crisp product. "The blanco is great because it has all of the sharp, high acid, green aloe qualities that are so beautiful with lime," she says. The remainder of the blend is reposado, made from agave that's baked in a traditional oven, distilled in copper pot stills and aged 9-10 months in American whiskey barrels. The aged tequila absorbs cinnamon, vanilla and a touch of sweetness from the whiskey casks. It rounds out the blend and provides some elegant depth. "When you use reposado, you get the wood notes," she says. "Just like an incredible Whiskey Sour is really refreshing because you're mixing citrus with an oak-aged spirit, I think reposado is also nice in a Margarita."
Blended together, the blanco and the reposado create a perfect zesty-but-earthy base that can stand up to all of the Margarita's bold flavors. "In a Margarita—especially ours which uses Combier that has this bright orange flavor and fresh lime juice—tequila can really get lost if it's too weak," Thomas explains.
Perfect as it is for mixing into Margs, Libélula's greatest achievement is its price tag. Thomas minimized costs by opting for a simple, unadorned liter bottle, designed for everyday mixing. Clocking in at about $30, you can feel good about going through bottle after bottle. Start by testing that perfect Margarita for yourself (recipe below), then experiment your way through a whole host of other tequila-based drinks.
bartaco Margarita
1.5 oz Libélula joven tequila
1 oz Combier
1.5 oz lime juice
0.25 oz agave syrup
Salt, for rim (optional)
Add all ingredients to a shaker tin with ice, and shake.
Strain into a salt-rimmed rocks glass filled with ice, and serve.