The 6 Best Reposado Tequilas Under $50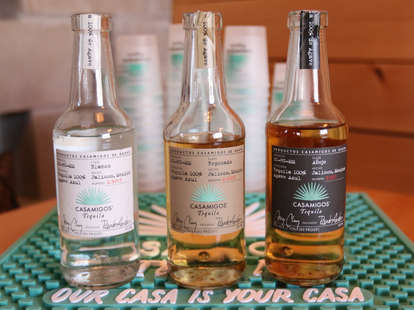 Yelp Inc. / Flickr
Yelp Inc. / Flickr
Out of the three types of tequila—blanco, reposado and añejo—reposado tequilas are the most mellow and approachable, falling smack dab in the middle of the tequila flavor spectrum. Aged for 2-11 months in oak barrels, reposados retain the vibrancy of blancos, but are generally less oaky than their añejo brethren. From the cultish Tequila Tapatio Reposado to the distinctly unique, almost briny, Corralejo Reposado, here are six of our favorite reposado tequilas. Best of all, none of them will cost you more than 50 bucks.
No, this tequila isn't related to the Mexican hot sauce with the mustachioed man in a sombrero on the label. Distilled by the Camarena family for three generations, the full Tapatio line (which includes a blanco, reposado and an añejo tequila—among others) was only available in Mexico until recently. While their 110-proof blanco is a must-buy for tequila fans, their reposado is our personal favorite. Decadent like cinnamon pudding, Tapatio's reposado exudes a rich malty flavor from its time in oak, and a round creaminess on the palate. The spirit is the perfect balance between the raw, vegetal spice of their blanco tequila, and the oaky, baking spiced richness of their añejo. Sip this succulent flavor bomb in a glass with a fat cube of ice and a cigar.
Made by French expat Sophie Decobecq with an emphasis on quality and chemistry (she has a background in biochemistry), Calle 23 tequila is one of the most underrated tequilas on the market. While all three of their tequilas are worth seeking out, their reposado is stupefyingly delicious. Aged for eight months in ex-bourbon casks, the tequila has a rich savoriness akin to heavily buttered popcorn, with touches of vanilla, spice and wisps of sea salt caramel from its time in barrels. Considering how rich and luxurious this tequila tastes, it's surprising how inexpensive it is.
Distilled in the lowlands of Tequila, 123 (Uno, Dos, Tres) harnesses the flavors of natural fermentation to create some of the most unique tequilas to come out of Jalisco. Aged in white oak barrels for six months, it has white pepper heat, tinges of vegetal jalapeño and a vanilla creaminess, with speckles of anise in the foreground, lime zest and some subtle minerality. This reposado tequila was made to be stirred into a Negroni.
Distilled by the Orendain Brothers, Arette Tequila is produced at the El Llano distillery in Tequila, Jalisco with 100 percent blue Weber agave and volcanic well water. Incredibly smooth (hence the name "Suave"), this reposado has an almost Cognac-esque nose. It is voluptuous in the glass, with a bright, peppery heat, subtle, honeyed sweetness and a backbone of raw agave flavor. This tequila is delicious on the rocks (or with a touch of water) and as an accompaniment to fatty, flavor-rich meats like carnitas or cochinita.
If you haven't tried George Clooney and Rande Gerber's line of agave spirits, it's about time you did. The best of the trio is the reposado, a sunshine-hued dram that's aged in ex-whiskey casks for seven months. Almost silky on the palate, Casamigos reposado has soft touches of charred oak, a hint of vanilla and flourishes of raw cacao. As the spirit finishes, it leaves a lasting weight on the tongue and hit of pepper in the sinuses. While their blanco tequila is the perfect base for cocktails, their reposado was made to sip neat, slowly.
The next time that you see this unique blue-hued glass bottle—with its gilded label and red font—behind a bar, do yourself a favor and order a glass (preferably neat). Incredibly complex, Corralejo's reposado has notes of fresh lemon zest, pink peppercorn, vanilla, honeycomb and an almost briney, sea salty tinge on the finish. The spirit gets its unique characteristics (and beautiful hay-like color) from its time spent resting in in three distinctly different casks: American oak, French oak and Encino oak. Inexpensive and totally underrated, Corralejo reposado never disappoints.