9 Reposado Tequilas So Good You Can (and Should) Sip Them Straight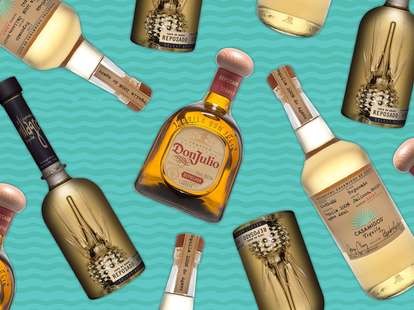 The English translation of reposado is "restful," and like the name implies, reposado tequilas are aged (or rested) from two months up to a year in barrels after distillation. That short time in oak allows the spirit to mellow, soften and develop richer flavors while retaining some of the fresh, spicy spunkiness of an unaged blanco tequila, making reposados some of the most approachable and drinkable agave spirits on the shelf. From super affordable Pueblo Viejo Reposado tequila with vanilla oak sweetness, to Clase Azul Reposado aged in bourbon, Cognac and sherry casks, here are nine of our favorite reposado tequilas to sip solo.
This is not the first time we've raved about this amber-hued tequila, and it won't be the last. One of the best values you can find, this reposado tastes way more expensive than it actually is. Big and bright, with a touch of raw agave vegetalness, Pueblo Viejo is as smooth as it is complex. On the palate, it has notes of cinnamon, baking spices, vanilla oak sweetness and a long, dry finish with flourishes of white pepper heat. While this spirit works in just about any tequila-based cocktail (especially stirred drinks), it's also perfectly suited to sip straight.
Muchote Tequila Reposado $33
Made from 100-percent blue agave that's grown in the fields of Don Feliciano Vivanco, a third generation agave farmer, this tequila is rested in oak for at least seven months prior to bottling. Delectably smooth, it has lots of vanilla on the palate and nose. While it lacks the raw vegetal notes of agave and that peppery heat we love, it has an almost bourbon-esque sweetness, with an abundance of salted caramel and creamed corn silkiness. This is the kind of tequila we want to sip slowly with a fat cube of ice after a heavy meal.
Aged for more than three months in American oak casks, this reposado tequila is a remarkable spirit. With a bouquet of steamed agave, mint, wet hay and cardamom, it tickles the palate with a burst of freshness. As the spirit sits in your mouth, it reveals a deep complexity and a natural, almost juicy sweetness, yielding tropical notes of banana, mango and stone fruits like apricots and peaches. On the finish, peppery heat mixes with notes of raw cacao, honey and wet stone, leaving a lasting buttery creaminess on the tongue and sides of the mouth. Call us crazy, but if we were to mix this reposado into a cocktail, we'd use it as the base for tropical libations with lots of bold fruits, or in creamy beach cocktails like the Piña Colada.
This agave-spirit from Don Julio is not your average reposado tequila. Aged just less than a year in ex-bourbon casks, Don Julio Reposado is exceptionally smooth and refined. Retaining some of the flavors of unaged tequila—including fresh cucumber, agave and green apple—it's richer than most and has a silky texture that lingers on your tongue. Expect touches of cacao and Mexican hot chocolate, as well as a long, heavy, almost creamy finish exploding with white pepper heat. Whatever you do, don't waste a tequila like this in cocktails—this spirit was meant to sip neat.
Vibrant and elegant, this reposado deserves more attention than it gets. Rested for eight months in white oak before bottling, the tequila has a strikingly beautiful, natural straw yellow color. Intensely aromatic and richly flavored, the spirit starts with notes of green jalapeño, lime zest and wet stone minerality. As it opens, the raw agave flavors shift to reveal the spirit's time in oak, yielding a soft butteriness, toffee sweetness, and creamy finish with hints of roasted pecans, nougat and nutmeg. When you're looking for a reposado tequila to impress even the most seasoned agave drinker, this is the bottle to buy.
Founded by Rande Gerber and George Clooney, Casamigos is responsible for creating some of the most delectable, sippable, absolutely crushable tequilas on the market (their tagline, "smooth tequila that doesn't need salt or lime," holds true). Their reposado is no exception, and our personal favorite of the the lineup. Aged in ex-whiskey casks for up to seven months, this reposado drinks like the best bourbons. There's a vanilla-oak sweetness, a touch of maple, the slight char of bourbon casks, a subtle nuttiness, and a long-lasting, creamy finish with an abundance of spice and pepper. This is the kind of tequila that's meant to be shared and savored.
The only tequila brand (legally) distilling in Tamaulipas, Mexico, Chinaco creates a rare breed of agave spirits. Unlike any of its reposado brethren, this spirit is aged in a variety of oak casks from both France and England—including ex-Scotch whisky barrels—and rested for up to 11 months. With a radiant golden hue, it has notes of quince, lemon oil, lime zest, peach and fresh dill. It's at once vibrantly fresh, intoxicatingly rich and almost savory. Fans of fruitier, less peat-heavy scotches should take note of this singular offering.
Housed in gorgeous, hand-blown glass bottles (complete with a crystalline agave plants inside) Milagro's Barrel Reserve line of agave spirits are some of the brand's best. Their reposado is triple-distilled, once in a column still and twice in an alembic copper-pot still, and rested for three to six months in American and French oak casks. In the glass, the spirit has a beautiful grassy, vegetal aroma with a peppery, abundantly rich palate. Flavors range from salted caramel popcorn to toffee to spices like cinnamon and clove. With a lasting, dry, tannic finish, Milagro's Reserve Reposado is best sipped straight so its complexity can be enjoyed.
Housed in a beautiful, white Talavera-style ceramic vase that's hand-painted with vibrant blue florals, Clase Azul is some of the best juice we've had out of Mexico. Rested for eight months in ex-bourbon, Cognac and sherry casks, the tequila is rich and decadent with an almost rustic edge. With aromas of wet earth and jasmine blossoms, the spirit reveals amazing depth and balance on the palate. Notes of clove and cinnamon spice intermingle with vanilla, tobacco and leather. There's a vibrant acidic tinge and a long, mellow, honeyed sweetness on the finish. It would be blasphemy to drink this spirit any other way than neat.