The Best Tequila to Buy, According to Your Favorite Tequila Drink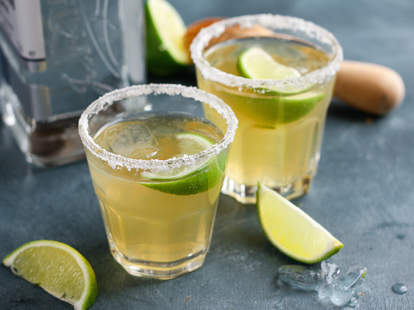 By Wiktory / Shutterstock
While it took a while for tequila to gain widespread popularity in the United States, the Mexican spirit has finally been accepted by the mainstream. Once championed mostly by college bros as an adrenaline-fueled frat party staple, tequila has graduated from the college campus to the best cocktail bars in the country. If you're a fan of tequila—and the cocktails that have been created with it (here in the U.S. and in its native country)—this buying guide will help you choose the best tequila to buy based on the drink you're making. Whether you love Margaritas or always order tequila shots, these five tequilas will help you decide what spirit to buy and how to drink it.
While a Margarita should be face-puckering-ly sour, vibrant and refreshing, the tequila at the base of the drink shouldn't get lost behind the lime's acidity. Astral tequila couldn't be more perfect for the Mexican classic. Founded by Master Sommelier Richard Betts (of Sombra Mezcal fame), Astral is made in the style of tequilas that was produced centuries ago, prior to the industrialization of the tequila-making practices. Unlike most modern tequilas, Astral leaves the bagazo (the fibers and pulp) that remains after crushing the agave piñas in the liquid during fermentation. This process gives the spirit a distinct funkiness and rustic quality that's typically found in mezcals. Bottled at 92 proof (Betts calls it "a more honest proof") the tequila is the perfect foil to the tartness of fresh squeezed lime. With Astral, the cocktail becomes complex, layered, and brazenly boozy. Once you try it, you'll never drink the cocktail another way.
If we're not mixing our Paloma with a piquant, campfire-smoke laden mezcal, we generally opt for a richer, more complex reposado tequila. Tequila Tapatio's reposado is malty from its time in oak, with an almost custardy, cinnamon-horchata-esque quality. In a Paloma, the tequila adds heft and weight to an otherwise light, refreshing drink, and anchors the grapefruit juices' bitter tartness (almost like a bourbon does in a Boulevardier). To make this cocktail more delicious—and to play up the inherent complexities in the tequila—garnish the drink with a fat swath of grapefruit peel and some freshly grated cinnamon (in Mexico they use Ceylon cinnamon from Sri Lanka).
Adding a hefty pour of Tanteo's Chipotle tequila to your Bloody Maria mix makes the need for hot sauce completely unnecessary (unless you like your brunch cocktails painfully hot). Infused with chipotle peppers from Chihuahua, Mexico, this tequila is extremely complex on the palate, with meaty flavors alongside some extremely concentrated smoke, jalapeño heat and agave's distinct vegetalness. In a Bloody Maria, the tequila gives the cocktail a distinct barbecued flavor (which works wonderfully with tomato), a savory umami richness, and a vibrant, mouth-numbing spiciness. Tanteo's Chipotle was destined to become the staple tequila for this brunch favorite.
A well-made Tequila & Soda should be so cooling and refreshing that one sip makes you release a long, contented sigh (like in those '80s Coca-Cola commercials). The tequila at the base of the drink should be light and ethereal, yet flavorful enough to be sipped straight (the drink is just tequila and soda after all). Calle 23 Tequila Blanco, made by expat French Microbiologist Sophie Decobecq, is perfectly suited for this effervescent Highball. On the palate the tequila has a soft minerality, with flourishes of lime zest (and its brightness), vegetal qualities from the agave plant (akin to eating nopales, aka cactus), and a white pepper heat on the finish. With soda water, especially one with residual traces of minerality and salinity like Topo Chico, the tequila's beauty shines as its flavors are carried on the tight, crisp bubbles to your tongue. Anytime we have to battle the sun's glaring heat, this combo is our ultra-refreshing weapon against overheating.
Yes, tequila shots can actually be enjoyable. You don't have to close your eyes in dreadful anticipation and horror, or go after the wedge of lime to erase the memory of shit tequila on your palate. What you should be doing when you take tequila shots, is drinking a good tequila that you could, possibly, drink neat like you would a whiskey or Scotch. Código 1530's blanco is the solution to all your tequila shooting problems. Silky and almost viscous on the palate, this unrested, silver tequila makes for luxurious drinking. The spirit is boldly vegetal and fresh tasting, with a garden-bouquet of flavors including green jalapeño, sun-gold cherry tomatoes, fresh mint and rosemary. On the finish the tequila is mouth-coating, with a raw honeycomb sweetness and notes of fresh cracked black pepper. Once you start shooting Código shots, you'll never be reluctant to take a tequila shot ever again.