The Best Tequilas Under $20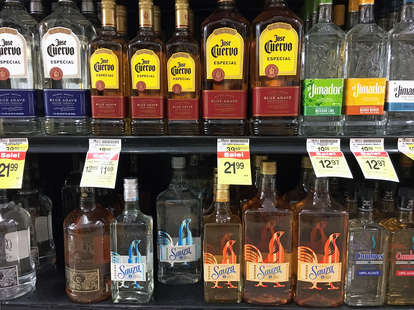 Philip Pilosian / Shutterstock
If you're mixing up tequila cocktails for a big party, chances are you don't want to pay too much for a single bottle. But cutting costs doesn't mean you should skimp on flavor. Here, the best bottom shelf tequilas that don't cost more than 20 dollars. Grab a bottle and get to mixing.
This tequila is the entry level bottling in the Sauza line. Despite its low price, it is not a
mixto tequila
and is distilled from 100-percent Blue Weber agave (don't confuse it with their Blue Silver which is not 100 percent agave). Light but flavorful, it has notes of grapefruit rind, orange blossom, white pepper and limestone. It's perfect for mixing cocktails, especially
Sours
.
Another great well tequila, this bottling from Lunazul is an unaged blanco. Like the Sauza Blue, it is light, floral and citrusy, but it has a distinct weight that is almost viscous and velvety. On the palate, it has vegetal agave notes and a long, peppery finish with hints of vanilla. Although Lunazul's blanco tequila is delicious in a
Margarita
, it has enough backbone and body to be used in stirred cocktails like a Tequila
Old Fashioned
.
One of our favorite bottom shelf tequilas on the market, Pueblo Viejo Blanco is our go-to bottling when
stocking our home bar
. It's rich and savory with notes of roasted green chilies, wet gravel, sea salt, and green and white pepper. Distinctly spicy, this tequila works wonders in any agave-based cocktail or as a
straight shot
.
Produced at Casa Herradura in Amatitán, Jalisco, El Jimador's blanco tequila was launched in 2000. Since its release, it has been one of the best-selling tequilas in Mexico. A classic Lowlands style tequila, this bottling bursts with citrus. It also has notes of honeysuckle, white pepper and bell pepper. It's an extremely versatile tequila for cocktails and lends a unique spiciness to mixed drinks.