The 5 Most Expensive Tequilas You Can Buy
If you're really looking to splurge on a bottle of tequila, then you've come to the right place. These bottles are gilded, diamond-encrusted and contain some of the most precious agave spirits on Earth. Here, the five most expensive bottles of tequila you can buy for when you're feeling extra flush.
Every edition of this extra añejo tequila is bottled in a custom decanter created by a distinguished artist—think bigwigs like Gary Baseman and Bosco Sodi—so the price doesn't seem so bad when you think about how much you'd pay for a piece of their other work. It's only produced and released in the finest years of 1800 production, which makes it an even rarer bottling. Bottles from years like 2011 and 2013 are currently going for almost $1,500, so we suggest saving up if you want to get in on the action.
This extra añejo tequila is first rested in oak barrels for 11 years before it's aged for a second round in Portuguese port barrels. The liquid is then bottled in a handmade Italian glass bottle, which is a re-creation of a crystal decanter that Asombroso founder and CEO Ricardo Gamarra found in an 18th century European castle. Lastly, the bottle is packaged in a handmade cedar humidor to keep your cigars (which we assume you have if you're the type of person who spends $1,500 on tequila) nice and fresh. Oaky with notes of toffee and port, it's the ultimate luxury tequila for añejo aficionados. Bonus: If you buy from the website, they'll throw in a bottle of their 11 Year Vintage Añejo for $1.
Barrique Ponciano Porfidio Tequila ($2,200)
Only 2,000 bottles of this tequila are produced each year, and you'll have to spend just about that amount in dollars if you want to get your hands on one. The extra añejo is typically aged for 10 years or so in very expensive woods like cherry wood, French limousin and acacia. The bottle is luxe too; it towers over the competition at 17 inches tall and features 21-karat gold letters and hand-painted details. If you have the money to spend, Barrique Ponciano Porfidio is bursting with flavor and is totally worth the splurge.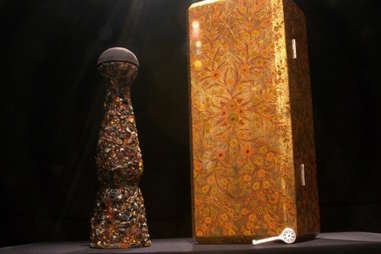 To commemorate Clase Azul's 15th anniversary, founder Arturo Lomeli decided to celebrate with a bottle studded with precious stones and metals like amber and 24-karat gold. The gilded ceramic bottle will set a buyer back $30,000. If you can't quite afford this edition, Clase Azul's $100 bottle comes in an equally beautiful bottle that will add some pizzazz to your bar cart.
If you have an extra couple million to spare, then it doesn't get any more expensive than Tequila Ley .925 Diamante. While the liquid inside is sure to be tasty (it's a premium extra añejo aged for seven years), it's the bottle that really drives up the price. According to the website, "It's the most important jewel made in Mexico since colonial times" and contains two kilos of platinum and 4,100 white diamonds. At least the bottle will make a baller vase when the liquid is gone.