The 5 Best Mini Bottles of Tequila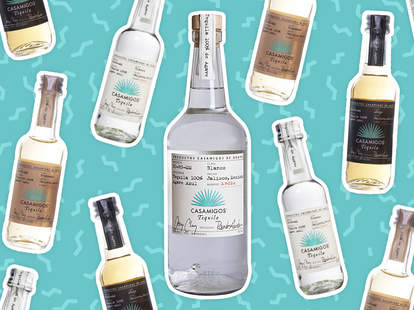 Even in small quantities, tequila packs a heck of a lot of flavor, making mini 50-milliliter bottles the ultimate mobile booze option. Some quality brands have shrunk their blancos, reposados and añejos down into tiny packages, perfect for spiking fruity drinks or tequila shots on the go. Here, our favorite mini bottles of tequila to take anywhere and everywhere.
Yep, George Clooney's agave child comes in a mini bottle. Not every brand that sells minis offers its more expensive aged tequilas in a scaled down package, so it's nice to see all of Casamigos' offerings in 50 milliliters. Since all three mini bottles are pretty close in cost, take the opportunity to try the añejo, which normally runs $54, for a song at $4.
One of our favorite cheap tequilas (and a popular choice down in Mexico), Gran Centenario Plata spends a quick month in oak barrels to smooth and round its flavor, creating a bright tequila with just a touch of caramel and vanilla. The mini bottle delivers that same extra smooth flavor
Herradura's distinctive squared bottle looks kind of cute in miniature. The lightly oaky tequila makes an excellent choice for a Margarita, so consider this shrunken version the ideal bottle to take along for Margs on the go. Be sure to pack a few for your next flight to Mexico.
El Tesoro's 80th anniversary bottling was one of our favorite new tequilas of 2017, but at $200, it was a bit out of the price range for most. At about 100th of that price, you can try the brand's platinum tequila, which isn't quite as complex, but still carries some of the same flavorful hallmarks. Earthy, vegetal, and ginger-spiced, with notes of aloe vera and roasted pear, El Tesoro Platinum is a bombshell in a mini bottle.
This budget option (even by mini bottle standards) bursts with more flavor than we deserve for just over a dollar. Full of citrus zest and peppery heat, El Jimador's blanco bottling stands up in just about any tequila cocktail. This little guy really proves how a tiny bottle can punch well above its weight. Don't underestimate its absolute utility.