The Best Tequilas for Your Margarita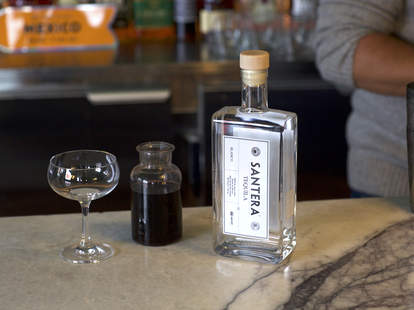 Courtesy of Santera Tequila
The Margarita is one of the most popular classic cocktails on the planet, but we'd be willing to bet that the majority of people are mixing them with a low-quality tequila. You don't have to spend a ton of money to get it right, though. Nor do you need to drink your way through every tequila in the liquor store to find the best bottles (we won't stop you if that's the path you choose, though). We're here to help. These are Supercall's five favorite blanco tequilas for mixing the mightiest of Margaritas.
This reasonably priced tequila is our go-to, budget-friendly bottle. It's herbal with a spicy, citrusy edge, which melds perfectly with the agave and lime juice in a Margarita, but it's equally good in many other tequila cocktails.
For an Extra-Smooth Margarita: 1800 Silver ($25)
This tequila is smooth enough to sip straight, but it makes a damn good Margarita, too. The distillery uses Weber blue agave that's fully matured at 8-12 years old. They double-distill the agave juice and blend it with other white tequilas to give this spirit its signature complexity. Clean and balanced with notes of sweet fruit and spicy pepper, it makes for a beautifully bright Margarita.
If you want to get a little fancy, try mixing your next Marg with Casa Noble Crystal. The award-winning tequila is triple distilled, making it one of the silkiest tequilas around. With flavors of honey and buttery-sweet cooked agave and just a touch of citrus, it's great in a traditional Margarita or served simply with a splash of fresh lime juice.
This blanco tequila is perfect for those who usually lean more towards rich, barrel-rested reposados. Herradura ages their silver spirit for 45 days in oak barrels to give it a light straw color and robust woody aroma. While the oak slightly mellows the sweet agave flavor, it gives the tequila notes of toasty vanilla and a smooth, warm finish for a round, warming Margarita.
Santera's Master Distiller Augustín Sanchez roasts the agave piñas for this tequila low and slow before putting the juice through an extended fermentation process that gives the spirit its distinct flavor and aroma. A mineral-rich scent hits your nose first before it gives way to citrus, spice and sweet agave. With a medium body and long, lingering finish, it will shine through in a Margarita.
Herencia Mexicana is an underrated tequila. The company uses agave from Los Altos de Jalisco (the highlands region of the state of Jalisco). Workers cook the agave piñas in traditional ancestral methods using clay ovens, before grinding them with a tahona. The result is a floral and herbaceous blanco tequila that has a range of flavors including pepper, jasmine, orange blossom, honeycomb, lemon, limestone and clay. This blanco easily stands out, especially in a Margarita.
Sophie Decobecq, a biochemist turned distiller, is the mastermind behind Calle 23. If you taste Decobecq's tequila neat, you'll immediately notice a sharp bite of funk right at the front. That's followed up by rosemary, sage, dried red chiles, orange, lime and pineapple. It's delicious straight, but Calle 23 can add that same funk to your Margarita to make it all the more interesting.