Unexpected Ways to Use Tequila in Classic Cocktails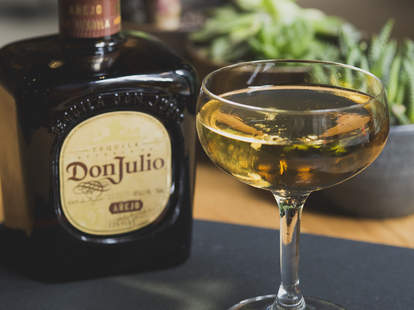 Tequila is one of the most versatile spirits behind the bar. From blanco tequila's peppery, vegetal palate, to the bigger, bolder reposado tequilas that are akin to whiskey, the Mexican spirit can be used in variety of unexpected ways—it shouldn't be reserved just for your Margaritas and Palomas. Here, nine classic cocktails that you would never think to make with tequila but are excellent with the agave spirit.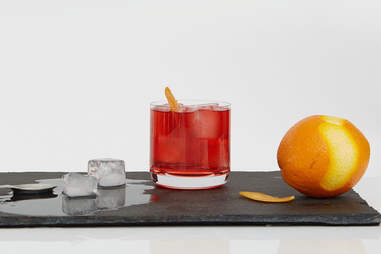 Matthew Kelly / Supercall
Tequila and Campari are a match made in heaven. The bright bitterness from the Italian aperitif combines with the spicy, almost vegetal nature of tequila to create an ethereal harmony. It's what makes drinks like the Siesta modern classics. For a lighter Negroni that's reminiscent of the traditional gin drink, use a peppery, slightly vegetal blanco tequila. Or, if you want a robust cocktail that's more akin to a Boulevardier, use a vanilla-heavy reposado tequila. Garnish your Negroni with a fat swath of grapefruit peel instead of orange zest for the perfect finishing touch.
Matthew Kelly / Supercall
Tequila shares more flavors with whiskey than you might realize. Spicier agave spirits like Pueblo Viejo's reposado have the piquant bite of rye, while heavily aged, sweeter tequilas like Chinaco's Añejo are bold and vanilla-heavy like bourbon. Depending on which whiskey you prefer for the base of your Manhattan, choose a tequila accordingly and make sure to pair either version with a full-bodied vermouth like Carpano Antica Formula or even a bittersweet amaro like Punt e Mes.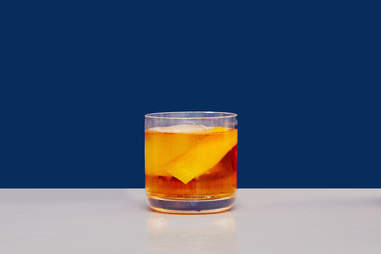 Matthew Kelly / Supercall
When bartender Phil Ward created the Oaxacan Old Fashioned at New York stalwart Death and Co, it was a stroke of genius. Made with reposado tequila, a touch of smoky mezcal and spicy mole bitters, the riff on the classic is a sharp detour from the typical whiskey drink. While you don't necessarily need to add mezcal or bitters, they both add spice, smoke and depth to the drink. Whatever ingredients you decide upon, garnish with a flamed orange twist to bring out the drink's brighter undertones.
Matthew Kelly / Supercall
Essentially an upgraded tequila and soda, swapping the agave spirit for vodka in a Moscow Mule is the perfect prescription for balmy summer days when there's sweat on your brow and you're extra parched. Ginger, lime and tequila are an herbaceous, effervescent refreshing trio.  Opt for lighter blanco tequila over a reposado or an añejo, and the spicier the ginger beer, the better. For an extra kick—and for depth—add two dashes of Angostura bitters before you top the Highball with ginger beer and a sprig of mint.
Matthew Kelly / Supercall
The Whiskey Smash is one of the most underrated summer sippers. Created by bartending legend and author Jerry Thomas, the Smash combines a base spirit with crushed ice, either fresh fruit or aromatic herbs, and a sweetener. Instead of using bourbon (or rye) like the classic recipe calls for, use a big, vivacious reposado tequila—one that's spicy with plenty of vanilla and leather flavors from its time in oak is best. If you really want a drink with gusto, muddle the tequila with in-season fruit. Our favorite combinations include fresh peaches with mint, rosemary with sour cherries, and blackberries all on their own.
Matthew Kelly / Supercall
The Bramble is somewhere between a Gin Fix and a Smash. Made with gin, blackberry liqueur crème de mûre, fresh blackberries and lemon, the drink is dark, fruity and sour. When substituting tequila for gin in a Bramble, it's best to use a lighter, cleaner agave spirit, like Calle 23 Blanco. If you want a Bramble with a darker, foresty flavor, use a tequila like Astral, which is higher proof and retains a touch of funk and vegetal flavor from its unique, whole agave fermentation (known as bagazo) with wild yeast.
Matthew Kelly / Supercall
If you want to take your tequila on a delightful, tropical vacation, start with this beach-side staple. Instead of using a blanco tequila, opt for reposado. Lighter tequilas get lost in the syrupy sweetness of Coco Lopez. Not only do reposado tequilas shine through the sugary flavor, but their richness and depth is the perfect foil to the bright, tartness of pineapple juice in the drink.
Matthew Kelly / Supercall
The classic Mai Tai is a great cocktail to experiment with layering tequilas. Traditionally the tiki classic splits the base spirit between two different types of rum, but some bartenders use upwards of four. Much like rums, tequilas can be layered and mixed together to create a unique depth of agave flavor. To play it safe, make your Mai Tai with a combination of an ultra-peppery, raw blanco tequila and a more bourbon-esque reposado tequila. The spirits will play off one another well, and meld seamlessly with the orange liqueur and orgeat in the drink. It's essentially a Margarita—albeit more Polynesian than Mexican.  
Matthew Kelly / Supercall
Using tequila in a Bloody Mary isn't for the faint of heart—it's for people who like their brunch bold and spicy. A tequila Bloody Mary (aka a Bloody Maria) is best with vibrant and peppery blanco tequila, fresh lime juice instead of lemon, and a hot sauce that's less vinegary and single note than Tabasco. If you really want to breathe smoke, use something with serious firepower like El Yucateco Caribbean Habanero.