The Best Flavored Vodka, According to Bartenders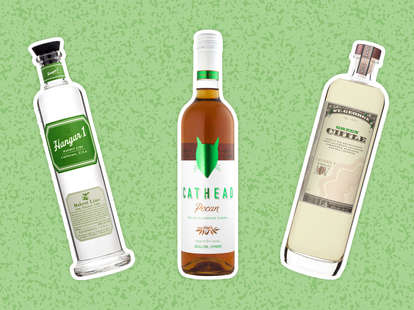 Flavored vodka has a bum rap. It's not completely unwarranted—we're looking at you, birthday cake—but you can't judge the whole based on a few bad apple vodkas. There are companies out there that are doing flavored vodka the right way, where nuance and balance can indeed be found.
"There is a time and place for everything, and some vodka companies are producing some really solid flavors that are really fun to play with," Mia Mastroianni, the head bartender at Soho House West Hollywood and the mixology expert on Bar Rescue, tells Supercall. "From a consumer perspective, they provide an incredibly easy way to add flavor to a cocktail without necessarily needing or knowing any particular bar technique: Just mix with soda water or other mixer and you have a delightful DIY beverage!"
To find the best quality flavored vodkas out there, we spoke with Mastroianni and six other bartenders to get their recommendations.

Robert Freeman, a bar consultant in Savannah, Georgia, swears by the taste of the South when it comes to his flavored vodka.
"I am a fan of the pecan flavor from Cathead distillery located in Jackson, Mississippi," Freeman says. "They create a smooth and velvety corn-based vodka sweetened with Louisiana sugar cane. It takes about 4-6 weeks for the total maceration process using stainless steel aging and local Mississippi pecans. This is a fun spirit to experiment with behind the bar and to even to sip on after dinner! Cathead Distillery donates a $1 from every bottle sold to support a music-based charity within each state."

St. George, a northern California distillery, makes a range of high-quality flavored vodkas. The Green Chile, however, is a standout.
"I absolutely love St. George Green Chile Vodka," Natasha David, the co-owner of Nitecap, says. "It's a great way to spruce up your Bloody Mary game."
It's made with chiles, but thankfully it's not too spicy. Five different peppers ranging from bell peppers to serranos go into the mix, giving it a vegetal flavor with a gentle nudge of spice toward the end.
"St. George makes a lot of cool stuff right now in regards to flavored vodka," Erick Castro, the Hungry Bartender behind Polite Provisions and Boilermaker, says. "Their Green Chile Vodka is super cool. In a way, it almost tastes like a green chili eau de vie."

Makrut Lime isn't your average lime vodka. Along with St. George Green Chile, this is one of David's go-tos. Its flavors of lime, wood, white pepper and cucumber make it "great in a Vodka Soda or in a simple Gimlet," she says. If you're looking for a different type of citrus option, Castro also suggests Hangar One Mandarin Blossom.

Castro describes Square One Botanical as, "like a gin, but without juniper." Pear, rose, chamomile, lemon verbena, lavender, rosemary, coriander and citrus peel are thrown into this vodka, making it perfect for someone who wants botanicals but doesn't want the pine flavor.
Blueberry, Cherry and Peppermint

"I went through a phase where Blueberry Vodka Sodas were my JAM!" Mastroianni says. "Cherry flavored vodka mixed with lemonade makes for a simple two-ingredient cocktail perfect for any summer gathering, and don't get me started on how a good peppermint vodka can liven up any seasonal hot chocolate!"
Homemade Natural Flavors

"I say scrap the brand-names and make your own," Brian Evans, the head bartender at Sunday in Brooklyn, says. "With light infusion time, even the cheapest of vodkas take kindly to any type of tea (especially jasmine and rooibos), as well as fruit peels, herbs, and spices—especially a combination of all."
Blaze Powers, the lead bartender at Harlowe, agrees and thinks making your own is superior to grabbing a bottled flavor off the shelf. "Any cocktail could be made better by using fresh ingredients and infusions or syrups instead of flavored vodka," Powers says. "Stick to the plain stuff."
Making your own flavored vodka at home is as simple as sourcing ingredients and adding it to vodka for a day. "It is so easy to just infuse vodka with fresh ingredients," Tonia Guffey, a brand ambassador for Highland Park, says. "Which I will take any day over a manufactured appropriation of flavor."