Bartenders 5 Favorite Vodkas Under $20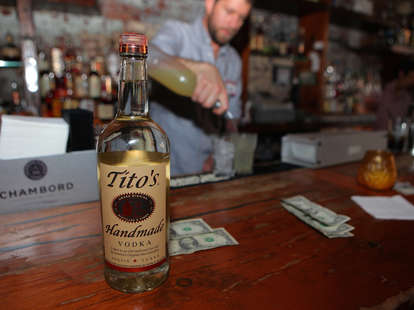 Melanie Fidler / Into The Woods! / Flickr
When bartenders design the "well" behind their bars, they tend to choose spirits that are as mixable as they are inexpensive. To get the inside scoop on the most flavorful, bottom-shelf priced vodkas on the market, we contacted bartenders for their top picks in the spirit category—and the most likely bottles to end up in their well. From a new, premium vodka out of Champagne, France, to Tito's, the cult-classic from Texas that's now a bar mainstay, here are the five vodkas that cost $20 or less from bartenders around the country.
Produced in the Champagne region of France, from 100-percent wheat, this underrated spirit tastes like vodkas that cost twice as much (if you're a Grey Goose fan, take note). After distillation, the vodka is shipped to Iceland, where it is filtered and diluted to 80 proof. This process "creates a creamy, [subtly] sweet vodka that's ideal for cocktails," says Ginger Warburton of Lantern's Keep in New York.
Distilled from 100-percent Polish rye, this affordable, premium vodka from Domaine Select Wine & Spirits was created with bartenders in mind. Passed through the still six times before being blended, filtered and bottled, this vodka is ultra-refined and smooth. On the palate, Poland Select has a subtle herbiness and a bracing peppery spice on the finish from the rye.
Devil's Springs Vodka 151 Proof $16
This high-proof vodka is a favorite among bartenders making infusions or using the spirit in layered cocktails that need depth and backbone. Bottled at a whopping 151-proof, this potent vodka is strong enough to be Everclear, but more refined and clean tasting on the palate. While most 80-proof vodkas don't have the strength to extract much flavor when making an infusion, Devil's Springs Vodka makes for an ideal base for DIY cocktail bitters or flavored vodkas (with fresh fruits or aromatic herbs and spices).
One of the most commonly used vodkas in the well, Wodka is beloved by bartenders for its mixability, clean flavor and affordability. Made from 100-percent Polish wheat, this vodka is distilled five times and charcoal filtered before being bottled. With a distinct, luxurious smoothness, this vodka is one of the few bottom-shelf spirits in its category that can be sipped straight (or on the rocks). We couldn't think of a better vodka as the base for a Vodka Soda.
Recommended to us by bartenders throughout Texas, this small-batch, premium vodka is distilled by San Luis Spirits in Dripping Springs, Texas (hence the name). Distilled in micro-batches on a 50 gallon pot still from 100-percent non-GMO corn, Dripping Springs vodka is charcoal filtered and brought to proof with local, mineral-rich spring water before being bottled. Not only is the vodka certified Kosher, but it is also the only American vodka currently on the market to win the Vodka Purity Trophy in 47 years of the IWSC (International Wine & Spirits Competition). This vodka is one of the best that we've tried and in a league of its own.
Tito's Vodka $20
Widely known and distributed, Tito's Vodka is simply one of the best vodkas being made in the world. It has been lauded by bartenders and vodka connoisseurs since its release. Distilled from 100-percent corn, this craft vodka has a subtle sweetness on the palate and a soft, almost creamy profile. With an unrivaled drinkability and smoothness, this vodka is ideal for spirit-forward vodka cocktails like a Vodka Martini or 2-ingredient, effervescent Highballs. "It's definitely the No. 1 sold vodka behind the bar," says Cory Dixon of Nurse Bettie in New York.