5 Best Flavored Vodkas for Taking Shots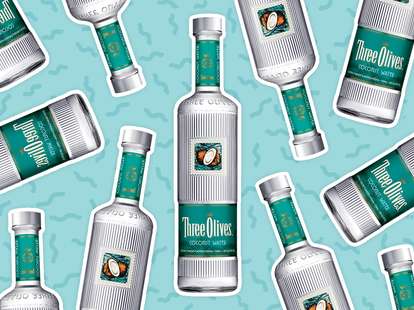 Flavored vodka often gets a bad rap for its ridiculous ingredients and less-than-desirable sickly sweet notes. And while we understand why you would stray from the whipped cream and cleaning product-like citrus versions if you've been burned by them in the past, we're here to tell you that there are some delicious flavored vodkas out there. These five flavored vodkas are so tasty, they're even perfect for taking shots.
We've tried our fair share of coconut flavored vodkas, and they've all fallen flat because they either taste too sweet or too artificial. So we were pleasantly surprised when we sipped Three Olives' Coconut Water bottling for the first time. It smells like sweet coconut macaroons and has a buttery brown sugar, coconut cream flavor that's especially tasty solo. Shoot it back anytime you're in the mood for tropical feels, no matter the time of year.
If you're not a fan of flavored vodka, this expression from Detroit distillery Valentine will change your mind. They infuse their award-winning vodka with elderflower, grapefruit and natural beet sugar from Michigan-grown beets for a naturally sweet, citrusy spirit that is divine taken as a chilled shot. Tropical aromas of lychee and peach open to dry, fruity flavors on the palate with flavors of peppery spice and powdered sugar.
If the Bloody Mary is your favorite cocktail, Heritage D's Seasoned Vodka is bound to become your new favorite spirit. Heritage Distillery infuses it with rosemary, thyme, roasted garlic, sun-dried tomato, black pepper, and other herbs and spices to mimic the savory cocktail. If you're not a fan of sweet but still want to partake in flavored vodka shots, you're going to love this addictingly delicious spirit.
Not only is this bottle insanely affordable, but it's also one of the most decadent and delectable vodkas we've ever tried. Chocoholics will relish the flavor, as there's nothing artificial or cloying about it. Take a shot and imagine you're biting into a creamy truffle—you won't have a hard time believing it because the flavor is spot-on.
While this vodka doesn't actually contain any marijuana, the flavor is scarily close to the real thing. The piney, hoppy scent may seem strong at first, but this smooth vodka is full of natural citrus and herb flavors. Whether you choose to shoot it neat or chilled, you can't go wrong with Dr. Stoner's.