The 7 Best Artisanal Vodkas Under $50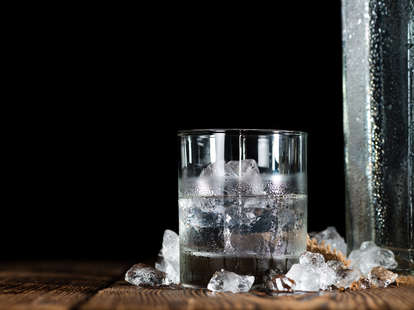 HandmadePictures/Shutterstock
We've said it before and we'll say it again: Not all vodkas are created equal. For every big brand vodka that loudly advertises its "craft" bottlings—you know, the ones that are "distilled 50 times with water that runs through the River Styx"—there are a handful of artisan brands making amazing, quality vodkas that go relatively unnoticed. Made in small batches at micro-distilleries across the country with everything from organic grains to local potatoes to honey, these vodkas have the potential to turn even the most stringent vodka hater into a vodka appreciator.
Here are seven of the best artisan vodkas from around the country that should be gracing your home bar, lying in wait for the next time you decide to make a Vodka Martini or a Vesper.
Considering Kansas is known as the breadbasket of America—and nicknamed the "Wheat State"—it's not too surprising that this 100-percent wheat-based vodka is making golden waves in the industry. Based in Lenexa, the distillery makes the vodka from local wheat in its column pot still. Its smooth and mild personality makes it ideal for mixing into your favorite vodka drinks.
If you've tasted your fill of wheat vodkas, try this toasted barley-based spirit. Made in St. Charles, Missouri, just half an hour outside of St. Louis, this Midwestern gem of a vodka boasts a sweet finish and versatility in cocktails—at an incredibly reasonable price point. We hear a barley Bloody Mary calling your name.
With this wholly potato-based vodka, Woody Creek Distillers is claiming the return of "real vodka." It's only distilled once "because that's all it needs" and is made from potatoes grown on the distillery's farm in Basalt, Colorado.
As the name implies, this vodka can (and should) be used in anything and everything. Whether you need a base for your infusion or something to sip straight, this Alameda, California-made vodka is a solid option. It's distilled from St. George Spirits' own Bartlett pear brandy, and the result is a mildly fruity vodka fit for anything—even a Bloody Caesar.
Considering its location in the middle of the Sonoma Valley, it only makes sense that Hanson of Sonoma uses grapes to distill its line of six vodkas. While the distillery makes a classic expression that can be used in any cocktail, it also makes five flavored bottlings. We know what you're thinking (Birthday cake? Bacon? Cinnabon?), but Hanson uses only certified organic fruits and vegetables to make its ginger, boysenberry, mandarin, cucumber and espresso flavors.
This vodka made in Hardwick, Vermont is certified kosher, but that's not its only claim to fame. Rather than using the traditional grain or potatoes to distill this vodka, beekeeper- and naturalist-turned-distiller Todd Hardie distills raw honey in both column and pot stills to create a floral spirit that brightens up any cocktail, from a Martini to a mildly sweet, vodka-based take on an Old Fashioned.
Washington may be known for its fruity Merlots and rich Chardonnays, but the state is poised to take the distilling scene by storm. One of the distilleries leading the charge is Dry Fly. Though it's famed for its whiskey, Dry Fly also makes a few clear spirits, including this vodka made from soft white winter wheat. Say hello to your new and improved Moscow Mule.