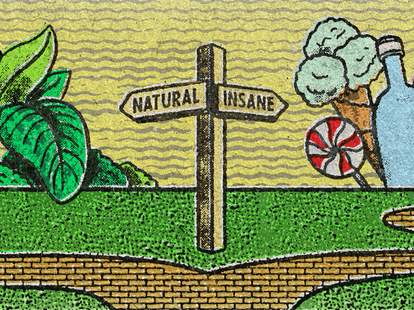 Where Does Flavored Vodka Go From Here?
For a few brief, wondrous years, flavored vodka had no limits. Distilleries went full Willy Wonka on the spirit, pushing customer taste buds into unknown territory. There was vodka flavored like PB&J, smoked salmon, Cinnabon and gummy candy (not all at once, thank god). There was even electricity-flavored vodka, whatever that means. But now, that onslaught of insane flavors is coming to a screeching halt.
While vodka is still the top selling spirit in the U.S. and flavored vodka helped expand the industry by about 1 percent this year, according to The Beverage Information & Insights Group, brands are pulling back on their fever pitch flavor production and streamlining their portfolios. This sobering turn may initially seem like bad news, but the shift is actually a response to customer preferences, which are driving the industry to focus on quality craft cocktails, natural flavors, transparent business practices and global awareness. So a little backpedaling might be just what the industry needs to keep the market growing and your drinks tasty.
"Flavored vodka is not just about a flavor we want to match," says Jay Sethi, vice president of Smirnoff. "It's about matching a flavor the consumer wants." So blindly pushing forward within the flavor arms race no longer makes sense.
"Everything has its highs and lows," says Chris Chamberlain, national beverage development manager for Gallo Spirits, which owns New Amsterdam Vodka. "Flavored vodkas will always be popular, but people are steering more towards the 80-proof, traditional vodka as of late."
Another reason for the shift away from crazy flavors is because people are changing the way in which they are drinking flavored vodka. Shots used to be the method de rigueur, but flavored vodkas are now regularly listed on craft cocktail menus, and traditional flavors (such as citrus and raspberry, rather than electricity or Cinnabon) are more bartender-friendly. "[Standard] flavors can be used in a rainbow of cocktails," Chamberlain says. "When you get into the crazy flavors, you pigeonhole yourself into X amount of uses. The universal flavors that have multiple uses are a better business plan and long-term strategy than going outside the box."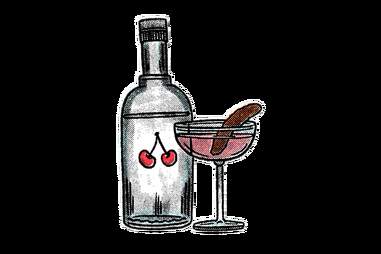 Classic flavors have always been New Amsterdam's forte, with recognizable fruits filling the brand's portfolio, but even the relatively tame brand had some editing to do. Chamberlain points to Citron (a lemon-lime flavor), which the brand decided to nix in favor of classic Lemon. "When you have orange and pineapple and mango and all of these traditional fruit flavors, Citron stood out as not really a true fruit," he says. "We felt like replacing it with something consumer-friendly and straight-on, exactly citrus flavored."
While Smirnoff still sells plenty of Cinnamon Churro and Iced Cake flavored vodka, Sethi reiterates that their core range is the meat of their business. "There's a reason our top flavors are so big—Vanilla, Raspberry, Green Apple," he says. "People love them. No matter what comes and goes, you have your base."
But that doesn't mean you won't see some innovative new flavors on the shelf—they're just less likely to straight out of a 1990s candy aisle and more likely to be something you'd find at a farmers market. "Flavors are coming from all over the world," Sethi says. "Right now we're testing Spicy Tamarind in California, which is coming from the Mexican-American palate. As immigrants bring in their flavors and their tastes to the U.S., that will impact all of us." As Americans become accustomed to more worldly flavors, those tastes become part of our common lexicon and fair game for vodka companies. "I think as the population changes in America, we'll see more interest in spice, whether that's pumpkin or ginger or jalapeño," Sethi says.
Even as drinkers reconsider which flavors they actually enjoy and purchase, they're also increasingly interested in how those flavors came to be. According to Kevin Papacek, senior marketing leader at Phillips Distilling Company, maker of UV Vodka and Prairie Organic Spirits, vodka flavor scientists are not only working to enhance the taste of flavored vodka, but also to deliver those flavors in more natural ways.
"Consumer appetite for organic food and beverage is continually growing," Papacek says. "They want transparency in their products. They're more conscious of what's in their products and how they were made. They want to make sure they're made through sustainable practices." Launched a decade ago, Prairie provides USDA-certified organic booze, with particular attention given to ethical sourcing. Taking a cue from portfolio sibling UV Vodka—which offers a whole host of flavored vodkas from Chocolate Cake to Sangria—Prairie released their first flavored vodka in 2013: Organic Cucumber. While there may be more hoops to jump through to create an organic product, customers can be certain the taste of the final product comes from real cucumbers.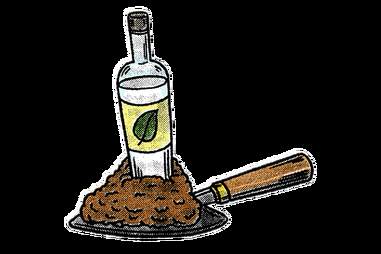 Prairie is not alone in the natural flavored vodka market; Smirnoff has also noticed increased consumer interest in holistic drinking. Their new Smirnoff Sourced flavors are made with real fruit juice (and even marketed as gluten free).
Papacek argues that consumer awareness of ingredients is part of a larger industry shift toward transparency. "What we're seeing is less flavor and flashiness, and more consumers wanting to understand the values of a brand and what a brand is all about," he explains. Traditionally, companies were on the offensive, bombarding consumers with new tastes and experiences. Those same companies must now go on the defensive, as consumers do more research to educate themselves about the brands they patronize. If a brand's flavors are grabby but its production methods or ethics or brand reputation aren't equally attractive, consumers will pick another bottle from the shelf.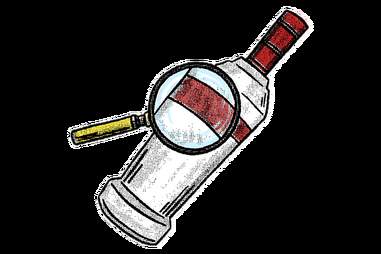 You may no longer see a new flavor on the liquor store shelf every week, but you will start to see better flavored bottlings. "When we look at flavors, we think, 'How true to the flavor of the fruit can we be?' Our New Amsterdam Pineapple is the perfect expression of that," says Chamberlain. "We went through every flavor of pineapple—ripe pineapple, fresh pineapple, baked pineapple—to come out with an expression that represented what pineapple flavor truly is."
If you ask Sethi, this is where flavored vodka leaves the realm of science and becomes an art. "Part of it is the chemistry of how to get to that flavor and how the flavors will combine," he says. "The art is tasting it—tasting your way to the flavor. We ask what does this taste like, and then test that against what we want it to taste like, and then iterate and iterate until we get to exactly where we want to be. It's a science and an art."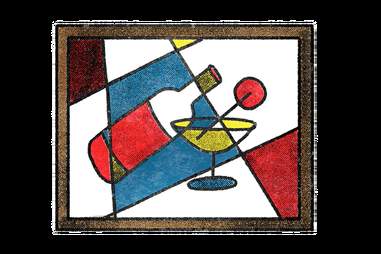 The future of raspberry-flavored vodka won't blow your mind, nor will it disgust you. It likely won't be the Mona Lisa (or Lisa Frank), but it will likely taste pretty delicious. Actually, you already know exactly what it tastes like, because it's going to be made to taste exactly as you want it.