7 Best Everyday Vodkas to Always Have on Hand
When made well, vodka is anything but boring—just browse through our favorite new expressions to see how creative and innovative producers are getting. But many of these craft vodkas cost a bit more than you want to spend on something you're just going to top with cranberry juice or tonic. Luckily, there are a few easy-to-find, totally affordable, everyday bottles out there. Stock your bar cart with these ol' faithfuls, and you'll never be let down.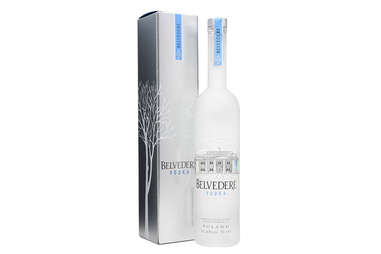 Polish-produced Belvedere is four-times distilled from rye and diluted with purified water, yielding an ultra-clean flavor. There's subtle notes of citrus, vanilla and white pepper, but its primarily neutral taste will appeal to anyone who just wants their vodka to taste like burn-free vodka. Savor it on the rocks—no garnish needed.
Do as they do in the Motherland by knocking back an icy cold shot of 100 percent Russian-made, Russian Standard vodka. As one of the most popular brands in Russia, it's a great palate cleanser, perfect for chasing traditional Russian fare like smoked fish and pickled vegetables.
Best for a Martini: Chopin ($30)
There's nowhere for vodka to hide in a Martini, so opt for one that is worthy of highlighting. Chopin potato vodka tastes delicious on its own, but the dry vermouth in a Martini elevates the vodka's mild, creamy flavor and brings out some of its hidden fruity notes. If you like your Martinis with a twist instead of an olive, try Chopin's zesty rye vodka offering.
This Texas-made vodka has been an industry favorite for years and shows no signs of slowing down. Distilled from corn, Tito's has a sweet aftertaste that mixes particularly well in a sweet and sour vodka drink, like a Gimlet or Moscow Mule. It's in vogue enough to impress party guests but affordable enough that you won't cringe at the drained bottle after a few rounds of Sea Breezes.
If you wouldn't be caught dead drinking a Martini that doesn't have the words "chocolate," "espresso" or some sort of fruit in front of it, this is the vodka for you. A giant step above cloying vanilla or whipped cream vodkas, Aermoor Vodka tastes faintly of buttered popcorn, cream cheese frosting, caramel and strawberries. But it's just a whisper of those flavors; it still tastes like a vodka and can be used for more than just sweet cocktails. That said, it absolutely sings in dessert 'Tinis and creamy cocktails like a White Russian.
We have a love-hate relationship with flavored vodkas (you can keep the tobacco-flavored vodka). But there's no denying that a simple citrus-flavored vodka will be a guaranteed crowd-pleaser for those less accustomed to more intense alcohol. You'll get the most mileage out of Absolut Citron, a smooth, lemon-flavored vodka that's been a classic behind the bar ever since the original Cosmopolitan called for it. Enjoy it mixed in fruity cocktails, on the rocks with a twist of lemon, or in a fun Lemon Drop shot.
If there's one slightly off-kilter flavor we can get behind, it's cool, refreshing cucumber. Produced by the Durham Distillery in North Carolina, this cucumber vodka is not only one of the best flavored vodkas out there, but it's also one of the best vodkas we've ever had, full stop. Fresh, ripe, hand-selected cucumbers are distilled under vacuum in a Rotary Evaporator, yielding a vodka that is incredibly crisp and tastes just like biting into a cucumber. Drink it on it's own, mix into summer cocktails, or just top it with a little soda and a cucumber ribbon.