We Tried the World's Best, 34-Times Distilled Vodka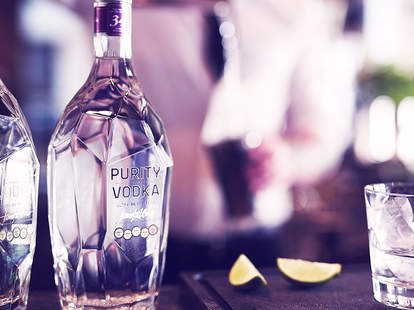 Doing anything 34 times is a lot. Distilling vodka 34 times, however, verges on unconscionable redundancy in a market where most vodkas are distilled between five and 10 times at most. But that's exactly what the distillers at Purity Vodka do, and they claim it's the secret to a great vodka—one that won 2017 best vodka in the world at the International Wine & Spirits Competition.
"I have tried just about any number of distillations you can think of during the 10 years it took to create Purity Vodka," Thomas Kuuttanen, the master blender at Purity Vodka, tells Supercall in an email. "Thirty-four distillations is the golden mean of vodka. It creates a perfectly balanced vodka which is just as good straight or in a cocktail."
Spirits professionals seem to agree, awarding Purity Vodka 150 gold medals in international competitions. The brand has been available in the U.S. for more than five years, and was named a "fast brand to watch" in 2013, according to The Spirits Business. There's a lot of vodka out there vying for consumer attention, though, so Purity Vodka is pushing another awareness campaign in the U.S. this year. With that in mind, we acquired a bottle to try for ourselves.
The vodka is distilled in southern Sweden from organic wheat and barley in a copper-and-gold, small-batch still. It's brought down to 80 proof with mineral-rich Swedish spring water that Kuuttanen says adds a sweet and salty umami character. Upon tasting it, our first impression was that it's better than a lot of vodkas we've tried, and it doesn't disappoint at the $30 premium price point. Again, 34 distillations is an obscene amount that you'd assume strips all flavor and texture. Yet the vodka sipped straight was viscous and had a noticeably sweet flavor with some minerality. There's a bit of a baking spice thing going on, and the taste is less harsh than the initial nose suggests.
Surprise is a common reaction, Kuuttanen says. People going into the first sip expecting neutrality are instead met with a silky sweetness. Kuuttanen thanks the "natural characteristics of the winter wheat and barley," which shine through in the final, unfiltered product. The Swedish water doesn't hurt, either. The slow distillation of Purity Vodka's custom still allows it to "maintain body, character and complexity," Kuuttanen says.
"Almost all vodka brands are made from one single ingredient and distilled aggressively through a small number of distillations," Kuuttanen says. "However, just as an artist would be very limited if he was requested to make a painting from one single color, we need more than one ingredient in order to create a vodka with character and complexity."
Not everyone agrees on the ingredient blending or distillation number, of course. Bert Beveridge, the man behind the much heralded Tito's Vodka, uses corn for his vodka, which is six times distilled "because five times isn't enough and the seventh time doesn't make a difference." Other companies go even further than Purity Vodka, like Aermoor, which is distilled 49 times.
Kuuttanen's background is in whiskey, but being from Sweden, a country with a long and illustrious vodka history, he couldn't help but start "geeking into the Swedish vodka history." Purity Vodka was created as Kuuttanen was playing around with different techniques to create a full-bodied spirit like his beloved whiskey rather than one defined by being tasteless and undefinable. The result is an appealing vodka that retails for around $30 and is ideal for Dry Martinis. An unfiltered 34, it appears, is the new six.