6 Best New Vodkas of 2016
In theory, vodka is a "neutral spirit" that doesn't taste like much of anything, often scorned by spirits connoisseurs who prefer the complexities of whiskey, gin, rum and tequila. But just because vodka is neutral doesn't mean it doesn't have nuance. The best vodkas leave a lasting impression, and deserve a spot on your bar cart (or in your freezer, if you insist). We tasted a selection of the most buzzed-about bottles from 2016—sampling them neat, over ice and in cocktails—to determine the definitive list of top-notch, recently released bottles worthy of your attention. Here, the best new vodkas of 2016.
Portland, Oregon-based New Deal Distillery has been around since 2004, but this year the brand changed their distillation methods and took on a "grain to glass" approach. The distillery sources 100 percent locally grown Oregon soft winter white wheat and distills the grain mash in small batches by hand in a custom copper still. The result is a vodka that preserves wheat's characteristics and lives up to its promise of being a "sipping vodka." Neat and chilled, the vodka has a gentle citrusy aroma, a clean and soft body, and a sweet, vanilla and butterscotch finish. Let it shine in a Dry Martini, or sip it straight over a large rock.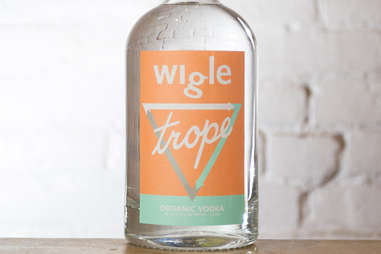 Pittsburgh's Wigle Distillery wanted to bring back flavor to a typically flavorless spirit (without going over the top like some crazy flavored vodkas), and they definitely achieved their goal with this release. Distilled from the same batches that make up their Dutch-style Ginever, Wigle Organic Trope Vodka tastes both fruity and herbaceous, with a strong, grappa-like kick and notes of rosemary, mint, pepper and licorice. It's silky and almost viscous with very little burn, and it gives cocktails a smooth, slightly grape-y aftertaste. It's a great versatile vodka to sip neat or mix into basic vodka-tails like a Vodka Tonic.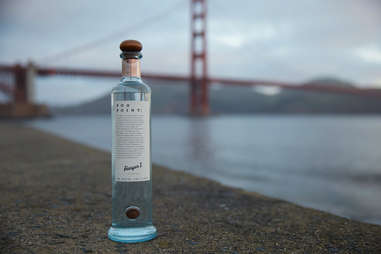 This vodka is made with the freshest, most abundant local ingredient found in San Francisco—fog. Hangar One's "fog catchers" (specially designed pieces of equipment, not people), collect fog, concentrating it into water. Distillers then blend that water with vodka distilled from a sustainable California wine. What could have easily been a gimmick delivered a truly great product. Alone, the vodka tastes dewy, clean and lightly sweet, with notes of pear, honeysuckle and wet stone. Mixed into a cocktail, the earthy aroma rises above any juices and pleasantly lingers on the palate. Unfortunately, Fog Point is currently only sold at the distillery, but it can still be found at various bars throughout California, New York and Florida and will hopefully hit the shelves soon.
The British vodka that made waves across the internet last year due to its unorthodox base—cow's milk—is finally available stateside. Produced on a small dairy farm in West Dorset, Black Cow vodka is distilled from the whey of milk from grass-fed cows. While spicy on the nose, it's silky and viscous on the palate, and goes down super smooth. It's grassy with an almost yogurty tang, proving its milky origins are not lost in the distillation. Mix this vodka into sour cocktails like a Gimlet for added sharpness, or creamy vodka-tails like a White Russian for a full-bodied drinking experience.
"Everyone loves the Mountain Vodka—everyone!" claims professional strongman and Game of Thrones actor Hafþór Björnsson, while crushing his thumbs into the skull of a taster a la "The Mountain and the Viper" in this hilarious promo video for his new vodka. But you won't have to endure torture to admit you love it—just mix it into a cocktail. Inspired by the mythological guardians of Iceland, this septuple-distilled vodka is made from pure Icelandic water and tastes as strong as the Mountain himself. It smells lightly of oranges and is a bit sweet and chocolatey on its own, but when mixed into a cocktail, the refreshing Icelandic water comes through, creating a bright and crisp cocktail. Sip it in something cool and fruity, like a Sea Breeze, or on its own over ice.
Despite being distilled from a variety of grapes, white wheat, rye and red cracked wheat, this "vodka flavored vodka," as the California-based distillery jokingly describes it, really tastes like nothing. It has no scent, no distinguishable character and is really not far off from water. It is the absolute definition of neutral spirit, perfect for vodka drinkers who like their spirit spotless. Whether it's mixed into a cocktail, sipped neat or taken as a straight shot, this clean and crisp vodka paves the way for easy drinking all night long.