A Whiskey Drinker's Guide to Rum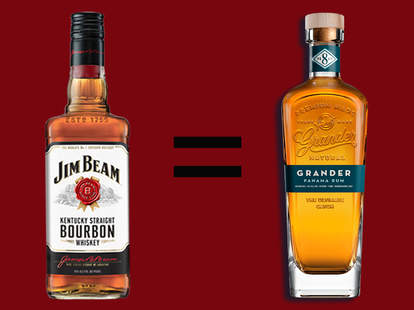 Whiskey lovers know what they like: whiskey. And it can be difficult to convince them to abandon their beloved brown spirit to try something new—but that's exactly what chef Daniel Herget of Little Octopus in Nashville, TN, is doing.
Herget opened Little Octopus in January of 2017. The menu focuses on upscale Caribbean food, like jerk-spiced clams and coconut milk ceviche, complimented by the bar's selection of high-end sipping rums. Thanks to the chef's obsession with the spirit, the bar features five times as many rums as it does whiskies—a bold move in a region that prides itself on its whiskey heritage. But rum isn't as far a cry from whiskey as many drinkers might expect.
"I think rum is a vastly underappreciated sector of the beverage world," says Herget, adding that most people are only familiar with the spiced or flavored rums they drank excessively in college. But he's trying to reintroduce people to the spirit by showing them that rum comes in just as many styles, flavors and packages as whiskey. "Most Americans at least have a working knowledge of whiskies," he says. So, to help translate rum into the language of whiskey drinkers, he broke down Little Octopus' rum menu into typical whiskey styles: American whiskey, bourbon, rye and scotch. "It's a good jumping off point for people in the South," he says. "Nine times out of 10, there's something familiar there and they jump on it and they love it."
Those familiar flavors in higher-end rums come from time spent aging in barrels—just as they do with whiskey. "The aging process [of rum] really mirrors the aging process of whiskey," says Herget. "A lot of boutique rums are aging in American oak barrels or discarded bourbon casks, so they're picking up those same notes that the whiskies pick up during the aging process—sometimes you're picking up the actual whiskey that was aged in these pre-used casks."
But sometimes convincing a lifetime whiskey drinker to try a rum is not such an easy feat. To get reluctant drinkers on board, Herget and his staff tap into the spirit's centuries-old history. "A lot of these whiskey drinkers pride themselves on the heritage of the spirit," he says. "I think there's a lot of that same story and history—even more so—with rum. It was the first commercially distilled spirit. It was the first brand of spirit in the world. A lot of these distilleries have been in continuous operation longer than whiskey distilleries."
One of Herget's go-to historic rum distilleries is Rhum Clément, which has been making agricole rhums in Martinique from the brand's own sugar cane for more than a century. "It's a really interesting story to pitch to whiskey drinkers and it works almost every time," he says.
Here, Herget recommends seven rum brands to try based on your favorite kind of whiskey:
If You Like Scotch, Try Mezan Rum
"We have a scotch section that people generally gravitate towards when they want something a little more high end—it's the connotation that scotch is a luxury liquor. There is a distiller called Mezan and they have a Guyanese rum that's incredible—it's an agricole rhum that drinks a lot like Highland malt scotch."
"For me, bourbon is a little hot but also has that residual sweetness," says Herget. "I think the Kirk & Sweeney rums, particularly the 18, are a good jumping off point for somebody. It kind of has the same notes [as many bourbons]"—including tobacco, leather and orange, according to the bar's menu.
"For American whiskey—or even Irish whiskey—the Grander rum from Panama is a great rum for people who like something a little bit hotter, like Beam and Dickel drinkers," Herget says. "You could also get into Smith & Cross, which is a traditional Jamaican rum. It's overproof and a little more aggressive on the palate, but still a really delicious rum."
"I would say probably a Plantation 5-year or 10-year for rye drinkers," says Herget. These rums have a lovely balance of plantain and honey sweetness with deeper notes of allspice and coffee. He also recommends the Plantation Pineapple, an infusion of the Plantation 3 Stars Rum and fresh pineapple, for those looking to branch out a bit more. "It's a little different for whiskey drinkers especially, but it makes the most incredible Daiquiri," he says.
"My bar at home is never without a bottle of Brugal 1888, which is another great rum for whiskey drinkers," he says. This expression boasts a full-bodied flavor flecked with toffee and licorice notes. He adds that Rhum Clément is another great option for whiskey drinkers who like a little bit of everything. Two expressions show up on the wild-card portion of Little Octopus' menu: the unaged, sweet and funky Blanc Agricole and the ex-bourbon cask-aged Vieux Agricole VSOP, which has flavors of burnt sugar and vanilla alongside tropical fruit.