7 Ultra-Strong Bottom Shelf Whiskeys That Are Actually Worth Buying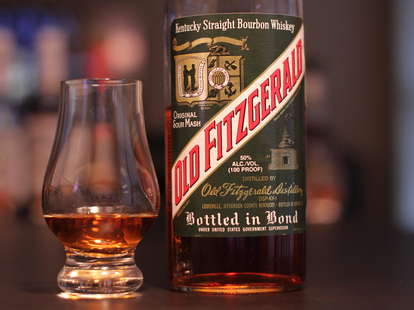 If you're not familiar with the term "bottled-in-bond," here's a crash course: The phrase refers to both a government act passed in 1897 and the category of spirits labeled under the guidelines of the law. Originally created to protect consumers from imitation whiskeys and dangerous additives (before the law was passed, whiskey was often colored or flavored with things like turpentine), the Bottled-in-Bond Act requires products labeled as such to come from one United States distillery and to be made by one distiller in a single year. Bottled-in-bond spirits must also be aged for at least four years in a federally bonded warehouse (under U.S. government supervision) and bottled at 100 proof. If you consider yourself a whiskey connoisseur and you haven't yet discovered the bottled-in-bond category, there's no better time than now to delve into one of the industry's best kept secrets.
While most bottled-in-bond spirits have cheesy labels and ultra-cheap prices (they're generally mixed into the bottom-shelf category), these details are not reflections of the spirits within. Because of the heavy set of regulations, bottled-in-bond spirits are only produced by big whiskey brands that have enough stock and capital to meet the government guidelines (i.e., Heaven Hill, Beam-Suntory and Brown-Forman). Because they're produced en masse, and time and money aren't spent on fancy labels or marketing, the cost per bottle can be cut dramatically. To better introduce you to this underrated (and often misunderstood) category of whiskeys, here are seven of our favorite bottled-in-bond expressions. You may have to dig through the Popov vodka and Montezuma tequila to snag a bottle, but we assure you the extra effort is worth it.
With a mashbill of 75 percent corn, 13 percent rye and 12 percent malted barley, this honey-hued dram has a big, juicy creamed corn flavor. Piquant and honeyed, with flavors of caramel popcorn, menthol and white pepper, this whiskey tastes like other Heaven Hill whiskeys, but with more depth from its time in oak (sister brand Evan Williams is aged two years less). While it lacks a dramatic finish, its supple weight and ample spice keep you wanting more.
In production for the past 120 years, this historic brand is the bottled-in-bond spirit that every Pappy Van Winkle lover should have on their radar. Although the spirit isn't labeled as a wheated bourbon—it very much is. Its "whisper of wheat" in the mashbill (in lieu of rye) gives the spirit that beloved wheated flavor that fans go gaga for (it also doesn't hurt that the brand at one point was actually owned by Pappy Van Winkle himself.) Smooth and almost creamy, with notes of almond, biscotti, honeycomb and orange peel, this whiskey tastes a lot like Maker's Mark, but with more booze and less lingering sweetness on the finish.
With a mashbill of 80 percent corn (opposed to bourbon's 51 percent), Mellow Corn is raw and unapologetically corn-heavy. Aged for two years in Heaven Hills' charred oak casks, the whiskey's sharp, alcoholic heat is softened by its time in barrel. On the palate, there's a hint of vanilla sweetness from the casks and notes of fresh corn, salted butter, caramel and popcorn dusted in Brewer's yeast. While the whiskey isn't very complex and quickly leaves your tongue, it's still extremely enjoyable to drink. The spirit really shines in cocktails, especially when layered with other savory flavors or in buttery, creamy whiskey drinks like Milk Punch.
According to Beam-Suntory, the recipe for Jim Beam Bonded is the closest thing to Jim Beam's original recipe created in 1897. Big, bold and bright, this whiskey has a rich and viscous heft, with wafts of sarsaparilla, caramel, charred oak and white pepper bursting on the palate. At 100 proof, the spirit is a perfect base for cocktails because it has enough backbone to stand up to any ingredient, whether it be citrus or modifiers. Any true fan of bourbon should have this whiskey stocked in their back bar on the regular.
Currently, Beam-Suntory has two distinctly different mash bills in use for their various bourbon brands: one is more traditional with a rye content of 15 percent, and the other is a high-rye style with 27 percent rye in the mashbill. Under the umbrella of the high-rye category are Old Grand-Dad, a bonded bourbon, and the company's small batch, premium whiskey, Basil Hayden's. While the two spirits are similar—and Old Grand-Dad was the nickname for the company's original distiller, Basil Hayden, Sr.—this whiskey is less refined and rawer than Hayden's. On the palate, the high-rye content really comes through in the uber-boozy finish, and notes of white pepper and allspice sit heavy on the palate. Behind the heat, there's a rich depth, with subtle flavors of cardamom, green olive, orange pith, sea salt and buttered popcorn. Finishing with a malty sweetness, this bourbon makes for great straight sipping. It's hands down one of our favorite bottled-bond whiskeys on the market.
Produced by Heaven Hill Distillery, this bottled-in-bond rye whiskey is one of the most delectable steals you can find at the liquor store (despite its price tag north of $25). A cocktail workhorse (it's perfect in a Manhattan), Rittenhouse Straight is a brazenly spicy flavor bomb. Robust and rich on the palate, it has notes of vanilla, butterscotch, overripe bananas, cardamom, and flourishes of white and green pepper. On the long, mouth-coating finish, clove, black pepper and alcoholic heat tickle the tongue. It's an absolute stunner that's essential for cocktailians.
This isn't the first bonded release from Old Overholt, but it is the brand's latest 100-proof whiskey in over 50 years. Like the standard Old Overholt, this 2018 release from The Olds family is incredibly balanced, with equal parts oak, fruit and spice. The nose is rich with dark jammy fruits, but on the palate the whiskey leans toward lighter flavors of vanilla, orange and wheat. And at just $4 more than the 80-proof flagship bottling, the bonded Old Overholt is a minor investment that gives you a major return on more flavor in your Manhattans.