The 5 Best Asian Whiskies That Aren't From Japan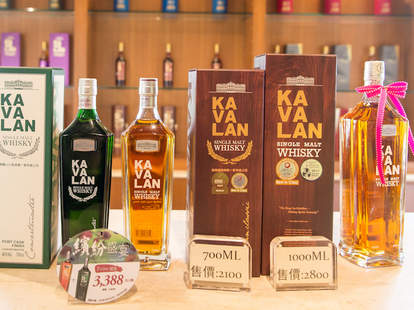 Japanese whisky may have broken Scotland's hold on the international market, but it's not the only Asian dram worth sipping. Asian countries, especially India, have long consumed their fair share of whisky (which is quite a slice of the global pie when you consider population), and local brands have sprung up to compete with imports. Now that brands like Yamazaki and Hibiki have caught the attention of the American drinker, high-end whisky brands from elsewhere in Asia have sailed to U.S. shores, further redefining the global whisky landscape and proving once again that good booze can be made anywhere there are dedicated distillers.
The two countries leading the charge are India and Taiwan. Their subtropical climates, local grains and local water sources imbue regional flavors into a familiar spirit. The hot weather—which often heats distillery storehouses to over 100 degrees—speeds up the interaction between the wood and the whisky, allowing distillers to age whisky twice as quickly as their Scottish and Japanese competitors. Here, five great brands of Asian whisky that don't come from Japan.
Taiwan
Taking full advantage of Taiwan's subtropical climate, Kavalan has rocketed up the boozy charts in record time. Established in 2005, Kavalan began besting Scotch whiskies just five years later. By 2012, Kavalan had made it into Jim Murray's respected Whisky Bible with the brand's Solist Fino Sherry Cask bottling securing Best World Whisky, a title previously held by Yamazaki before the Japanese whisky made its way to Murray's top overall spot.
The brand's standard-bearing single malt, Kavalan Classic ($80), immediately displays evidence of its tropical origin, with flashes of mango leading on the nose and palate, and other floral and citrus notes rounding out a silky finish. But Kavalan really shines with its cask-strength Solist series. The Solist Fino Sherry ($300) was the first sherried whisky from the distillery to gain international attention in 2012, layering sweet toffee and fudge on top of the brand's signature fruitiness. The Solist Ex-Bourbon Cask ($130) bottling, along with a full range of whiskies aged in various sherry casks, have followed suit and are all worth trying. Kavalan may seem like an expensive venture into unknown waters, but trust us, you can't go wrong.
Nantou
Taiwan
The only other current Taiwanese distillery, Nantou was established by the state-owned Taiwan Tobacco & Liquor Corporation back in 1978, but only started producing single malts to rival Kavalan in 2008. Made with malted barley shipped over from Scotland, Nantou's bottlings—two cask strength single malts, one aged in sherry barrels and the other in ex-bourbon barrels—combine the classic Scottish distilling style with the benefits of the local climate. While it may not yet have the name recognition as Kavalan, Nantou does have the resources to pose a serious challenge to the country's whisky front runner (a race in which all drinkers win).
The sherry-aged bottling, Omar Sherry Finish Single Malt ($80), energetically churns with tannic fruit and raisin-y dried sweetness. The successive savory and bitter flavors of nuts and spices build into a meaty, mouth-coating crescendo, which then cuts off as sharply as it began with only a hint of caramel on the finish. The bourbon-aged whisky, Omar Bourbon Finish Single Malt ($73), on the other hand, combines the tropical fruity notes of the region's juice with conventional sweet flavors of bourbon. Pineapple, mango and coconut join caramel, vanilla and cinnamon, but the whisky's overall effect is as dry and feisty as its sherry-aged sibling.
India
Like the Taiwanese whiskies, Amrut from India comes with Jim Murray's stamp of approval. Amrut Fusion took third overall in the Whisky Bible in 2010. While whisky has long been a favorite beverage in India, most "whiskies" produced there are waxy, molasses-heavy spirits closer to rum. Not so with Amrut, which is made with barley grown in the Northwest at the base of the Himalayas and adopts traditional scotch distilling techniques.
Amrut's two standout bottlings are its peated Cask Strength Single Malt ($70) and Amrut Fusion ($63), made from both Indian grain and Scottish peat-fired barley. Both lend notes of sod to the single malt's natural bouquet. In the case of Fusion, the two grains are interwoven in ex-bourbon casks. The final product overflows with fresh fruit like peaches and apricots as well as fruitcake, spices like black pepper and cinnamon, and earthy molasses-like sweetness.
India
This single malt hails from John Distilleries, makers of the blended whisky Original Choice—which may not have much name recognition in the Western Hemisphere, but it's one of the top selling spirits in the world thanks to its huge Indian market. Paul John is a far cry from the distillery's blended flagship, a true single malt in the Scottish style that's set to change perceptions of Indian whisky in the Western Hemisphere.
Like Amrut, Paul John incorporates peated barley from Scotland into several bottlings, but it's Paul John's unpeated whiskies that truly shine. The Bangalore-based John Distilleries makes its single malts on the pristine shores of Goa, where the sea surf kisses the whisky with a tropical salinity totally unlike northern Atlantic-washed scotches. The Classic Select Cask ($78), an unpeated release aged in ex-bourbon barrels, is creamy and dry all at once like sweet coconut, with red licorice and smoldering tobacco floating atop heavier flavors like manuka honey, demerara sugar and peanut butter.
India
Established in 1943, Rampur is the oldest single malt distillery in a country with centuries of distilling history. Over its 75-odd years of experience, the distillery has concentrated entirely on a single task: perfecting their sole product. Yes, Rampur has only one expression, and it's a total gamechanger.
The Rampur Vintage Select Casks ($73) hails from Uttar Pradesh in the north, far from the salty sea air that characterizes Paul John. Rampur is marketed as "a burst of Indian summer," so it's no surprise that a quick whiff is greeted with the aromas of tropical fruit ripening in the sun. But tasting Rampur is a total surprise. The whisky is downright autumnal, with baked apples, late apricots and blackcurrants providing winey sweetness, baking spices like cinnamon and nutmeg sprinkled over top, and a dry peppery finish to clean up the stewed fruit flavors.