The 6 Best Moonshines You Can Buy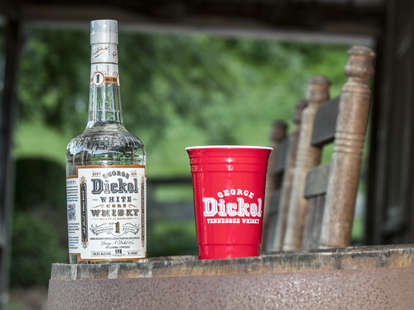 Courtesy George Dickel Tennessee Whisky
Moonshine isn't the illicit, dangerous, XXX-marked liquor that it once was—well, not all of it, at least. There are plenty of respectable, totally legal distilleries producing moonshine (or white lightning or wild cat or old horsey—whatever you choose to call the unaged spirit). Here, a few of the best moonshines you can buy right now.
Growing up in Kentucky, Kings County Distillery founder Colin Spoelman had his fair share of moonshine. Upon moving to New York City, he put his backwoods know-how to work, creating what would become Kings County, Brooklyn's first distillery since Prohibition. Though the company now makes a range of products from bourbon to chocolate whiskey to rye, their unaged corn whiskey is still their pride and joy. It's bright and crisp with a mellow corn sweetness and comes in at a smooth 80 proof.
If you're a Dickel fan, you need to try the distillery's white whisky, the spirit upon which all of the brand's whiskies are based. Sweet and bready on the nose, the whisky is fairly smooth (thanks to some charcoal filtering) with a white pepper kick on the finish. Mix it with lemonade for an instant summertime refresher, or simply sip it over ice.
You've seen these cute and kitsch Mason jars on the liquor store shelf and admired their adorable packaging, but Ole Smoky isn't a gimmicky spirit. They own the moonshine category with their huge range of flavors, including Lemon Drop, Apple Pie, Sweet Tea and even Piña Colada. But their Original flavor is still a go-to. While it's technically great for mixing into cocktails, the jar makes it difficult to accurately measure out a pour. Give into the moonshine experience and drink it straight from the jar.
George Dickel isn't the only big brand to dip its toes into the moonshine category. Buffalo Trace's White Dog is slick and slightly sweet with a powerful kick—at 125 proof, that comes as no surprise. Thanks to its naturally creamy notes, this spirit is perfect in a White Russian, but it's best enjoyed straight.
Another selection that's best sipped straight from the vessel, Stillhouse's canned white whiskey is ultra-smooth—especially after spending some time in the freezer. Designed to be taken as a shot or mixed into light but powerful versions of classic cocktails like Manhattans, it's clean, crisp and, thanks to its durable stainless steel can, perfect for drinking in the woods.
Because of its jug-like appearance, you might expect this white whiskey to hail from way up in the Appalachian mountains, but it actually comes from California. Made with 100% corn and bottled at 99 proof, it's fairly neutral with a fruity background, making it a somewhat more adventurous vodka alternative in cocktails like a Gimlet or a Cape Codder.