The 8 Best New Whiskeys of 2017
Marisa Chafetz / Supercall
Whiskey has the biggest cult following in the spirits world—whether you're trying to get your hands on a scarce Japanese bottle or have to sample every limited release bourbon out of Kentucky. We count ourselves among the obsessed at Supercall, so we tasted pretty much every new whiskey we could get our hands on this year. While some were wholly mediocre, many deserve a place on any whiskey lover's bar cart. It was difficult to narrow down the list, but someone had to do it. Here, the eight best new American and Irish whiskeys (head here for scotch whiskies) from 2017 for your drinking pleasure.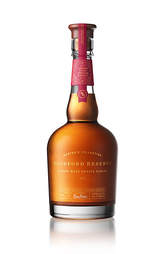 Courtesy of Woodford Reserve
The latest Woodford Reserve expression is the 12th release in their Reserve Master's Collection, a series that marries innovation with historic techniques from early 1800's industry leaders Oscar Pepper and James Crow. It's one of the first Kentucky bourbons to use malted barley that's been exposed to cherry wood smoke. The nose is a delight with pleasant aromas of sweet oak, cooked cherries, buttery biscuits and roasted nuts. Upon first sip, you'll taste complex, nutty flavors like trail mix, corn muffins, sunflower butter and smoked cherry crumble. The finish is surprisingly light, expectedly round and perfect for everyone from whiskey newbies to bourbon diehards.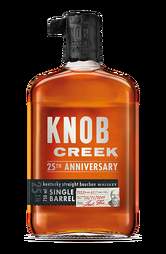 Courtesy of Knob Creek
Twenty-five years ago, Booker Noe bottled the first batch of Knob Creek. To celebrate his accomplishment a quarter century later, the brand has released this limited-edition, unfiltered and cask-strength bourbon, the first Knob Creek expression to be bottled at this high of a proof. It's all fiery whiskey on the nose with notes of chile peppers, oak, brown sugar and toasted bread. The flavor is sweet and piquant with a mix of black pepper, vanilla, caramel and oak mingling on the tongue. It leaves you with a smooth, dry, peppery finish that's simply irresistible.
Courtesy of The Sexton
As the only Irish whiskey on this list, The Sexton Single Malt is pretty damn special. The spirit is made from 100 percent Irish malted barley, triple distilled in copper pot stills and aged in former oloroso sherry casks. On the nose, it's equal parts earthy and fruity with aromas of pine, evergreen trees dripping with rainwater, honeycomb, fresh orange and dates. It's light and soft on the palate with flavors of honey cereal, cinnamon and a creamy, fruity finish. This is the smoothest Irish whiskey we've ever tasted, so it's an especially great value for the price.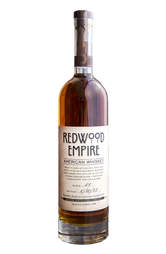 Courtesy of Graton Distillery Company
Redwood Empire American Whiskey, which is the newest bottling from Sonoma-based Graton Distillery Company, is inspired by the local flavors and rugged terrain of Northern California. The liquid is a blend of house-distilled rye whiskies—some of which were aged in port and wine barrels—and stocks of four, five and 11-year-old bourbons aged in classic, charred American oak casks. The complex nose is bursting with stone fruits, herbs, vanilla and a subtle hint of spice. On the palate, this whiskey is light and mouth-coating with bright flavors of coffee, sage, black and white pepper, and mixed nuts. While we love sipping Redwood Empire straight, it would work equally well in a classic whiskey cocktail like the Old Fashioned.
Courtesy of Basil Hayden's
We've been extra excited about this release, and it did not disappoint. Basil Hayden's Dark Rye is a balanced blend of Kentucky rye, Canadian rye from their Alberta distillery and a touch of California port. The nose is nutty and earthy with aromas of freshly baked rye bread, red peppers, baking spices and sour cherry. It's smooth upon first sip and coats the palate in flavors like apple crumble, raisins, port and brown sugar. Earthy but sweet, it's perfect for sipping straight or mixing in classic cocktails like the Boulevardier.
Courtesy of Old Forester
Old Forester's 2016 Birthday Bourbon made it into our best new American whiskies piece last year, so we were excited to try 2017's expression. The latest release is made with 12-year-old bourbons drawn from 120 barrels that were situated in different warehouses and floors, and it was bottled at both 96 and 95.4 proof (this review is for the 96 proof bottling). This year's Birthday Bourbon's overproof heat is immediately apparent on the nose, along with an oaky richness and sweet aromas like vanilla ice cream and peach. It's warm and round on the tongue, bursting with notes of baking spices, plums, red grapes and vanilla. The balanced, tannic finish ends things on a near perfect note.
Courtesy of Beam Suntory
This Jim Beam limited-time offering was personally selected by seventh generation master distiller Fred Noe, so we've been looking forward to trying it ever since it landed on our radar. The bourbon is aged five to six years, and bottled unfiltered at 100 proof, so it has a fuller taste and body than most of Jim Beam's other expressions. On the nose, you'll experience pleasantly smooth aromas of buttery creamed corn and bright orange citrus. The flavor is round and smooth with minimal burn and notes of oak, vanilla and brown sugar coming through on the palate. This bourbon is perfectly wonderful to sip on its own, but robust and complex enough to stand up in cocktails, too.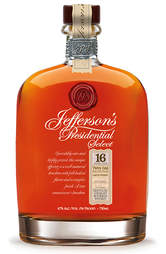 Courtesy of Jefferson's Bourbon
Only 10,000 bottles have been produced for the latest offering in Jefferson's Bourbon Presidential Select category, which makes it quite the collector's item for enthusiasts of the small-batch brand. First, straight Kentucky bourbon is aged for 11 years in charred new American Oak casks, followed by an additional five years in fresh casks. The resulting liquid is complex on the nose with aromas that intertwine savory, sweet and earthy—think salted pretzels, maple syrup and wet wood. On the palate, it's savory and smooth with flavors of salted caramel and flaky biscuits. It's mouth-coating and dry with a spicy finish. When you're drinking this bourbon, a little bit goes a long way.