The 6 Best Single Malt Whiskies Outside of Scotland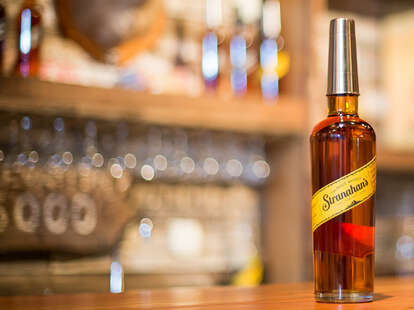 You've no doubt tasted—or at the very least heard of—single malt scotch. But did you know whisky doesn't have to be made in Scotland to be considered a single malt? As long as the spirit comes from a single distillery and is distilled from a fermented mash made with malted grain, it can be classified as a single malt. Distilleries all over the world, from the United States to Japan, are making excellent single malt whiskies. Here are six of our favorites that you need to try.
Yes, a single malt from Texas. Balcones is making true craft spirits at their Waco facility where everything is mashed, fermented and distilled in house with no chill-filtering or added color. Balcones' single malt has won more medals than we can count. It hits the nose with notes of toffee and overripe fruits, and it's full on the palate with layers of toasted malt and honey. Enjoy this one neat or on the rocks.
Navazos Palazzi Spanish Malt Whisky ($109)
This whisky is distilled in a traditional pot still with grain and malted barley grown entirely in Spain. But what really makes it special is a complex finish from aging in sherry casks. Ripe fruits like apricot and Valencia orange are balanced by spicy, almost savory notes and rich flavors of honey, nougat, toffee and butter. Because it's bottled at cask strength, we recommend diluting this spirit with a couple drops of water before sipping.
Japanese whiskies have a dedicated cult following of whisky enthusiasts, all willing to pay hundreds of dollars for a single bottle, which makes the Hakushu 12 Year and it's sub-Benjamin price tag all the more special. The nose is chock-full of herbal notes like basil and pine, but on the palate the whisky delivers sweeter flavors of pear, mint and kiwi. It finishes with a subtle smoke flavor and tannic green tea essence that will keep you refilling your glass over and over again.
This Denver distillery has been making whiskey for more than a decade, and it was one of the first American spirit operations to focus solely on single malt. Made with locally grown malted barley, yeast and Rocky Mountain snow melt, Stranahan's small batch single malt is downright delicious with flavors of oak, caramel, vanilla and dark chocolate. It's rich but won't overpower a beginner's palate.
This golden amber spirit is made in small batches and aged for a minimum of 10 years in former American oak bourbon barrels, resulting in a smooth, round whiskey that's just smoky enough. Aromas of cherry, pineapple and vanilla please the nose, before the whiskey hits the palate with notes of cracked pepper, toasty malt and black tea. Though the spirit is excellent on its own, we also wouldn't mind it in place of scotch in a cocktail like the Rob Roy.
Westland's master distiller Mat Hofmann believes the Pacific Northwest's mild climate is more suited to single malts than bourbon, so he focuses on the former at the Seattle-based distillery. Made with some of the world's smokiest peat, the whiskey is surprisingly fruity thanks to a malt-focused mash bill. A nutty, orange nose gives way to a burst of flavors on the palate that starts with burning embers and roasted pistachios, and finishes with green herbs and iodine (in a good way).