These Fall Spirits Are The Boozy Equivalent Of A Flannel Shirt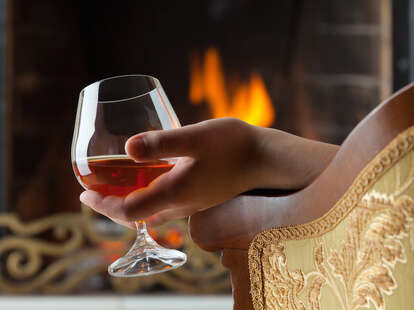 Anton Balazh / Shutterstock
September is the most difficult month of the year for dressing. During the day, the sun is bright and August's sultry heat still lingers. But when the sun goes down, fall's bracing chill begins to tighten its grip. If it wasn't hard enough to decide what to wear during this transitional period, it's even more difficult to decide what to drink. While your heart still desires the Daiquiris and slushees you've been sipping all summer, logic demands you drink to quell the oncoming chill.
The best booze for fall is comforting, warm and full of flavors associated with the season: apples, pears, baking spices and pies. When the sweaters come out and the leaves hit the ground, it's time to visit the nearest liquor store to stock up on fall libations. These eight spirits are so warm and cozy, they're like the boozy equivalent of a flannel shirt.
Aged in New American oak barrels and finished with raw Vermont honey, this golden-hued gin is unlike anything we've tasted. Smooth and velvety on the tongue, with a touch of floral sweetness from the honey, Barr Hill's Tom Cat has a lot more in common with whiskey than its gin brethren. This is the kind of spirit you want to sip neat and keep the bottle close for seconds.
This trusty appley brandy from New Jersey is one of the oldest, tastiest and most potent brandies on the market. Supposedly, one bottle of Laird's equals approximately 20 pounds of farm fresh apples—and you can taste them in every sip. It has the depth and spice of a rye whiskey with warming notes of vanilla, allspice, cinnamon and black pepper. At a whopping 100 proof, this apple brandy is perfect for cocktailians. Try mixing it into autumnal classics like the Honeymoon or the Corpse Reviver #1.
With a taste that's reminiscent of pancakes, maple syrup (in a good way) and brown sugar caramelized in butter, this flavored Washington state whiskey is as warming as it is soothing. While the company offers a lower-proof version of the expression, their High Altitude variation is less cloyingly sweet, bolder, brighter and more like a traditional straight whiskey.
If there was a spirit that could be our fall mascot, this would be it. Made in the style of old monongahela whiskey (America's oldest type of rye whiskey) from Pennsylvania, this spirit is bright, tannic and malty with a long white pepper finish. The spirit's unique flavor comes primarily from the mash bill, which is made up of only 85 percent rye and 15 percent malted barley. Using locally sourced rye grains from Meisenzahl Farm in upstate New York and Pioneer Malting Co. in Rochester, the whiskey is a bona fide Empire State product. Sip this spirit neat because nothing should get in the way of its delectable goodness.
An homage to American whiskey and craft brewing traditions, this Oregon whiskey is one of our favorite new spirits. Its unique flavor stems from owner/distiller Christian Krogstad's roots in the beer industry and his use of American ale brewers yeast in the initial fermentation. The double-distilled whiskey is aged in charred New American oak and non-chill filtered prior to bottling. On the palate, it's warm with a malty sweetness and notes of baking spice, stone fruit and creamy vanilla. This whiskey is so easy to drink that it's difficult not to polish off a bottle in a night.
Aged in oak for at least 16 years, this Lagavulin expression has layers of flavor and depth. When you first open the bottle, this scotch is a peat-bomb on the nose and in the glass. As the spirit opens up, notes of saline, honey and dry hay waft forward. On the palate, the initial smokiness reveals notes of iodine, seaweed, truffles, fresh herbs and malt. After one sip, the whisky's alcoholic heat dissipates into a finish that lingers indefinitely—or at least until you take another drink. We recommend pairing this scotch with wet weather, days spent indoors, turtlenecks and a hefty cheese plate with barnyardy triple cremes or dusty bleus.
The passion project of California wine shop owner and craft winemaker Doug Margerum, this small batch amaro is the perfect way to battle the impending doom of winter. Made with a red wine base and neutral spirits, the fortified wine is infused with savory herbs like sage, thyme, marjoram, parsley, lemon verbena, rosemary and mint, along with bitter barks, roots and dried orange peel. After aging outdoors in wine casks, the amaro takes on a flavor that's akin to classic Madeiras, except more pungently bitter and interesting. On the palate, the spirit is dark, rich and herbaceous with notes of raisins, figgy pudding, black licorice, cinnamon and cinchona bark. Try drinking the spirit straight (beware it's bitter) with an IPA back, or as a substitute for Angostura bitters in classic cocktails like the Manhattan.
The best way to quell the icy chill of fall nights is with something pungently spicy that warms you from the inside. Infused with fresh local ginger, this flavored whiskey from South Carolina packs a fiery punch. Piquant, with ginger spice and vanilla, the palate is honeyed and subtly sweet with enough boozy heat to flush your cheeks. When it's time to start making warm cocktails, we couldn't think of a better spirit to grace our Hot Toddies.