5 Whiskeys Perfect for Summer Sipping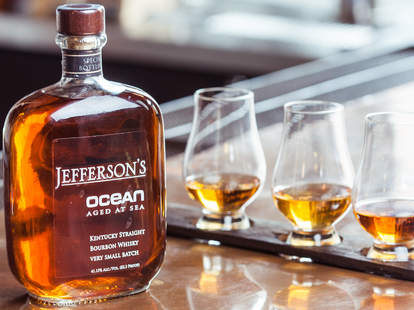 Courtesy of Jefferson's Bourbon
Contrary to what some may think, whiskey is not just a cold weather beverage. For proof, all you need to do is look to some of the most refreshing cocktails out there (think the Paper Plane and Whiskey Smash) because they contain none other than whiskey. Of course, some bottlings of the brown stuff are better suited than others to warm weather sipping. To help you choose the best, we picked five whiskey expressions that are perfect for summer drinking.
Jefferson's Ocean is a very special bottling and one of our favorite bourbons, whether it's summer or any other season. The whiskey is aged at sea, meaning barrels are placed aboard a ship that travels the world—each voyage of Jefferson's Ocean typically crosses the equator four times and visits five continents. As temperature fluxuations and rough seas help to age the bourbon, it takes on deep caramelly notes from the barrels, giving it a tropical-esque flavor that reminds us of dark rum. The briny sea air imparts savory notes to create a bourbon that is so lip-smackingly good, it's difficult to keep a bottle around for long.
If you're searching for a summer bourbon to knock your socks off this season, Maker's Mark Cask Strength is a robust welcome to warm weather. It's bottled anywhere from 108-114 proof, depending on the batch, and tastes surprisingly smooth when sipped neat. On the nose, oak and vanilla are prominent, but it bursts with summer berries, caramel and smoke on the palate. This is the kind of bourbon we would sip in cocktails at a daytime barbecue before pouring a neat dram around the fire pit after dark.
Redwood Empire was one of our favorite new whiskeys of 2017. We love it because it's equally complex and easy to sip. The American whiskey is a blend of Graton Distilling's house rye whiskey and a mix of four-, five- and 11-year-old bourbons that were aged in high-char casks. Stone fruits, herbs and vanilla are prominent on the nose, thanks to the time it spent resting in both port and wine barrels. It's light on the palate with flavors of mixed nuts, black and white pepper, coffee and sage. Redwood Empire is perfect sipped on its own but also makes a great summery Old Fashioned.
This delicious golden liquid is one of our favorite Irish whiskeys, and its smooth, light body makes it perfect for summer sipping. It's casked in American oak bourbon barrels for a minimum of eight years, which makes this bottling especially good for the price. The nose is sweet with notes of caramel and vanilla, which carry seamlessly to the palate with a hint of spice. We love it sipped solo or in a bold summer cocktail like the Cameron's Kick.
There's a reason why bartenders keep this ultra-affordable bottle around, both at home and behind the stick. The reliable bourbon from Evan Williams is slightly sweet, always consistent and stands up well in most cocktails. Vanilla, oak and barley are prominent, along with a cereal-like, honeyed flavor that will keep you coming back for more. Green Label is always good for straight sipping, cocktail making and celebratory shot taking.