The Best Gifts for Whiskey Lovers
There are so many cool gifts out there for whiskey lovers, it was hard to narrow it down to only a few. But these glasses, decanters and accessories are some of our favorite pieces at the moment—perfect to give to yourself or that discerning whiskey drinker in your life. From boozy chocolates to sunglasses made from recycled oak barrels, there's something for everyone on this list. Pour yourself a couple fingers or make yourself a Sazerac and shop until your heart's content.
This glass is an essential for the true whiskey connoisseur. The tapered mouth concentrates the spirit's aromas, and a wide bowl showcases whiskey's deeply caramelized hue. Get the glass custom monogrammed so no one will ever question whose whiskey is in it.
Sometimes you want your whiskey chilled, but not diluted. Pop these whiskey stones in the freezer, and they're ready to cool your liquor without any meltdowns whatsoever. They come in a set of nine for easy entertaining—or for swapping out when one gets too warm.

This Italian blown-glass decanter is the product of 25 generations of glassmaking. It's thin and lightweight but strong enough for daily use. Pair it with a vintage liquor tag and a bottle of whiskey and you'll earn the title of coolest gift giver this year.

There's no need to travel to the most remote distilleries or whiskey library for a proper whiskey tasting. Grab some new bottles you want to try, gather a few friends and let this tasting tray do the rest. Available in a four- or six-glass set, you can even personalize the engraved handle with a name or phrase of your choosing.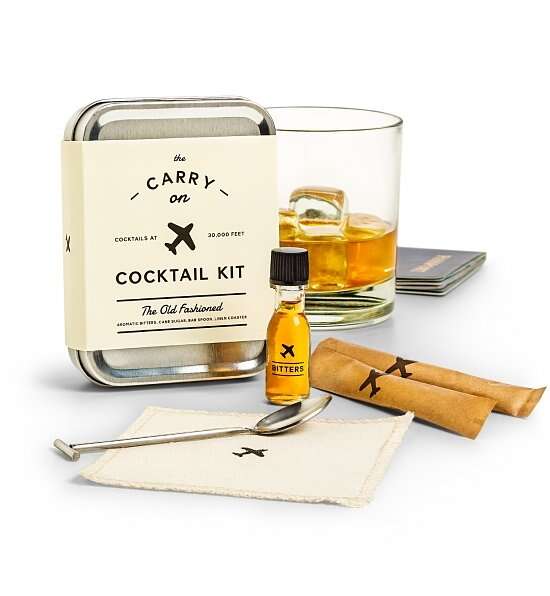 For anyone who fancies a proper in-flight libation, this Old Fashioned cocktail kit is a must. It comes equipped with aromatic bitters, cane sugar, a muddling spoon and a linen coaster, all tucked neatly inside a compact tin for easy packing. Simply add your favorite bourbon or rye.
This easy-to-use tool makes perfect ice wedges every time. Not only do the angular cubes protect against overly diluted drinks, they also look awesome. Simply place the silicone wedge atop the glass, pour in water and freeze for at least four hours, then top with whiskey and enjoy.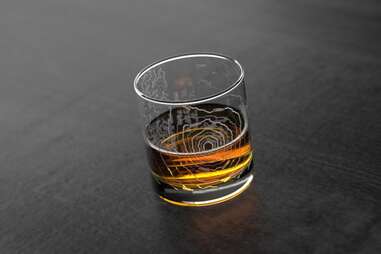 Adventure-seekers will love these intricate rocks glasses, each one etched with a topographic map of natural wonders around the world. Whether you want to remind them of a trip to Japan with the Mount Fuji design or treat a ski enthusiast to a map of Vermont's Killington Peak, there's an etching for everyone.
Grooming brand Duke Cannon pays homage to the great American bourbon tradition with this boozy bar of soap. A collaboration with Buffalo Trace Distillery, the sizable bar is infused with bourbon whiskey and small bits of ground corn to help exfoliate the skin. It has a pleasant oak barrel scent that isn't too overpowering, bringing a whole new meaning to "shower cocktails."
We can't think of a single friend who wouldn't want this handsome leather-trimmed flask. Available in 12 custom colors, you can even have it monogrammed for a personalized drinking experience. Pair it with a bottle of your favorite bourbon for a gift that can't be beat.
Now here's something we never thought we'd say—alcohol is good for your health! At least it is when you replace toxic chemicals with high-proof whiskey in all-natural Pit Liquor Deodorant. The founders of Pit Liquor use organic alcohol along with botanicals like lavender, vanilla, cloves and peppercorns to kill bacteria and keep body odor at bay. Available in Whiskey Lavender, Whiskey Vanilla, Whiskey Black Pepper and Unscented Vodka, the February delivery date is well worth the wait for these awesome natural deodorants.
For the whiskey drinker who loves coffee just as much as the brown spirit, the collaboration beans between Belfast roaster Root & Branch and Bushmills Irish Whiskey are a best bet. The carefully selected single-origin Brazilian beans are seasoned in a Bushmills cask before roasting, which results in a full-bodied cup of joe with notes of dark chocolate, nuts and honeycake. Buy this gift set so they can mix the tastiest Irish Coffee ever.