6 Best Cheap Whiskeys Good Enough To Drink Straight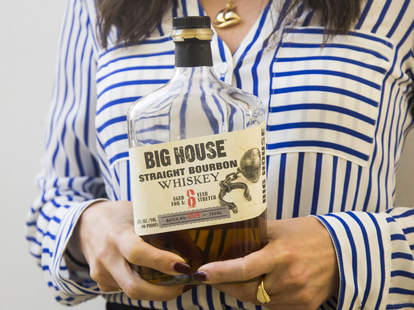 It's a truth that cannot be denied: some whiskies are easier to drink straight than others. Taking shots is one thing, but if you want to curl up and relax with a hefty pour of whiskey in a glass, it has to taste good enough to do so. From Jim Beam's new high-proof bourbon, to an Irish whiskey aged in ex-oloroso sherry casks, these six whiskies are all spirits that you will never have a problem drinking straight, no matter how experienced you are with straight spirits. Best of all, none of them cost more than $30.
One of the newest offerings from the Beam Suntory house, the Distiller's Cut is a high-proof, non-chill filtered bourbon that tastes like spirits double the price. On the palate the whiskey is bold and bright, with flavors of vanilla bean, roasted peanuts, caramel covered popcorn, cloves and allspice. If you're a fan of Jim Beam bourbons, this is an absolute must purchase bottle. This boozy, golden dram should be sipped straight, and enjoyed slowly.
Tennessee is known for its sour mash, a process that adds mash from an older batch of whiskey (generally the previous batch they just finished distilling) to start the fermentation of the next batch. While Jack Daniel's is the most famous sour mash whiskey, George Dickel's Superior No. 12 is the most layered and richly flavored sour mash we've tried. Bottled at a whopping 90 proof, this whiskey is big and boozy, with flavors of sour pickles, buttered popcorn, maple syrup, white pepper and burnt oak. This is the kind of whiskey that you can drink every day and never tire of it.
This is not the first time that we've sung this whiskey's praises, and it won't be the last. Heavy on the rye, this beast of a bourbon is big and sassy in the glass. On the palate it has everything you want in a bourbon: malted chocolate milkshake sweetness, flavors of burnt oak, vanilla, and an abundance of baking spice notes. On the finish it's peppery, with a lingering warmth that stays with you as the whiskey travels down your throat. It is currently only available in Michigan, Ohio, Indiana, Kentucky, Northern California and Tennessee, so if you don't live in one of those states, make sure to buy yourself two bottles of this bourbon when you see it.  
You can never go wrong with a bottle of this blended scotch on your bar. Delicious enough to drink straight, Johnnie Walker's Red Label is also exceptionally balanced with a fat cube of ice, or as the base of classic scotch cocktails like the Bobby Burns or a simple Highball. Although the Red Label is the brand's entry level spirit, the whisky punches well above its weight. On the palate it's soft and smooth, with notes of sweet cereals like Frosted Mini Wheats. As it opens, there's a crème brûlée creaminess and a hint of burnt toffee. On the finish there is some soft smoke and ash common with scotches—but it's just a whisper and doesn't overwhelm the other flavors. This whisky is a steal.
If you're a fan of Jameson, then you need to try this underrated Irish gem. One of the most popular whiskies in Ireland from one of the country's oldest distilleries, Powers Gold Label is a blend of triple distilled pot whiskies made from both malted and unmalted barley. Exceptionally smooth and complex, Powers is bright and honeyed, with notes of green apple, pears, cinnamon, white pepper and nutmeg. With a mouth coating, almost creamy finish, drinking this whiskey solo is a delight.
This Irish whiskey was so inspiringly delicious that it made our list for best whiskies of the year. Made from 100 percent malted barley, the Sexton Single Malt is triple distilled on copper pot stills and aged in ex-oloroso sherry casks. The flavors from its time in sherry casks carry over in spades, with nutty creaminess and tangy brightness lending depth and smoothness to the spirit. On the palate there are also flavors of honeycomb, Cinnamon Life cereal, orange and stone fruits. This spirit is so damn good straight that it's hard not to polish off a bottle once you open it.