4 Expensive Bourbons That Are Totally Worth the Price Tag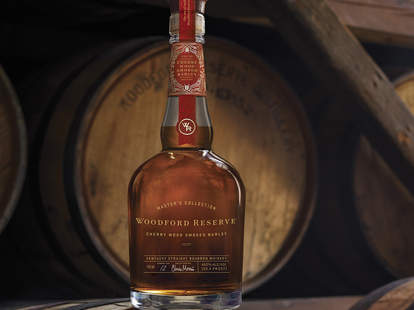 Courtesy of Woodford Reserve
A great bourbon doesn't have to be expensive. In fact, some of our favorite bottlings are super affordable. But, from time to time, we all like to splurge on a pricier bottle that is downright phenomenal. If you're looking to spend a little extra cash on a really nice bourbon, these four bottles are totally worthy of the price tag (and worth your hard-earned cash).
This bottling just took home the title of Best Whiskey at the 2018 San Francisco World Spirits Competition, so you know it's good. Master blender Nancy Fraley crafts Murray Hill Club using the same techniques that Magnus himself used more than 100 years ago to create the original pre-Prohibition spirit. The blend of 18-year-old bourbon, 11-year-old bourbon and nine-year-old light whiskey is rich on the nose and palate with notes of honey, toffee, baking spices and vanilla. A hint of black pepper lingers on the finish and gives this bourbon an extra warm feel.
There's a reason that this bourbon received our highest marks during last year's best new whiskey tasting—it is absolutely remarkable. Woodford Reserve Master's Collection Cherry Wood Smoked Barley is the 12th release in the series and one of our all-time favorite bottlings. Pleasant aromas of cooked cherries and buttery biscuits give way to nutty flavors like corn muffins and trail mix on the palate. This bourbon is a stunner that also makes for a very impressive gift.
When sixth-generation master distiller Booker Noe introduced his bourbon to the world in 1992, he did something that would change the industry forever by coining the term "small batch." Booker's True Barrel Bourbon is a genuinely small batch spirit that varies in age and proof from year to year and only comes out of the barrel when it has reached perfection. It is unfiltered and undiluted, so it has an extra robust flavor. The current batch, 01 Kathleen's Batch, has a slightly smoky nose with layers of nuts, vanilla and oak on the palate.
Old Forester's annual Birthday Bourbon release is one of our favorite special occasion drinks. The 2017 bottling is made with 12-year-old bourbons that were taken from 120 different barrels, which all sat in different warehouses and floors for the utmost variety. The nose is a mix of rich oak and sweet notes like peach and vanilla ice cream. The flavor is divine with baking spices, plum, red grapes and vanilla, and it ends on a dry, tannic note.