5 Affordable Japanese Whiskies to Kick off Your Next Spirit Obsession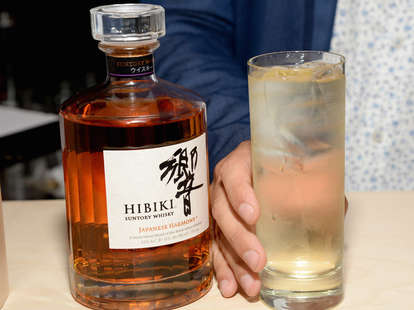 Michael Kovac / Stringer / Getty
Whether you're after rare American small batch bourbons, 25-year-old scotches or limited edition Irish whiskies, collecting whiskey can be an expensive hobby—especially if you're looking to get into Japanese bottlings. While Yamazaki releases sell out every year—with aftermarket bottles fetching thousands of dollars if you can even find them—not all Japanese whiskies are as elusive. With more and more whiskies arriving stateside from Japan, the category continues to expand with more affordable options. If you've been wanting to try Japanese whisky, these five bottles are the best way to kick off what will definitely become your next spirit obsession.
A delicious, entry level blend from one of Japan's oldest and most well known distilling companies, this light and bright spirit is comprised of some of Suntory's finest whiskies—including spirits from the Hakushu and Yamazaki distilleries. It's remarkably crisp, honeyed and extremely quaffable, with notes of cereal, apricots and a smooth, silky finish. It's perfect for everyday drinking, and can be enjoyed on its own or in cocktails (try it in a
Highball
).
This rich, malty
Japanese spirit
is a blend of three different whiskies, each aged in a different type of barrel—ex bourbon casks, sherry casks and wine casks—before being married together. The combination of flavors acquired from this unique aging process results in a layered, complex whisky. On the palate, Awai Tradition is dense, with a heavy mouth-coating weight and flavors of marzipan, briar fruits, oak and that sharp, briny acidity associated with dry sherries. Compared to the company's lighter, sister product, which is influenced by American whiskies, this bottling is a powerhouse of flavor meant to be sipped and savored.
Summers in Japan can be unbearingly hot and humid. In the bars, businessmen, dripping with sweat, slurp down
Japanese Highballs
to fight back against the sticky heat. The combination of ice cold Japanese whisky and seltzer is a godsend. After sipping on a properly mixed Highball made with Akashi White Oak, you'll get it. Even poured over a fat cube of ice, the spirit is refreshingly delicious. After discovering Akashi, we can officially say that we're ready for summer.
Hailing from Nikka's second distillery, the Miyagikyo distillery, this whisky is a truly unique bottling. Distilled in copper stills with indirect steam, the spirit lacks any peatiness or smoke. Instead it's light and fruity, with a strong hit of flavor from the sherry casks in which it is aged. Bright and floral, with an acidic zing and stone fruit sweetness, it is delectable. Make sure that you get this gem while you can—it's extremely coveted and limited supplies reach the States.
Hibiki Harmony is a paragon of blended Japanese whisky. It is composed of at least 10 different malt and grain whiskies from Suntory's Yamazaki, Hakushu and Chita distilleries, with each spirit's distinct features adding to the appropriately harmonious flavor. This is beautiful whisky. It's sultry yet elegant, with notes of honey, barbequed peaches, bergamot, truffles and oak. While it does make a fine cocktail, we recommend drinking the spirit straight or with one cube of ice.