7 Strange Whiskeys You'll Actually Like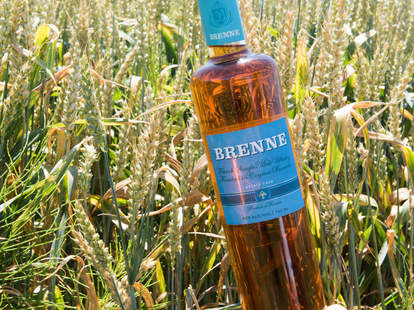 Courtesy of Brenne Whisky
Here at Supercall we come across lots of whiskeys, from the dependable to the extraordinary. We've come to rely on our favorites at the end of the day, when all we want to do is relax with something familiar and turn off our brains. But occasionally we prefer an unusual dram that sparks thought, confusion, intrigue or even shock. These seven whiskeys are some of the weirdest we've found. They'll make you sit up on your bar stool and take notice, not only for their crazy unique flavors but also for their surprising quality.
First came Cognac, then Grey Goose vodka. Now, a third generation Cognac maker is putting the family expertise to work on French whisky (which the brand spells the Scottish way). The whisky is made with locally sourced barley, and it rests in new limousin oak casks and ex-Cognac barrels. The resulting whisky is naturally sweet, tasting of blueberry pancakes with caramelized bananas, and in a Whiskey Highball, Brenne tastes almost like cream soda.
You could shell out loads of money to cruise around the world on a private boat as you sip whiskey on the deck all day every day, or you could drink a bourbon that has taken that same journey and returned to your corner liquor store. The effect isn't exactly the same, but Jefferson's Ocean tastes so good we hardly care. All the rocking and rolling the bourbon does while in the ship's hold causes the whiskey to interact much more with the cask, creating a deeply caramelized taste, while a dose of sea air infuses the whiskey with a bright salinity.
Bourbon must contain at least 51 percent corn, and many popular bottlings contain a good deal more to create a smooth, sweet flavor. But only a few brands fearlessly take corn to its logical end by producing a 100-percent corn whiskey. Based entirely on roasted blue corn, Balcones True Blue smells and tastes surprisingly fruity, with notes of coconut and pineapple curiously emerging alongside the silky corn flavor.
Corsair is notorious for its offbeat flavors, with whiskeys made from quinoa, buckwheat and green malt, but the Pumpkin Spice Moonshine might be the most controversial bottle to ever emerge from the distillery. Distillers infuse ginger, nutmeg, allspice, cinnamon and pumpkin into the white whiskey. Dry, savory and sweet all at once, the whiskey is a far cry from the flavored spirits you may know. Malt and creamy pumpkin hit the palate first, while the spices enter slowly and hang around after every sip.
It should be impossible for Mexico to be so good at such different spirits, but Sierra Norte proves our southern neighbors can produce whiskey just as good as tequila or mezcal. Sierra Norte sells three (soon to be four) bottles, each made from a different type of heirloom corn that master distiller Douglas French helped revive. While all of the bottlings are great, the Yellow is the most distinct, with a rich corny sweetness and a touch of funk.
The peppery kick of a good rye will wake up your palate, but for an even greater zap to your senses, sip on this jalapeño-infused whiskey. The peppers come from a farm in Oregon not far from the distillery, so they're bracingly fresh when they encounter the whiskey. Distillers incorporate the peppers during brewing, distillation and aging to be extra sure the spice comes through in the taste—which it absolutely does, with a heavy flavor of Tabasco on top of some light caramel and oak.
Before you balk at this ridiculous concept for a whiskey, just chill out. We know that nothing about Stillhouse's mint chocolate flavor should work, which only makes it taste even more delicious. The unaged whiskey is best chilled in the freezer—just like mint chip ice cream—which causes its unconventional stainless steel can to get frostier than a well iced julep cup. The taste is spot on, bursting with cooling mint, creamy vanilla and a hint of sweet milk chocolate.