How to Taste Bourbon, According to the Kentucky Derby's Whiskey Expert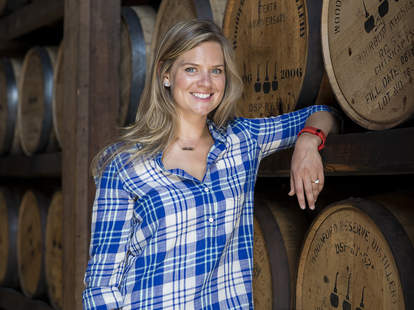 Of all the appropriate occasions to drink bourbon, the Kentucky Derby stands out. The racetrack, Churchill Downs, is in the heart of bourbon country. The race's signature drink, the Mint Julep, is a cooling way to drink bourbon all day long. The presenting sponsor of the 2018 Kentucky Derby is Woodford Reserve. America's signature whiskey style is, in every way, what you should be drinking come May 5.
There's no wrong way to drink bourbon. But if you want to pick up on specific nuances like master distillers do, there is a proper way to taste the American spirit. In search of the best method of dissecting the flavors in bourbon, we caught up with Woodford Reserve's assistant master distiller Elizabeth McCall over some whiskey and $1,000 Mint Juleps. McCall has worked with Woodford's parent company, Brown-Forman, since 2009, and she was Woodford Reserve's master taster before rising to her role as assistant distiller in early 2018. If there is anyone who's an undeniable expert in all things bourbon tasting, it's McCall.
When you raise a glass of bourbon during the Kentucky Derby (and every other day), here's how to get the most out of every sip.
Look at your bourbon

More often than not, sight is the first sense that experiences the whiskey. "Notice the color," McCall says. It's a "dead giveaway" for how long a bourbon has been in the barrel. The rich mahogany color of a good bourbon (one that doesn't use artificial coloring, at least) comes entirely from the barrel. In general, the darker the whiskey, the longer it's been aged.
Smell it gently

After taking a good hard look at your glass, it's time to smell the liquid. "Waft it under your nose back and forth to get the lightest characteristics," McCall says. Typical scents you might recognize include apple, pear, orange and cherry. The fruitiness largely comes from the type of yeast that a distillery uses. But be gentle with that first sniff. "Don't start by swirling it like [you would] with wine because you'll just get alcohol," she says.
After you pick up on the lighter side of the bourbon, stick your face in the glass for a deeper smell. "Get your nose deeper and get the richer aromatics and spice," McCall says. You might notice cinnamon and nutmeg as well as nuttiness, chocolate, brown sugar, caramel and vanilla. At this point you can agitate your whiskey with a swirl. "Swirl your glass a little, and when you swirl it you get spice like clove and baking spices," she adds.
Take a small first sip

"Sip it like you're sipping hot coffee or tea," McCall says. "Roll it around your palate and let it soak." Bourbons range in proof from 80 to more than 100 depending on the brand. McCall had the 90 proof Woodford Reserve Double Oak in her glass as she spoke to the Supercall staff. Taking a big first sip of strong whiskey can shock your taste buds and give you a bad first impression. Jumping straight in might be a good way to get into a cold pool, but it's best to test the waters first when tasting bourbon. A small, slow sip will prep your palate for what's to come.
Drink some more

Once your palate is acclimated from the small first sip, "take a second sip to think about the flavor on your palate, and then a third to think about finish," McCall says. That second sip is where you'll pick up on the fruity, nutty and woody scents that you noticed while smelling the bourbon.
Don't stop thinking when you're done drinking. Some of the most interesting characteristics come after you sip, so breath out through your mouth and consider how a whiskey finishes. The boldest flavors stay with you, and in the case of well-made whiskey, stay with you a long time.
Add water and repeat

While there's nothing wrong with drinking bourbon neat, a few drops of water will add a whole new dimension. "Water gives us rose and floral notes," McCall says. Water affects the aroma molecules in whiskey and lets certain flavors that are trapped in the glass shine.
Whiskey tasting water is a serious business. Kentucky's famous limestone water is credited for everything from the taste of Kentucky bourbon to the strength of Kentucky-raised racing horses. True believers of everything water and Kentucky bourbon can buy bottles of Kentucky limestone water online, but regular old water will do just fine, so long as you start with a good whiskey.