These Liquor Brands Donate Money to Animal Charities
We drink wine with our cats and train our dogs to fetch beer, but we don't always give back to animals in need. Thankfully, there's a way to enjoy your favorite pastime (drinking) and help animals at the same time: buying liquor brands that support animal conservation. Do your part by drinking these nine spirits that help save your spirit animals.
Snow Leopard Vodka has a two part mission: create a luxury spelt grain vodka with "a rare character worthy of its namesake," and help endangered snow leopards survive and thrive in their environment. The company donates 15 percent of their profits to the Snow Leopard Trust, a nonprofit that works to protect the snow leopard and its habitat in 12 countries in Central Asia. The Trust works with locals to understand the animals' needs and develop conservation programs, as well as raise money for scientific research. To date, Snow Leopard Vodka has raised over $200,000 for the foundation.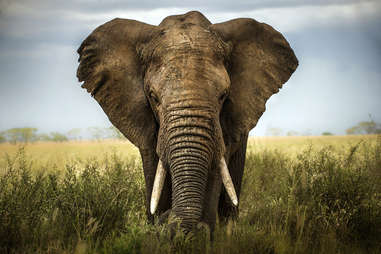 This German gin was inspired by South Africa's "sundowner" drinks, which are traditionally enjoyed after a long day spent in the bush. The gin uses 14 botanicals, many of which are rare African ingredients, such as the blackcurrant-flavored buchu plant and bitter devil's claw root. The company also honors its African roots by donating 15 percent of its proceeds to two African elephant foundations: Big Life Foundation's Ranger Club and the Space for Elephants Foundation. The donations help restore migratory routes, fund anti-poaching rangers' salaries, purchase equipment and rations, and develop wildlife-related employment opportunities that help discourage unemployed locals from resorting to poaching.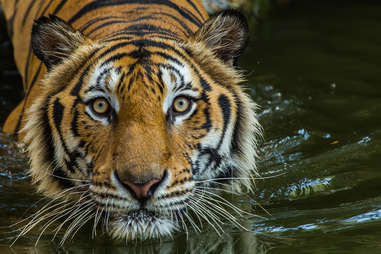 Don't let the ostentatious, faux tiger fur-covered bottle, complete with a plastic tiger tooth keychain, fool you. This Indian rum company takes tigers very seriously. They started the Wild Tiger Foundation, aka the WTF Foundation, as in "only 2,000 tigers remain in the Indian forests. WTF?" The brand adopted the Wayanad Tiger Reserve in Kerala, India, and donates 10 percent of its profits to the foundation, which works with tiger conservationists, local authorities and NGOs to save the tiger and its habitat.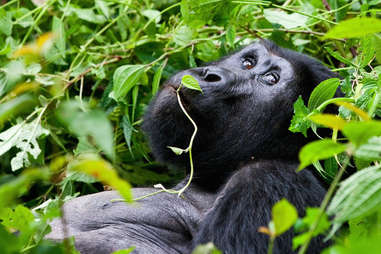 This London-based gin distillery produces organic, handcrafted gin at only 30 bottles per batch. Though the distillery is very small, they still dedicate a portion of their proceeds to gorilla conservation. Graveney Gin gives 10 percent of all profits to Gearing Up 4 Gorillas, a 100-percent non-profit charity that protects and cares for rare mountain gorillas in Virunga National Park in the Eastern Democratic Republic of the Congo. The charity also educates the public and assists the rangers who look after the gorillas.
In 2013, St. Croix-based The Naked Turtle White Rum partnered with the Sea Turtle Conservancy for various awareness programs, which are still going on today. Their first campaign called "Kill the Lights, Save the Turtles" brought awareness to light pollution on the shores (hatchlings and nesting females are attracted to certain artificial light sources, leading them away from the ocean) through a series of "nocturnal parties" lit with invisible-to-turtles LED lighting. Though the distillery donated $40,000 to the conservancy as of 2013, their partnership is based more on raising awareness than revenue (their proceeds do not directly go to conservation efforts). Each bottle features the message "we support our shellbacked buds" along with the Sea Turtle Conservancy logo on the back.
This African cream liqueur made from the Marula fruit—a favorite food of African elephants—is giving back to the animals through the "Name Them, Save Them" campaign, which strives to name every surviving African elephant in the wild. Users can name a virtual elephant online and share it to raise awareness. Amarula produced 400,000 bottles (the approximate number of surviving elephants) with a named elephant on each label. The company has committed to donating $1 to elephant conservation and anti-poaching efforts for every virtual elephant named online.
While Bacardi doesn't directly donate a portion of its proceeds to saving animals, the company has made bat conservation awareness a part of its mission for generations. In 1862, Doña Amalia, the founder's wife, insisted that the bats at the original Cuban distillery be protected because they signified good health and fortune to her ancestors; the bat went on to become the logo for the brand. In addition to monetary donations made towards bat conservation charities over the years, Bacardi has started many awareness campaigns, from a video PSA in Times Square to educational "bat booklets." They even recently installed wooden "bat caves" at their bottling facility in Bermuda to combat habitat depletion and maintain the natural ecosystem to which the bats contribute.
Tito Beveridge, the founder of this Texas-based vodka company, loves dogs so much that he started the "Vodka for Dog People" program at the distillery. Net proceeds from their online merch page—which includes leashes, dog bowls and apparel for both doggos and humans—help Emancipet, a nonprofit helping to make high-quality spay/neuter and veterinary care affordable and accessible to all pet owners. Tito's also donates their vodka to Emancipet fundraising events, and partners with many other animal welfare nonprofits. Additionally, Tito's promotes rescue adoption by encouraging their employees to bring their dogs to work, and rescuing stray dogs and cats from the neighborhood and having them vetted and adopted by employees, their extended families and the community.
Don't worry, tequila lovers, there's a way for you to help animals out, too. Viva XXXII is a newcomer to the agave-based spirit world, and they're setting themselves apart by donating 10 percent of their net proceeds to animal abuse prevention charities, like the SPCALA, ASPCA and START. The brand's adorable Chihuahua mascot, Phil, appears on the side of every bottle as a reminder that you're supporting animal welfare with every Margarita you make. Plus, the joven tequila, which is a blend of blanco and 3-year-old extra añejo, is pretty delicious. Viva XXXII also sells a reposado tequila for $45.