This Mezcal Is Aged in Pappy Van Winkle Bourbon Barrels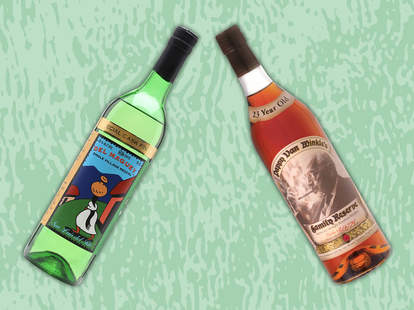 Courtesy of Del Maguey, Buffalo Trace; Mark Yocca / Supercall
While bourbon fanatics lust after rare bottles of Pappy Van Winkle and mezcal aficionados seek distillates from rare, wild agave varieties, Del Maguey has quietly been conducting a little experiment: What would happen if you aged mezcal in Pappy barrels?
There's no history of aging in mezcal, Misty Kalkofen, the self-proclaimed madrina of Del Maguey, explains when discussing Del Maguey's new Cask Finish series. Alcoholic beverages fermented from agave predate the wood aging techniques brought to the New World by the Spanish by a few centuries, and while mezcal distillers adopted European distilling techniques, they ignored the aging process that became so integral to tequila production. Even today it's relatively rare to find any wood aging in the mezcal industry—which is why the concept perked the curiosity of Del Maguey founder Ron Cooper.
Back in the mid-2000s, Steve Reynolds of Stag's Leap winery in California gifted Cooper a French oak barrel that had previously housed Cabernet. With the help of consulting wine geek Steve Olson, Cooper filled the used barrel with Del Maguey's Chichicapa Single Village Mezcal. The mezcal had already spent 12 years in glass according to traditional Oaxacan techniques, so its one-year stay in the Cabernet barrel was a relatively short episode in the spirit's life. According to Kalkofen, Cooper and his team tasted the mezcal along the way "to learn what barrels do to mezcal and how quickly the high-proof mezcal ages. Cooper released it, and it was interesting and fun and people enjoyed it."
Then came barrels of Baby Bourbon and Hudson Rye from Tuthilltown Distillery in the Hudson Valley in New York. That experiment was followed by an investigation of sherry cask aging in Bodega Hidalgo's La Gitana manzanilla casks.
After the success of the Cabernet-, bourbon-, and sherry-cask finishes, Cooper reached out to his friend Julian Van Winkle to see about getting a Stitzel-Weller barrel for the next round of experimentation. Van Winkle acquiesced, sending not one but four barrels that had housed that liquid gold, Pappy Van Winkle, for 20 years. "We filled each [barrel] with a different mezcal from our original Single Village line [Chichicapa, Santo Domingo, San Luis del Rio, and Minero]," Kalkofen says. Following the exploration of the 20-Year Van Winkle barrels, Del Maguey also got a hold of several Old Rip Van Winkle 10-Year barrels to expand the experiment even further.
Kalkofen emphasizes that much of the experiment was figuring out how to make a cask-finished mezcal that still tasted like mezcal. "It was really important to us to never have the barrel overtake the mezcal," she says. "The characteristics of the mezcal are still at the front and center, even if it's coming out of the barrel." To that end, the group only ages the mezcal two to four months in the bourbon casks, pulling from the barrels and refilling them with fresh unaged mezcal as necessary to maintain the desired balance. "We let the mezcal tell us how long it should be aged," Kalkofen adds.
The restrained use of the barrel yields an incredibly subtle, nuanced finish. On first look, the special mezcal is barely indistinguishable from a standard Single Village release—both in terms of the color of the mezcal, which barely takes on any tint from its short stay within the wood, and in terms of the packaging, which is identical to the standard release except for either a small gold band around the top of the label.
In terms of flavor, the aged San Luis del Rio, for example, presents thicker notes of caramel sweetness, as well as fruits like cherry and apple alongside savory vegetal notes, white pepper, cinnamon and vanilla, finishing with smoke and citrus. Rich and round as it is, though, there's never a doubt that your copita is filled with mezcal.
Del Maguey producers are proud of the product they produce, so putting the flavors of pure mezcal in the spotlight seems like an obvious decision. "We have so much respect for what the palenqueros do and that long history, so we're very conscientious about never making the mezcal about the barrel," Kalkofen says. "The barrel is in the background adding accents to the really beautiful mezcal."
While experienced mezcal drinkers like the Del Maguey crew may consider the cask finish series a nice diversion from the traditional agave spirit, Kalkofen points out that the hybrid spirit could also act as an introduction to mezcal for whiskey drinkers. Some drinkers may be resistant to mezcal based on past experiences—usually involving a bottle containing a certain worm-like creature. "Especially for people like that, when you can offer them a mezcal that comes from a barrel from a really reputable bourbon producer, something the drinker has history with and knows, they might be willing to take that chance again, no matter their previous experiences," she says.
If you are hoping to convert a bourbon drinker to the cult of agave—or if you're thinking about testing the mezcal waters yourself—you'd better snap up any cask-finished Del Maguey you find because the runs are extremely limited. "There's not a lot of it," Kalkofen says, laughing. "Honestly, I don't know when the next barrels are going to be ready. We just keep tasting it and allow it to do its thing. I have to say 'no' or 'I'm not sure' to a lot of people. It's not like we have a big rickhouse someplace filled with barrels."
For those who can't get their hands on one of the Stitzel-Weller bottles, Del Maguey has some other exciting projects in the works. Another run is aging in a des Anges cask from Pierre Ferrand, which Kalkofen says arrived with five liters of Cognac still inside. She's also interested in playing around with various rum barrels in the future, and is thrilled about their ongoing work with sherry casks. "As a bartender, I always enjoyed using sherry and mezcal together, so I think there's a lot of opportunities there to play around in that partnership. We filled the Bodega Hidalgo barrel with Santo Domingo Albarradas, and tasting it has been absolutely beautiful. Santo Domingo has these floral notes, chocolate in the background, nice bright citrus, and then getting that saline from the manzanilla cask makes a lovely marriage. And that's special for me because it's a charity project—profits go to our nonprofit fund for the palenqueros [the Foundation for the Sustainable Development of the Producing Communities of Maguey and Cultural Rescue of Mezcal]."
Even with plenty of new aged batches on the horizon, Del Maguey has no plans to expand into the tequila model of añejo and reposado. And with no set schedule, the team will continue to release the cask-finished mezcals on the spirit's own time. So keep your eyes peeled for that Pappy finish and pour yourself another copita of the good stuff while you wait.