7 Wheated Whiskeys That Are Cheaper Than Pappy (and Nearly as Good)
Whether you believe Pappy Van Winkle is the end-all-be-all of whiskeys or an overhyped bottle driven to bonkers prices by scarcity and cash-loose fanatics, we can all agree the bourbon within the bottle is pretty darn good. Part of what makes it so different from much of the bourbon on the market is the inclusion of wheat in the mash bill, making it a "wheated bourbon." Bourbon needs to be made of at least 51 percent corn, but brands customize the remaining portion with a bevy of other grains. While rye most commonly gets the nod, wheated whiskeys swap it out for red winter wheat.
In Pappy's case, the wheat makes the whiskey taste like creamy velvet. But Pappy doesn't have a monopoly on that silky goodness. There are plenty of other wheated whiskeys worth buying—and most of them won't require taking out a second mortgage. Here, the best wheated whiskeys and wheated bourbons to buy before they reach Pappy-level cult status.
The Stitzel-Weller distillery pioneered wheated bourbons under the leadership of the original Pappy Van Winkle himself, but Old Rip Van Winkle wasn't the only brand to emerge from the distillery. Today, both Pappy and Weller are produced at the Buffalo Trace Distillery. And, while Weller can't quite match Pappy in terms of mouthfeel, the two bourbons do share a similar mash bill, creating kindred flavors of butterscotch, wood and honeysuckle.
Maker's and Pappy are rarely mentioned in the same breath, but the two are bonded by the soft winter wheat that runs through their veins. Don't let bourbon geeks rain on the affordable bourbon parade—Maker's may be ubiquitous, and it may not blow your palate off with its mellow flavor, but this sweet, vanilla-tinged bourbon never fails.
Jim Beam threw its hat into the wheated ring with this special release back in 2015. Swapping the brand's usual 13 percent rye for red wheat, the whiskey falls somewhere in between the flagship Jim Beam and Maker's. It's oak-forward, yet lighter bodied, with a touch more spice than Maker's.
Kentucky has a tight grasp on the bourbon category, but that doesn't mean there aren't any good wheated options outside the bourbon stronghold. They grow plenty of corn and wheat out in Wyoming too, so it's easy for Wyoming Whiskey to source all of their non-GMO ingredients within 100 miles of the distillery. The high wheat ratio in wheated bourbons can make some so fragile that the wood dominates any other flavor, making them over-oaked, but that's not a problem for Wyoming Whiskey, which shines a spotlight on the sweet, fruitier notes of its wheat crop.
More and more whiskies are growing up out of the cracks in the cement jungle, and this Brooklyn-based wheated bourbon is a perfect example of what Yankees can do with proper crops from New York state. This drier bourbon is peppery on the nose and grainy upon first sip, but soon the sweeter notes rise to the surface with maple syrup and vanilla.
Wheated bourbons use wheat as a supporting cast member to enhance the corn that must legally dominate the blend. But if you're willing to leave the bourbon category behind for wheated whiskey, you'll be rewarded with an even lighter, silkier option. With a mashbill that creeps above the 51-percent winter wheat mark, Bernheim's wheated whiskey boasts notes of caramel, toffee and berries.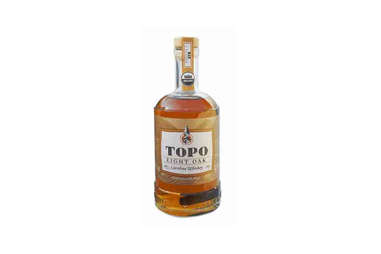 TOPO's Carolina Whiskey is the next step up the wheated whiskey ladder. Topping out with 100-percent wheat, the whiskey cuts loose the heavy weight of corn. It is so sweet and airy that it could happily sit on the candy store shelf. Brown sugar, bread and light acidity fill out the nearly weightless profile.