Cheat on Vodka With These 5 Clear Spirits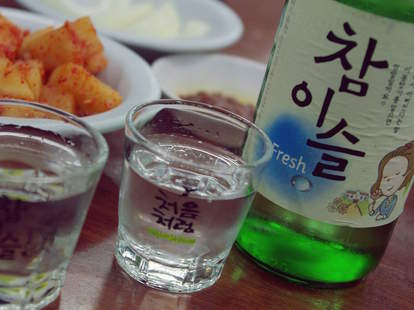 You've been a devout vodka drinker for most of your adult drinking life. Your go-to order at the bar is always a Vodka-Soda, a shaken Vodka Martini or a Vodka-Cran. While you might harbor a secret desire to try new spirits, big, bold, brown booze like aged rum, bourbon and Scotch whisky are intimidating. It's easier to stay in that neutral rut than deviate from the norm, right? Wrong. There spirits that aren't as different in flavor as you may think they are. If you're in need of a change from your vodka diet, mix things up with these five clear spirits.
Unlike most
moonshines
on the market, this unaged whiskey from Brooklyn is made with 100 hundred percent malted barley (instead of corn). With a soft, subtle maltiness and a touch of earth on the palate, this white whiskey will appeal to fans of classic grain vodkas. It has a rich depth and almost velvety texture on the tongue, and it can be sipped straight or on the rocks.
This Puerto Rican
white rum
tastes like you bit into a fresh stalk of sugar cane and chased it with a shot vodka. The spirit starts sweet, with a subtle grassiness, and then opens up to a clean, almost neutral flavor. On the finish there's a hot, sharp, ethanol flavor, which will be familiar to vodka drinkers. While Bacardi won't work as a substitute in a Vodka Martini, it will work perfectly with soda water, or in
Bay Breezes
or
Cape Codders
.
If you're a devout vodka drinker, pisco may be your gateway spirit to bigger, bolder drams. Unlike some other clear spirits, it has the softness and refined, clean flavor of top shelf vodkas. Made from Peruvian grapes, Pisco Portón is like an unaged
Cognac
—albeit from South America rather than France. While pisco can be used in just about any vodka cocktail, especially brighter, fruitier drinks, it has its
own classic drinks
that should be on any vodka drinker's radar.
Pronounced
by-joe
, this craft spirit is the first American made
baijiu
outside of China, the spirit's home country. Traditionally made from grains or sorghum, baijiu is traditionally ultra-funky. But this Portland, Oregon-made spirit is the exception to that. Distilled from organic white rice, the spirit is ultra-refined and accessible to all palates. Triple distilled, this baijiu tastes like the marriage of the most luxurious, craft vodkas on the market and the sushi rice flavors of sake. Try it in a traditional
Vodka Martini
with a fat swath of lemon peel as garnish.
You may not know this, but soju is the No. 1 most consumed spirit in the world. Made in Korea, this
low ABV
spirit is very similar in flavor to vodka, but without the kick of a 80 proof spirit. Clean and ultra-refined on the palate, soju can be shot straight or used as a replacement in literally every vodka cocktail under the sun. If you want to try drinking it like Koreans do, try a
Soju Bomb
, in which the spirit is dropped into a light beer and chugged.